HAZWOPER Training & Certification
Featured Courses
National Environmental Trainers
National Environmental Trainers® (NET) offers the highest quality available in online HAZWOPER refresher and 40 Hour HAZWOPER Training and certification. We are specialists and experts with many years experience in this field. Our site contains a comprehensive catalog of OSHA courses for online safety training. We have trained thousands of professionals with our courses, including state and federal regulators. If you are looking for an OSHA compliance source that provides excellent education along with tremendous service for safety training, you are in the right place. We also offer OSHA 40 courses, Resources Conservation and Recovery Act (RCRA), DOT and environmental training. We have in-house subject matter experts who authored these courses and are available 24/7 to answer questions or provide guidance. Because HAZWOPER work is considered to be one of America's most hazardous occupations, you can feel comfortable knowing that subject matter experts help explain the fundamentals in clear terms. Our team developed the HAZWOPER Hands-on Simulator® that is considered the industry standard for online HAZWOPER training.

At NET, we are the original provider of online HAZWOPER certification, HAZMAT certification and 40 hour HAZWOPER training. In 1996, we published the first online refresher course on the Internet. Today, we are the leading course provider. Contact us for more information about our classes on RCRA training, DOT training and OSHA compliance.

NET has successfully built our premium brand based on quality, credibility and sensational service. Our 40 hour, 24 hour and 8 hour courses are simply the best as rated by our clients. We are currently the only online HAZWOPER or HAZMAT certification provider with an acceptance letter from OSHA for our exclusive HAZWOPER Hands-on Simulator®. Our certification classes contain content aimed at reducing workplace injuries and increasing compliance for employers. Other non-certification HAZMAT training online courses are available as well. We also specialize in OSHA construction safety (OSHA 10 hour construction training and OSHA 30 hour construction training), hazardous materials, online DOT, online safety and OSHA occupational safety training.

Our classes aid employers in complying with the important OSHA regulations and guidelines. The classes we offer meet or exceed the latest OSHA requirements for HAZMAT clean-up, as well as other sites and work areas where dangerous releases of hazardous materials could occur. Safety on a jobsite is an absolute must, and we will help you prevent injuries and fatalities.
What is Hands-on Training for 24 Hour and 40 Hour HAZWOPER?
OSHA has stated in many interpretation letters that 40 hour and 24 hour sessions require site-specific hands-on learning on the actual PPE that an employee will be using in their job. Site-specific means just that. The training cannot be done with generic PPE, but must be done with the actual equipment in order to fully meet the OSHA regulations. The OSHA training requirements for these HAZWOPER courses are listed below.
A minimum of 24 or 40 hours of offsite instruction.
Site-specific training on the actual PPE. A public seminar with people from different job sites cannot fulfill this requirement.
Either 1 or 3 days of training under the direction of a qualified HAZWOPER supervisor.
Medical physical exam conducted by a fully licensed physician. The physical must also include a pulmonary function test of the lungs.
Appropriate annual refresher training must be performed in order to maintain the certification status.
How Many Levels of HAZWOPER Training does OSHA Enforce?
There are three levels for HAZWOPER training as listed in the OSHA regulations. The first level pertains to emergency response. The second level is clean-up of contaminated hazardous waste sites, and the last level pertains to the treatment, storage and disposal (TSD) of hazardous waste. Within these 3 categories are various job functions and training requirements.
1. Emergency Response
2. Clean-up of Contaminated Hazardous Waste Sites
3. Treatment, Storage and Disposal (TSD) of Hazardous Waste
Who Are Considered Emergency Responders?
HAZWOPER training requirements for the first responder operations level appear under 29 CFR 1910.120 (q)(6)(ii), which indicates a minimum training duration of 8 hours and outlines topics to be covered (competencies the worker must acquire). Training that is relevant to the required competencies counts toward the 8-hour requirement, even if the training is provided as a separate course. For example, training on PPE that will be used during patient decontamination activities may be applied towards the 8-hour minimum first responder operations level learning requirement, regardless of whether the PPE training is conducted as part of a specific HAZWOPER training course or as part of another training program.
General Site Workers at Contaminated Sites
Without question, this is the largest pool of people requiring HAZWOPER training. This may change as the contaminated sites are slowly remediated. These contaminated sites are placed on the National Priority List (NPL) by the U.S. Environmental Protection Agency (EPA) and are scheduled for clean-up. The responsible party as identified in the EPA regulations - usually the site owner or past occupant - must pay for the clean-up costs.
The types of HAZWOPER training for the general site worker are as follows: 40 Hour, 24 Hour, 8 Hour Annual Refresher, 8 Hour Site Supervisor, and Incident Command. The standard is performance-based, and the type of training will need to meet the job function. For the training titles listed, the 40 hour course is designed for workers who are exposed to hazardous materials above the OSHA Permissible Exposure Level (PEL). Once work conditions exceed the PEL, respiratory protection is required.

The 24 hour course is designed for workers who have a temporary or short work task at a HAZWOPER site. Usually, these workers are not exposed to hazardous substances or materials above the PEL, and no respiratory protection is required. An 8 hour refresher is required for both the 40 hour and 24 hour designations. Failure to receive the annual refresher can involve the lapse of certification and associated non-compliance status from OSHA.

OSHA regulations also require that at least one person per work group have the 8 hour supervisor training. The incident commander session is usually reserved for emergency response, but can sometimes be invoked for a HAZWOPER site.
Which Workers at Permitted Hazardous Waste Treatment, Storage and Disposal Facilities Need Training?
There is a 24 hour HAZWOPER training requirement for workers involved in hazardous waste operations, and an associated 8 hour refresher. This work typically consists of managing and handling Resource Conservation and Recovery Act (RCRA) hazardous wastes. EPA has regulations that declare a waste as a hazardous.
HAZWOPER Training for Marine Oil Spills
OSHA has issued special directives or guidance documents with respect to marine oil spill cleanup. According to these documents, some of the HAZWOPER training requirements maybe be lessened. For example, a worker retrieving tar balls on a beach may not need the 40 hour HAZWOPER course. The beach workers could possibly receive a specialized 8 hour HAZWOPER course and be in compliance with OSHA. All of this depends upon the OSHA permissible exposure levels (PELs) of the constituents in the oil.
For workers who are on a vessel or boat and the PELs are exceeded, these workers would be required to be trained to the HAZWOPER 40 standard. Cleanup of oil on the water surface tends to be more of a occupational hazard than retrieving tar balls on a beach. Download OSHA HAZWOPER Training Guidance Document for Marine Oil Spills.

HAZWOPER Training Regulation Video (oldie but goodie)
This video provides a great overview of the various HAZWOPER job classifications and respective training requirements. If you want to view a video instead of reading about HAZWOPER, this is for you.

"We enjoyed the content and delivery of your training."
S. Maide, U.S. EPA
"Overall I thought your 8 hour HAZWOPER refresher was very good."
J. Staples, State of Kentucky, OSHA
OSHA HAZWOPER Hot Topic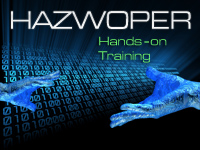 OSHA requires hands-on site specific training for 24 and 40 hour HAZWOPER courses. Hands-on training on PPE in general does not meet their standard. See Full Explanation
Course Features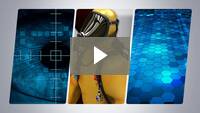 Our courses are designed by information architects, graphic designers, and seasoned degreed health and safety professionals. What type of education or experience does your HAZWOPER training provider possess? See Course Demo
Certification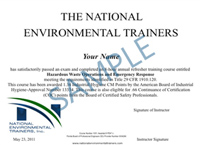 At successful completion of the course, you will receive 3 certificates and your certificates will be stored in our National Repository® for future reference. An e-certificate will arrive via email and the other two (8x10 and wallet card) will arrive in the U.S. mail. See Example
HAZWOPER Exclusivity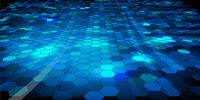 We are the only online training company today with a hands-on simulator. Our HAZWOPER Hands-on Simulator® has been reviewed and accepted by OSHA. See OSHA Letter
OSHA News
$155 Million in Grants Announced for Job-Driven Training Programs

Matching job seekers with employers who are hiring is critical to an economy that provides opportunities for all. On June 26, the department awarded nearly $155 million in grants to 32 states, Puerto Rico and the Cherokee tribal nation through the Job-Driven National Emergency Grant competition. Secretary Perez and Commerce Secretary Penny Pritzker announced the grants, which will help workers who lost their jobs through no fault of their own. The grants will help states provide opportunities for on-the-job training, Registered Apprenticeships or other occupational training that results in an industry-recognized credential. Funding also will provide dislocated workers with career coaching and career counseling, as well as assistance with job placement in high-demand industries. "We know that job-driven training programs work, and that they're often the best way to provide real ladders of opportunity. Today's awards will help states establish or expand programs that can change peoples' lives," said Perez.