Home
Welcome to the Official Site of Environmental Health and Safety Training®. We are a nationally recognized training firm that specializes in online HAZWOPER, environmental, health and safety (EH&S) training for Fortune 50 companies, federal and state regulators, medium to small companies, the federal government and individual professionals. We offer online U.S. based support with subject matter experts available 24/7 by phone or email.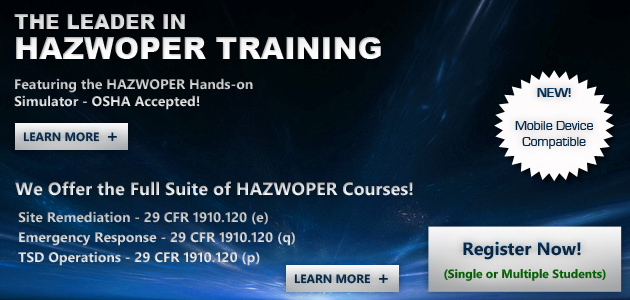 Leader in OSHA and HAZWOPER Training

Over the past 15 years, our 40 hour HAZWOPER courses and learning tracking systems have been used or deployed to many organizations nationwide. We offer a large catalog of courses varying from OSHA 40, DOT and RCRA to help companies and organizations meet their training objectives, reduce operating costs and improve health and safety.

National Environmental Trainers® (NET) continues to thrive in an extremely competitive online training industry. Providing a superior customer experience is a key differentiator for us. Great user experience has always been the hallmark of the most dominant brands in business. We understand the benefit of great user experiences and we focus our efforts on attracting and retaining all of our OSHA 40 hour HAZWOPER, 24 hour HAZWOPER and 8 hour HAZWOPER online relationships.

Our Senior Instructor's teaching style was greatly influenced by visiting Noble Laureates lecturing at the Oak Ridge National Laboratory. Along with this extremely valuable insight, our passion, drive and recognized excellence in this field produces what we believe to be the finest Hazardous Waste Training courses in today's marketplace. The key is to take technical information and explain it in simple terms.

Our goal is to assist our clients in meeting their training objectives through the use of multimedia instructional materials that comply with OSHA, DOT, EPA and other regulations. We pride ourselves in offering the best OSHA and HAZWOPER training courses online.

NET ignited the online EH&S training revolution in 1996 by publishing the first web-based training course for commercial use. Today, NET continues to lead the industry in innovation with its award-winning content, and professional service.

During the 2010 Gulf Oil Spill, we were the exclusive HAZWOPER trainer (online and classroom) for the U.S. Fish and Wildlife Service. We also trained officials with the National Oceanic and Atmospheric Administration (NOAA) and the U.S. Coast Guard.