We Develop Awesome Training
If it's interactivity you crave, then look no further. Our courses are very user friendly and packed with interactivity and high definition graphics. Our courses are packed with "Visual Explanations". We use pictures and animations to communicate ideas, complex regulatory information, systems, and processes. By replacing volumes of text, Visual Explanations reduce learning time, increase comprehension, and boost recall when safety counts. We supplement our award-winning text with engaging and highly informative animations. All of our courses offer in-depth regulatory information.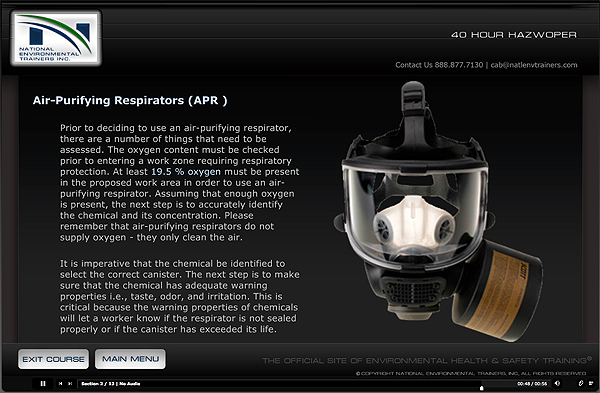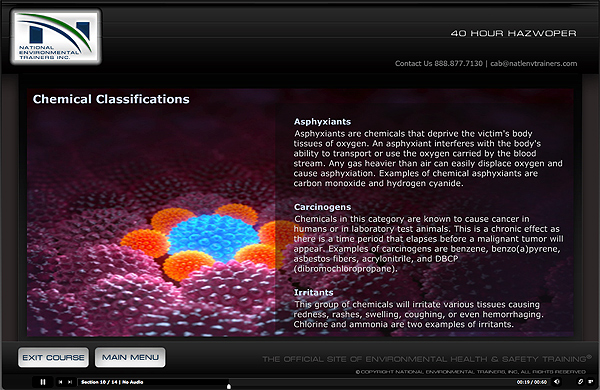 Modular Style
Our professional voiceovers provide audio narration of text. Appealing and colorful up-to-date EPA, OSHA, and DOT text with photographs, illustrations and graphics. (Award-winning content). User friendly navigation bar and Interface. Our format allows freedom to move about different modules upon your request while you are timed and graded.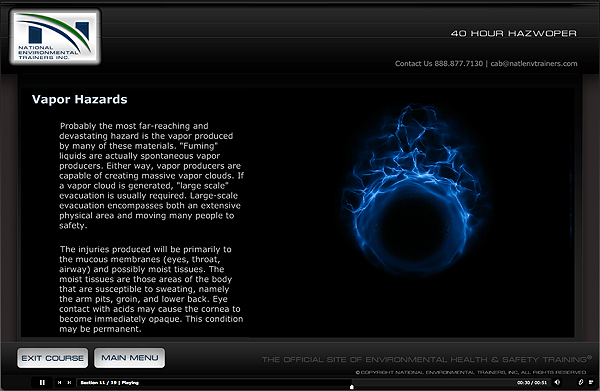 Video Gallery
Excellent gallery of high definition EH&S videos with fast load time and clear resolution. The videos capture actual incidents or problems and you will see the value in having your employees properly trained. You can take a break from the course material and accrue study time as you enjoy a full length video.
Interactivity
Interactive animations are available throughout our courses. These provide illustrations of key fundamentals and quizzes are available at the end of each module. Quizzes check for comprehension and retention of fundamentals. Interactive interface makes learning enjoyable and rewarding.
Interactive Quizzes and Final Exam
Self grading quizzes and final exam provides instant feedback of your score. You may take the quizzes as many times as you like.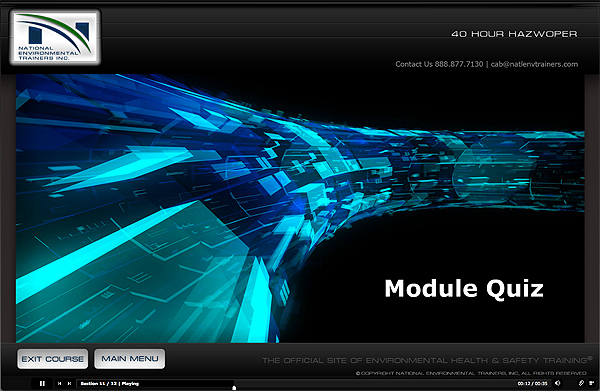 User Friendly
To comply with regulatory time requirements, we employ our OSHA Study Timer that tracks student study time. You can log in and out at your convenience. Our courses are also very easy to navigate as we use a very simple and user friendly navigation system so you can focus on the course material.
Subject Matter Experts
All of our courses are developed by our in-house staff of instructors and information architects. Also, some of our instructors are former OSHA Training Institute (OTI) instructors who worked with OSHA to develop standards and guidance documents. This key experience help us in developing training courses which are considered by many to be among the best.
Our instructors also hold advanced degrees i.e., M.S. or higher related to the EH&S arena (engineering and science). We also hold professional registrations such as the Registered Professional Industrial Hygienist (RPIH) designation. Be sure your certificate is signed by a degreed professional and does not originate from an unknown source. In 1998, we were the first to launch online HAZWOPER training and we helped redefine the manner in which training is conducted today. Today, we are still on the cutting-edge of developing state-of-the-art courses.
Accreditation
Our courses are accredited for Continuing Education Units (CEUs) from the American Board of Industrial Hygiene (ABIH) and the Board of Certified Safety Professionals (BCSP). Also, our exclusive HAZWOPER Hands-on Simulator® was accepted by U.S. OSHA for online delivery. Companies download our OSHA letter and place the document in their files to help them achieve OSHA compliance.
HAZWOPER Hands-on Simulator®
If you are taking any of our HAZWOPER courses, you will experience the exclusive HAZWOPER Hands-on Simulator®. The simulator is the leading innovative training application in the industry. The simulator provides training on the 3 main levels of Personal Protective Equipment (PPE) and a striking decontamination sequence for each level.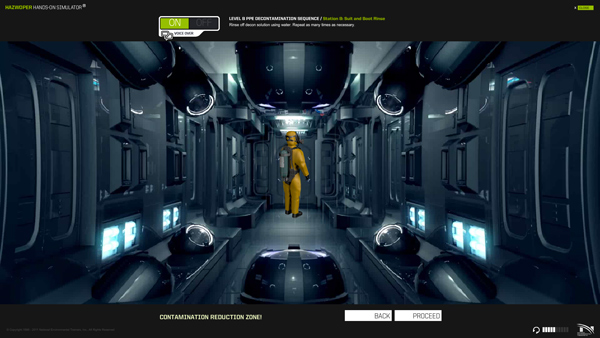 Certificates
Upon successful completion of a course, you will receive 3 professional certificates. An e-certificate will be mailed to you via email for printing on any standard printer. An 8×10 and wallet-card sized certificate will follow in the U.S. mail. Our certificates are accepted nationwide and regulatory agencies see our certificates on a daily basis.
Administrator Functionality
Register your students and then track their progress in real time. You can also download training reports in an Excel® spreadsheet. Certificates can also be downloaded upon successful completion of a course. You can also quickly register additional employees with our user friendly design.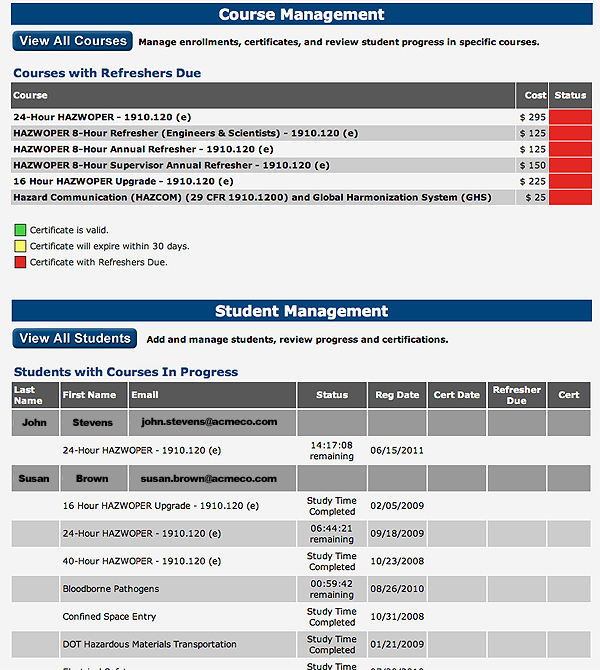 Continuing Value
We maintain records of your completed course(s) and send you email notices when refresher courses are due. Your certificates may be verified at any time by a simple request. Your certificates are maintained in The National Repository® and can be accessed at anytime.
What Makes Us Different
NET has extensive experience integrating three core tenants of successful online training: design, OSHA compliance, and service, all through our unique process. Everyone claims to do it, only a few of us do it well.