HAZWOPER Training & Certification
HAZWOPER training accessible by desktops and all mobile devices including iPads. We offer the full suite of OSHA regulatory required courses.
Get Started

The Official Site of HAZWOPER
Hands-on Simulator®
Since 1998 - The Name You Trust
National Environmental Trainers® (NET) offers the highest quality available in online OSHA health and safety training. We are specialists and experts with many years experience in this field. Our site contains a comprehensive catalog of OSHA courses for online safety training. Since 1998, we have trained many professionals with our courses, including state and federal regulators. We serve many industries in both the public and private sectors. Some of our clients include the U.S. Secret Service, U.S. OSHA, U.S. EPA, U.S. Department of Homeland Security, Fortune 500 companies, small to medium companies and individuals.
Everyone Claims To Do It, Only A Few Do It Well
All of our courses are extremely interactive including 3D graphics and illustrations used to aid you with HAZWOPER certification. Our in-house subject matter experts authored our courses and are available 24/7 to answer questions or provide guidance. Our company developed the HAZWOPER Hands-on Simulator® that is considered the industry standard for hands-on site-specific training. We are professional and certified HAZMAT instructors with many years of experience. This includes working for regulatory agencies and cleanup of nuclear and chemical waste sites.
Our company is located in the Garden City of Augusta, Georgia and we are very fortunate to serve so many diverse clients. In 1998, our company was the first to offer online health and safety training. We hope you enjoy your visit to our site and we look forward in helping with your training needs and OSHA compliance.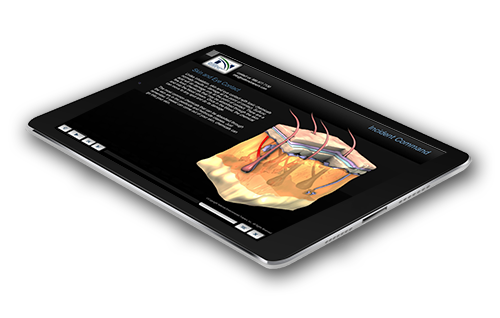 Our HAZWOPER courses are now mobile ready so you can scroll, swipe, tap, pinch or zoom, and click your way through an HTML5 course! The new course format (responsive design) allows you to access our training via PC, laptop, iPad®, iPhone®, smart phones or any other mobile device. These are fully gesture enabled modules allowing you to use the latest technology combined with our OSHA compliant content. Our training uses multi-touch technology embedded in modern user interfaces that deliver training to you on the go or on a desktop.
It does not matter which you device you use. You can change between devices and return to the same place where you left off. Our system will automatically detect your device and deliver the most appropriate experience for it. Experience the new method in HAZWOPER training and you'll be glad you did. Our new course format features all new content, stunning graphics, and more interactivity.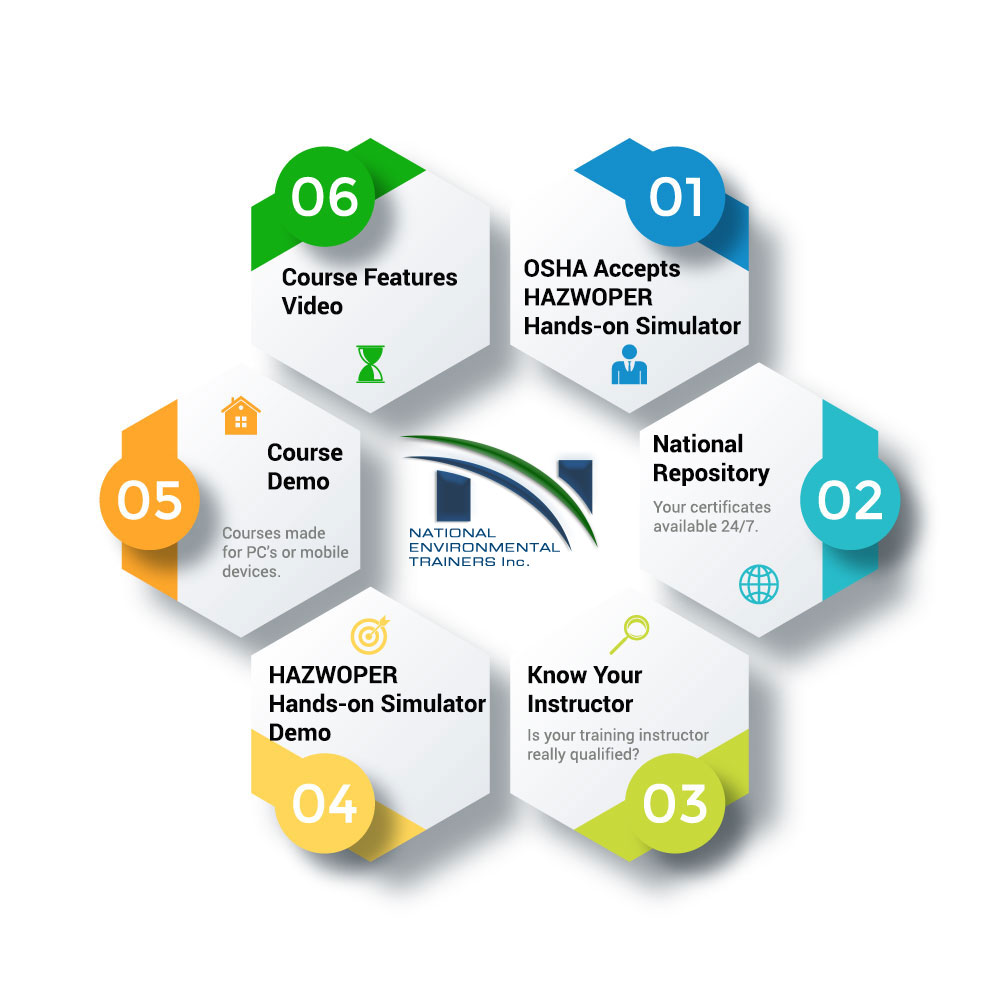 OSHA has stated in many HAZWOPER interpretation letters that 40 hour and 24 hour sessions require site-specific hands-on learning on the actual Personal Protective Equipment (PPE) that an employee will be using in their job. Site-specific means just that. The training cannot be done with generic PPE, but must be done with the actual equipment in order to fully meet the OSHA regulations. The OSHA training requirements for these HAZWOPER courses are listed below.
A minimum of 24 or 40 hours of offsite instruction.
Site-specific training on the actual PPE. A public seminar with people from different job sites cannot fulfill this requirement.
Either 1 or 3 days of training under the direction of a qualified supervisor.
Medical physical exam conducted by a fully licensed physician. The physical must also include a pulmonary function test of the lungs.
Appropriate annual refresher training must be performed in order to maintain the certification status.
National Environmental Trainers® is primarily a HAZWOPER training and HAZMAT certification company. Our main offerings include: 24 Hour and 40 hour HAZWOPER courses offered online or on site, 8 hour HAZWOPER annual refresher courses online to keep your certification current and an exclusive OSHA accepted Hands-on Training Simulator that provides a realistic presentation about using PPE for each level of protection against hazardous waste or materials.
"At each step, the course proves itself to be the best among others. I will highly recommend National Environmental Trainers for HAZWOPER Training. They are doing it in an AWESOME way!"
Regards,
Dr. Richi Yadav
"The best online HAZWOPER training we've ever taken. Really enjoyed the animations they kept us engaged throughout the course."
– Ralph Alee
"We very much enjoyed the content and delivery of your HAZWOPER training."
– Scott Maide,
U.S. Environmental Protection Agency (EPA)