HAZWOPER Training & Certification
HAZWOPER training accessible by desktops and all mobile devices including iPads. Your workforce is mobile, so why isn't your training?
Get Started

The Official Site of HAZWOPER
Hands-on Simulator®
Since 1998 - The Name You Trust
National Environmental Trainers® (NET) offers the highest quality available in online OSHA health and safety training. We are specialists and experts with many years experience in this field. Our site contains a comprehensive catalog of OSHA courses for online safety training. Since 1998, we have trained many professionals with our courses, including state and federal regulators. We serve many industries in both the public and private sectors. Some of our clients include the U.S. Secret Service, U.S. OSHA, U.S. EPA, U.S. Department of Homeland Security, Fortune 500 companies, small to medium size companies and individuals.
Everyone Claims To Do It, Only A Few Do It Well
All of our courses are extremely interactive including 3D graphics and illustrations used to aid you with HAZWOPER certification. Our in-house subject matter experts authored our courses and are available 24/7 to answer questions or provide guidance. Our company developed the HAZWOPER Hands-on Simulator® that is considered the industry standard for hands-on site-specific training. We are professional and certified HAZMAT instructors with many years of experience and graduate degrees in the sciences and engineering disciplines. This includes working for regulatory agencies and cleanup of nuclear and chemical waste sites.
Our company is located in the Garden City of Augusta, Georgia and we are very fortunate to serve so many diverse clients. In 1998, our company was the first to offer online health and safety training. We hope you enjoy your visit to our site and we look forward in helping with your training needs and OSHA compliance.
New! HAZWOPER Mobile Training® - See Features
Our HAZWOPER courses are now mobile ready so you can scroll, swipe, tap, pinch or zoom, and click your way through an HTML5 course! The new course format (responsive design) allows you to access our training via PC, laptop, iPad®, iPhone®, smart phones or any other mobile device. These are fully gesture enabled modules allowing you to use the latest technology combined with our OSHA compliant content. Our training uses multi-touch technology embedded in modern user interfaces that deliver training to you on the go or on a desktop.
It does not matter which you device you use. You can change between devices and return to the same place where you left off. Our system will automatically detect your device and deliver the most appropriate experience for it. Experience the new method in HAZWOPER training and you'll be glad you did. Our new course format features all new content, stunning graphics, and more interactivity.
Take us with you. Travel anywhere and access your training!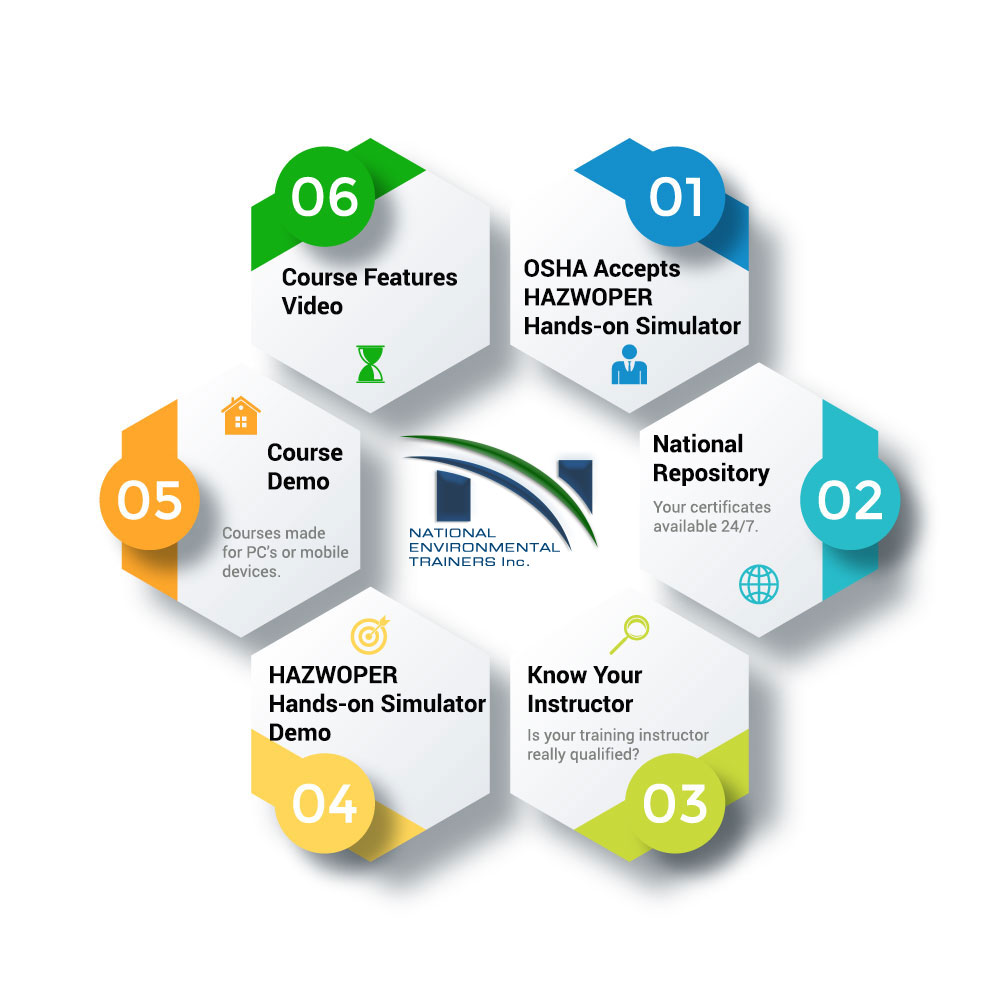 40 Hour, 24 Hour, 8 Hour Training & Refresher Courses
OSHA has stated in many HAZWOPER interpretation letters that 40 hour and 24 hour sessions require site-specific hands-on learning on the actual PPE that an employee will be using in their job. Site-specific means just that. The training cannot be done with generic PPE, but must be done with the actual equipment in order to fully meet the OSHA regulations. The OSHA training requirements for these HAZWOPER courses are listed below.
A minimum of 24 or 40 hours of offsite instruction.
Site-specific training on the actual PPE. A public seminar with people from different job sites cannot fulfill this requirement.
Either 1 or 3 days of training under the direction of a qualified supervisor.
Medical physical exam conducted by a fully licensed physician. The physical must also include a pulmonary function test of the lungs.
Appropriate annual refresher training must be performed in order to maintain the certification status.
National Environmental Trainers is a HAZWOPER training company. Our main offerings include: 24 Hour and 40 hour HAZWOPER courses offered online or on site, 8 hour HAZWOPER annual refresher courses online to keep your certification current and an exclusive OSHA accepted Hands-on Training Simulator that provides a realistic presentation about using PPE for each level of protection against hazardous waste or materials.
How Many Levels of HAZWOPER Training does OSHA Enforce?
There are three levels for HAZWOPER training as listed in the OSHA regulations. The first HAZWOPER level pertains to emergency response. The second level is clean-up of contaminated hazardous waste sites, and the last level pertains to the treatment, storage and disposal (TSD) of hazardous waste. Within these 3 categories are various job functions and training requirements.
1. Emergency Response
2. Clean-up of Contaminated Hazardous Waste Sites
3. Treatment, Storage and Disposal (TSD) of Hazardous Waste
Who Are Considered Emergency Responders?
HAZWOPER training requirements for the first responder operations level appear under 29 CFR 1910.120 (q)(6)(ii), which indicates a minimum training duration of 8 hours and outlines topics to be covered (competencies the worker must acquire). Training that is relevant to the required competencies counts toward the 8-hour requirement, even if the training is provided as a separate course. For example, training on PPE that will be used during patient decontamination activities may be applied towards the 8-hour minimum first responder operations level learning requirement, regardless of whether the PPE training is conducted as part of a specific HAZWOPER training course or as part of another training program.
General Site Workers at Contaminated Sites
Without question, this is the largest pool of people requiring HAZWOPER certification. This may change as the contaminated sites are slowly remediated. These contaminated sites are placed on the National Priority List (NPL) by the U.S. Environmental Protection Agency (EPA) and are scheduled for clean-up. The responsible party as identified in the EPA regulations – usually the site owner or past occupant – must pay for the clean-up costs.
The types of training for the general site worker are as follows: 40 Hour, 24 Hour, 8 Hour Annual Refresher, 8 Hour Site Supervisor, and Incident Command. The standard is performance-based, and the type of training will need to meet the job function. For the training titles listed, the 40 hour course is designed for workers who are exposed to hazardous materials above the OSHA Permissible Exposure Level (PEL). Once work conditions exceed the PEL, respiratory protection is required.
The 24 hour course is designed for workers who have a temporary or short work task at a HAZWOPER site. Usually, these workers are not exposed to hazardous substances or materials above the PEL, and no respiratory protection is required. An 8 hour refresher is required for both the 40 hour and 24 hour designations. Failure to receive the annual refresher can involve the lapse of certification and associated non-compliance status from OSHA.
OSHA HAZWOPER regulations also require that at least one person per work group have the 8 hour supervisor training. The incident commander session is usually reserved for emergency response, but can sometimes be invoked for a HAZWOPER site.
Which Workers at Permitted Hazardous Waste Treatment, Storage and Disposal Facilities Need Training?
There is a 24 hour training requirement for workers involved in hazardous waste operations, and an associated 8 hour refresher. This work typically consists of managing and handling Resource Conservation and Recovery Act (RCRA) hazardous wastes. EPA has regulations that declare a waste as a hazardous waste.
Uniqueness of the HAZWOPER Certification Regulation
The OSHA HAZWOPER regulation is unique in that it is primarily a performance based standard, contains minimum time requirements for courses, is sometimes competency based, maybe administered at the federal or state level, and covers 3 categories of worker classifications. As many regulations impact both the private and public sectors so does the HAZWOPER standard. But what makes this regulation so unique is that it is a performance based standard. Employers are responsible for adequately training their employees but to what level? Similar jobs in different industries will have different methods of complying with the OSHA regulations.
An employer must determine exactly how health and safety regulations appliy to them. Professional emergency responders would obviously have to be trained at a far greater level than an engineer or scientist who is conducting groundwater sampling at a contaminated site.
The employer must conduct a training needs analysis to identify any gaps between regulations and the job an employee is performing. A training needs analysis is critical to ensuring compliance with health and safety regulations and protecting employees. Usually a matrix is prepared to cross-reference the regulations to the job. Once this is accomplished, any gaps for deficient training are noted and employees must receive the appropriate training.
In order to adequately protect human health and the environment from exposure to hazardous waste and contaminants, Congress enacted several regulatory programs to protect the nation's air and water resources, as well as ensure the safety of employees. The one requirement by Congress to OSHA was that certain courses should have minimum time requirements. OSHA promulgated the HAZWOPER regulation with 8, 24 and 40 hour time requirements for different courses. This was to ensure the correct scope and breadth of various topics in the courses. Some of the initial and refresher courses are competency based as well.
For state regulatory agencies that are under the purview of U.S. OSHA, they can administer their own regulatory programs which include HAZWOPER programs. U.S. OSHA approves of the state plan to enforce worker health and safety regulations. These states are commonly know as State Plan States. There are approximately 27 State Plan States with more applying for OSHA approval. An employer must comply with the regulatory agency that has primacy for their respective state. The state regulations must be at least as stringent as the federal standards. Typically, the regulations are almost identical but there are some differences depending on your state. You should be sure to consult with your training provider before taking any training.
HAZWOPER/HAZMAT Certification Training Questions and Answers
Question
HAZWOPER training is offered from so many various places. How do I know which training provider is certified by OSHA?
Answer
OSHA does not certifiy, endorse, or approve of training providers or training courses. However, they may accept training components as they see fit. Many years ago, a notice in the Federal Register, OSHA proposed a rule whereby OSHA would certify instructors. But it never made it past this point. This section of the regulation (Title 29 CFR 1910.120) is still open and has never been written. In our verbal discussions with the U.S. OSHA Directorate of Enforcement Programs in Washington, D.C., they have no plans on promulgating this rule. So, it appears that companies must rely on the credentials, experience, and references of insructors to adequately train their employees. This is really important and it matters. We have a web page devoted to this discussion - Professional Instructors.
Question
Why is the OSHA 10 and 30 training program authorized by OSHA yet the HAZWOPER program is not?
Answer
The OSHA 10 and 30 program is operated by a seperate side of OSHA in Arlington Heights, Illinois. The HAZWOPER program is operated by OSHA Headquaters in Washington, D.C. Many people think that OSHA is one entity and it is for the most part. However, different areas of OSHA enforce different programs. The former is a program that OSHA developed on its own to promote worker safety in general industry and construction industries. In doing so, it was not required to go through the Federal Register to write this program into law. But various states have made the OSHA 10 and 30 training mandatory in their statutes and regulations. Whereas the latter is law and required in all 50 states. The program is either adminstered by U.S. OSHA or an OSHA approved Plan State. A Plan State implements and eforces its own safety programs.
Question
Who is actually qualified or eligible to certify an individual?
Answer
The OSHA regulations are a little ambigous in this area. They essentially say that trainers shall be qualified to instruct and train individuals about the subject matter being presented. Our belief is that a qualified trainer is someone who has completed at least a bacculaureate degree from an accredited college or university, have at least 5 years of field experience, and has taken an instructors class such as offered by the U.S. Fire Administration.
Question
Which HAZWOPER or HAZMAT training should I take?
There are many different types of courses which to to choose. You need to make sure you are receiving the correct training for your job. Please follow the link below for more info.
Question
There are a lot of topics and material listed in the regulations that we may never come across or use. Do I have to complete all of the training?
Answer
Absolutely! In order to be certified to work with hazardous materials you must be trained to the standard as established by OSHA. There may be some information not applicable to you or your company but you must complete the training topics as required by OSHA. Failure to do so will make your certification invalid. This is something you really do not want to do. There are substantial fines and penalties for failure to comply with these regulations including both civil and criminal. There have been many documented cases of business owners and other individuals going to jail by faking certificates or not adequately training their employees.
Question
The OSHA 29 CFR 1910.120 HAZWOPER regulation also references a "non-mandatory" Appendix E section. So, do we have to comply with Appendix E if the regulation is non-mandatory?
Answer
The Appendix E section of the OSHA HAZWOPER regulation is listed a non-mandatory. However, these are guidelines that you better use if you want to stay in compliance with OSHA. OSHA provided these guidelines in a generic fashion to aid employers in complying with their standard. We highly recommend that you follow these guidelines. If they were not important, OSHA would not have provided them. These are generic guidelines and they are not presented as a complete training program for any specific employer. But your training program must be as adequate as these guidelines suggest. Appendix E mentions important items such as proficiency assessments, recordkeeping, student to instructor ratios, critical elements of a certificate, training plans, technical knowledge, emergency response, professional competency, etc. So, the answer to your question is yes - you should fully comply with Appendix E of 29 CFR 1910.120.
HAZWOPER / HAZMAT Training and Certification Sequence
One of the more frequent questions we receive is "what is the sequence for General Site Personnel HAZWOPER training and certification"? The HAZWOPER training sequence for certification varies according to your job function. For general site cleanup professionals, either the 40 hour or 24 hour course is completed first as there are no prerequisites for either of these courses. The primary difference between these two courses centers on the OSHA Permissible Exposure Limits (PELs). If you are exposed to a hazardous substance(s) at or above the OSHA PEL, then you must complete the 40 hour HAZWOPER course. If your work does not involve meeting or exceeding the OSHA PELs, then you can complete the 24 hour HAZWOPER course. As a general rule of thumb, if you are visiting a contaminated site, performing short work tasks such as surveys or groundwater sampling, or any other type of work activity with little or no expectation of exceeding the OSHA PELs, most people complete the 24 hour course. Individuals who are actively involved in the remediation of a contaminated site must complete the 40 hour HAZWOPER.
For HAZMAT emergency response professionals, there are 5 different job classifications that come under this level. These classification are generally referred to as someone possessing a HAZMAT Certification status. Annual refreshers are required for the 5 classifications. These are competency based re-certification requirements and differ from the General Site Personnel refresher requirements that must meet study time requirements for each course. The First Responder Awareness course is usually the entry course for most people seeking an emergency response certification. As the title of the course suggests, it is an awareness level course and people are limited in response actions taken. The next level is the First Responder Operations course which allows a person to respond defensively to a release of hazardous substances. The next level deals with HAZMAT Technicians and HAZMAT Specialists. These levels are almost identical but the Specialist training focuses more on chemical training and specialty operations such as patching chlorine gas cylinders. Finally, the Incident Commander is responsible for overseeing all HAZMAT emergency response operations. Incident commanders must complete an initial 24 course followed by a competency based annual refresher.
For RCRA TSD professionals, the training and certification sequence is much more straight forward. The entry job classification is the 24 hour HAZWOPER training for TSD facilities followed by an 8 hour annual refresher.
"At each step, the course proves itself to be the best among others. I will highly recommend National Environmental Trainers for HAZWOPER Training. They are doing it in an AWESOME way!"
Regards,
Dr. Richi Yadav
"The best online HAZWOPER training we've ever taken. Really enjoyed the animations they kept us engaged throughout the course."
– Ralph Alee
"We very much enjoyed the content and delivery of your HAZWOPER training."
– Scott Maide,
U.S. Environmental Protection Agency (EPA)