24 Hour HAZWOPER (29 CFR 1910.120) (p) RCRA TSD Operations
Cost: $295 per person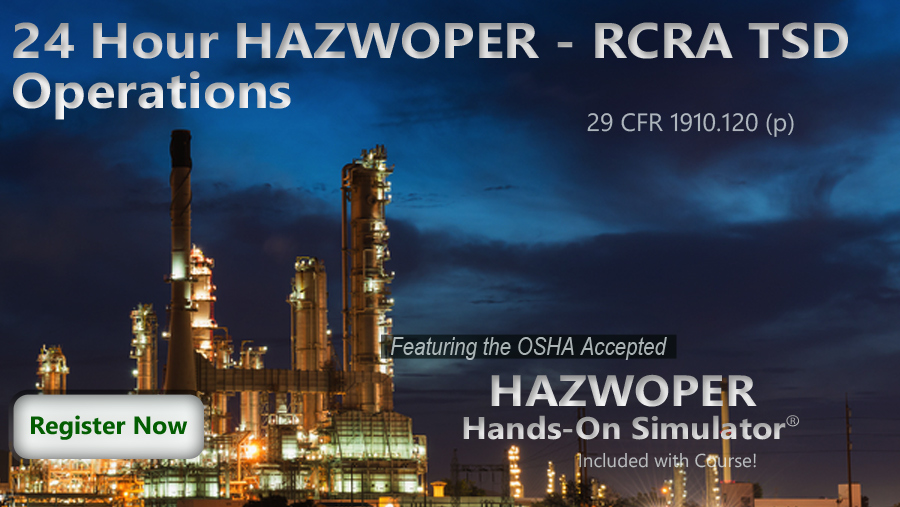 This 24 hour HAZWOPER training for RCRA TSDF personnel covers the OSHA required topics and provides in-depth training for personnel working at RCRA permitted facilities. EPA also requires this training.
Group discounts available (3 or more people). Please email or call us at 1.888.877.7130 for a quote.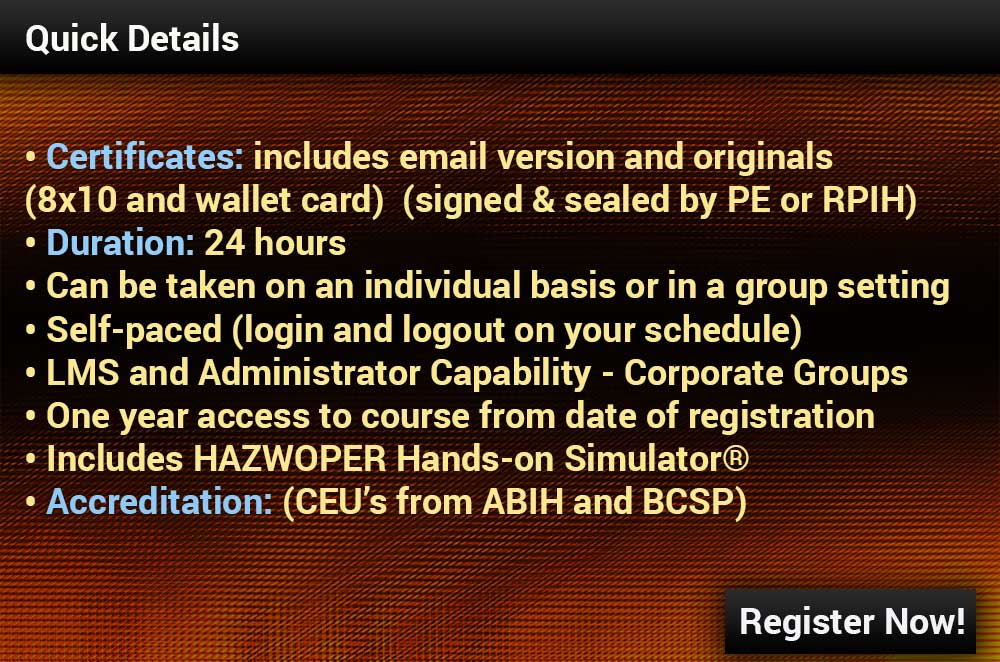 Course Features
• Includes 14 full length videos
• HAZWOPER Hands-on Simulator® (OSHA accepted)
• Professional voiceovers
• Over 50 interactive flash animations
• Award winning content
• CEU's
• Self grading quizzes and final exam
• OSHA Study Timer (tracks your study time login and logout at your convenience)
• Certificate of Completion (3 certificates) An e-certificate is sent via email immediately upon course completion and the original certificates (8×10 and wallet card size) arrive in the mail.
• Automatic inclusion into our National Repository® where you can download your certificates at a later date if needed.
• You have one year from the time of registration to complete the course! A full one year access to the course.
Course Description
In compliance with OSHA 29 CFR 1910.120 (p) regulations, this training is required for individuals who plan to work in a area that is defined as a RCRA Treatment Storage or Disposal (TSD) facility. Upon successful completion of the course, students will receive a certificate of completion accepted by regulatory agencies.
Facilities that have the potential for an emergency to occur due to an uncontrolled release of hazardous substances or hazardous raw materials are required to provide training required under HAZWOPER 29 CFR 1910.120 paragraph (q). Employers who have hazardous waste storage areas must provide training required under either 29 CFR 1910.120 (p)(8) or (q) for those areas.
The course consists of modules (approximately 86 modules) with the use of multimedia components for an engaging experience. This course is intended for RCRA TSD site personnel, e.g., supervisors, environmental professionals, workers, decon personnel etc. The initial training for new employees exposed to health hazards or hazardous substances at TSD facilities must be 24 hours. Refresher training must be for eight hours annually. The training must be incorporated into the employer's safety and health program.
24 hour HAZWOPER Training for RCRA TSD Operations
Did you know that there are at least 3 different 24 hour HAZWOPER courses? OSHA requires that employers train adequately their employees for any job. Please be sure you get the right HAZWOPER Training for the right job. The RCRA corrective action process consists of three primary activities: characterizing the release, selecting a remedy from identified alternatives, and implementing the selected remedy until the desired remediation goals are achieved. To design a process capable of collecting the information necessary to achieve these primary objectives, the HAZWOPER employer relies upon not only this guidance document but others prepared by EPA that which describe all aspects of the corrective action process.
Plan States (approved by U.S. OSHA) must have standards at least as stringent as the Federal HAZWOPER training requirements. These Plan States may have additional training requirements.
Certificates
Upon successful completion of the course, you will receive a total of 3 certificates. An email with an e-certificate will be sent to you or your designee immediately upon completing the course and the original certificates (8×10 and pvc wallet card) will arrive in the mail.
Support
Includes U.S. Based support. An experienced and highly qualified instructor is available to you throughout the training process. Our toll free hotline or email will allow access to some of the finest instructors in the U.S.
Duration
24 hours (OSHA 24 Hour HAZWOPER Training Requirement) Note: OSHA requires the 24 hour course will take a minimum of 24 hours of actual study time. Anything less will not comply with the OSHA standard. Our course allows you to login and logout at any time increment in order to fit your schedule. When you logout, the course will be bookmarked so you can begin where you left off. The study timer will also accrue your time and will begin where you left off in the course.
Continuing Education Units (CEU's)
This course has been awarded 4.01 Industrial Hygiene CM Points by the American Board of Industrial Hygiene (ABIH) – approval number 13334. This course is eligible for 2.00 Continuance of Certification (COC) points from the Board of Certified Safety Professionals (BCSP).
Prerequisites
None
Trust the Experience of a Highly Regarded HAZWOPER Training Provider
NET has provided HAZWOPER training to thousands of clients including the U.S. Occupational Safety and Health Administration (OSHA) and many private sector companies. NET was also the exclusive HAZWOPER training provider to the U.S. Fish and Wildlife Service (FWS) during the 2010 Gulf Oil Spill. We were also referred by the FWS to the U.S. Coast Guard to train their personnel for HAZWOPER operations. In addition, we assisted NASA and the U.S. EPA during the Space Shuttle Columbia Debris Recovery efforts. All of our onsite instructors are former U.S. OSHA Training Institute instructors.
Table of Contents
Module 1: Regulatory Overview
EPA
OSHA
Levels of Training
Module 2: Hazard Communication (HAZCOM)
Regulatory Overview
Requirements of the HAZCOM Standard
Hazard Evaluation
Module 3: HAZCOM Safety Data Sheets (SDS)
SDS Form
SDS Form Explained
Container Labeling Requirements
Module 4: HAZCOM Hazardous Materials Identification System (HMIS)
HMIS Labels
DOT Labels
HMIS Labels Explained
Module 5: Roles and Responsibilities Part 1
Organizational Structure
Essential Personnel
Health and Safety Plan (HASP)
Module 6: Roles and Responsibilities Part 2
Optional Personnel
Lines of Authority
Module 7: HAZWOPER Site Control
Site Map
Site Preparation
Module 8: HAZWOPER Site Zones
Site Zones Explained
Establishing the Hot Line
The Buddy System
Module 9: HAZWOPER Support Zones
Site Security
Communication Systems
Module 10: General Health and Safety Plan Guidelines
Health and Safety Guidelines
Overview of Health and Safety Plan
Module 11: Medical Surveillance Part 1
Information for Medical Program
Develop a Site Specific Medical Program
Module 12: Medical Surveillance Part 2
Medical Examination
Periodic Medical Monitoring
Examination After Injury
Termination Exam
Module 13: Hazard Recognition
Injury Prevention
Boiling Point, Vapor Pressure, Vapor Density, pH, Flashpoint
Oxidizers
Lower/Upper Explosive Limits
Flammability
Fire Triangle
SDS

Module 14: Respiratory Protection Part 1
Respirator Protection Program
Respirator Types
Selection of Respiratory Equipment
Module 15: Respiratory Protection Part 2
Air-purifying Respirators
Combination Canisters and Cartridges
Types of APR Face Pieces
Module 16: Respiratory Protection Part 3
Supplied Air Respirators (SAR)
Self Contained Breathing Apparatus (SCBA)
Combination SCBA/SAR
Module 17: Respiratory Protection Part 4
Chemical Concentration
Protection Factors
Calculating Protection Factors
Module 18: Respiratory Protection Part 5
Respirator Fit Test (Quantitative and Qualitative)
Respiratory Maintenance
Types of Respirator Canisters
How Respirators Work
Positive and Negative Pressure Fit Test
Respirator Limits
Cleaning, Maintenance and Storage
Module 19: Personal Protection Equipment (PPE) Part 1
Clothing and Ensembles
Developing a PPE Program
Training
Program Review and Evaluation
Module 20: Personal Protection Equipment (PPE) Part 2
Level A
Level B
Level C
Level D
Selecting the level of protection
Module 21: Personal Protection Equipment (PPE) Part 3
Protective Clothing
Inspection and Maintenance of Protective Clothing
Selection of Chemical Protective Clothing
Permeation and Degradation
Work Mission Duration
Module 22: Personal Protection Equipment (PPE) Part 4
Considerations for working in PPE
Air Supply Consumption
Coolant Supply
Accessories
Special Considerations
Module 23: Personal Protection Equipment (PPE) Part 5
Reasons to Upgrade/Downgrade PPE
PPE Inspection Program
Proper Storage
PPE Before Use Inspection
Module 24: Personal Protection Equipment (PPE) Part 6
In-use Monitoring
Donning and Doffing
Clothing Reuse
Heat Stress and Monitoring
Heat Rash
Heat Cramps
Heat Stroke
Module 25: Personal Protection Equipment (PPE) Part 7
Hand Protection
General Requirements of the OSHA Standard
Eye and Face Protection
Selection of Eye and Face Protection
Head Protection
Foot Protection
Module 26: Decontamination Part 1
Decon Plan and Procedures
Standard Operating Procedures
Maximizing Worker Protection from Hazardous Wastes
Proper Dress Out Procedures
Levels of Contamination
Module 27: Decontamination Part 2
Personal Decon Station
Extent of Decon Required
Types of Contamination
Amount of Contamination
Levels of Protection
Module 28: Decontamination Part 3
Decon of Personnel and Equipment
Decon During Medical Emergencies
Physical Injury
Heat Stress
Module 29: Decontamination Part 4
Protection for Decon Workers
Decon Procedures
Chemical and Physical Removal of Contamination
Module 30: Decontamination Part 5
Persistent Contamination
What if Decon procedure has not worked?
Lab Testing Articles
Fundamentals that Affect Permeation of Protective Clothing
Substance and Tools for Effective Decontamination
Module 31: Decontamination Part 6
Disposal of Contaminated Equipment and Materials
Decon Tools, Devices and Equipment
Disposal of Contaminated Materials
Health and Safety Hazards of Decontamination
Decon Facility Design
Module 32: Handling Drums Part 1
Planning and Inspection
Handling Drums
Drum Handling Chart
Module 33: Handling Drums Part 2
Opening Drums and Incompatibilities
Other Containers and Incompatible Chemicals
Explosive and Shock Sensitive Wastes
Bulging Drums
Lab Packs
Leaking, Open and Deteriorated Drums
Buried Drums
Module 34: Handling Drums Part 3
Sampling and Staging
Drum Sampling
Bulking
Shipping
Module 35: Placards and Labeling
NFPA Hazardous System Identification
DOT Placards
Module 36: Excavations Part 1
OSHA Excavation Standard
General OSHA Requirements
Competent Person
Module 37: Excavations Part 2
OSHA Soil Classification
OSHA Accepted Manual Field Test Methods
Visual Test
Manual Test
Module 38: Excavations Part 3
Requirements for Protective Systems
Options for Protective Systems
Sloping and Benching
Distressed Soils
Trenching and Shoring
Trench Boxes
Module 39: Confined Spaces
Key Occupational Roles
Safety Attendant
Authorized Entrant
Emergency Rescue Team Training
Module 40: What is a Confined Space?
Confined Space Fatalities
Types of Confined Spaces
Specific Confined Space Hazards
Module 41: Confined Space Pre-Entry Procedure Part 1
Safe Entry Procedures
Confined Space Entry Plan
Module 42: Confined Space Pre-Entry Procedure Part 2
Entry Permits
Crew Briefing
Rescue Operations
Communications
Module 43: Confined Space Entry
Preparing the Confined Space for Entry
Confined Space Atmosphere
Module 44: Confined Space Protective Devices, Controls, and Monitoring Part 1
Protective Devices
Lockout/Tagout Devices
Safety Barriers
Equipment Used in Emergency Response
First Aid Equipment
Module 45: Confined Space Protective Devices, Controls, and Monitoring Part 2
Fire Suppression Systems
Top Entry
Hot Work
Electrical Equipment
Module 46: Confined Space Injury Prevention
Injury Prevention
Causes of Fatalities
Module 47: Confined Space Hazards
Electrical/Mechanical
Engulfment and Drowning
Fall Hazards
Toxic Atmosphere
Module 48: Site Characterization Part 1
Offsite Characterization and Records Search
Information Sources
Interviews
Perimeter Reconnaissance
On-site Survey
Module 49: Site Characterization Part 2
Protection of Entry Team and Documentation
Entry Team
Monitoring and Hazard Assessment
Document Control
Module 50: Toxicology Part 1
Chemical Classification
Toxicology
Routes of Exposure and Dose
Interaction with Other Chemicals
Dust, Fumes, Mists and Vapors
Module 51: Toxicology Part 2
Toxicokinetics
Metabolism
Classes of Chemical Toxins
Dose to Organs
Module 52: Toxicology Part 3
Dose and Response
Storage in the Body
Chronic Response
Toxic
Chemical Interaction
Dose/Response
OSHA Exposure Limits
Module 53: Hazard Recognition Part 1
NFPA Requirements
Job Hazard Analysis
Defining Risk
Chemical Hazard Identification Systems
NFPA 704 System
DOT Labels and Placards
Ionizing Radiation
Module 54: Hazard Recognition Part 2
Chemical and Physical Hazards
Fires and Explosions
Combustibles
Shock Sensitive
Oxygen Deficiency
Module 55: Hazard Recognition Part 3
Site and Equipment Hazards
Noise
Heat Stress
Heat Stroke
Cold Stress
Module 56: Hazard Recognition Part 4
Infectious Diseases (Bloodborne Pathogens, HIV, HBV)
Sanitation
Illumination
Lockout/Tagout
Module 57: Chemical Awareness Part 1
Hazardous Chemicals
Corrosive Class Chemicals
Labeling and SDS
Module 58: Chemical Awareness Part 2
Acids and Bases
Liquid Hazards
Vapor Hazards
Protective Measures
Module 59: Chemical Awareness Part 3
Hazardous Mixtures
Polychlorinated biphenyls (PCBs)
Module 60: Chemical Awareness Part 4
Solvents
Health Effects of Solvents
Do's and Don'ts of Solvent Use and Storage
Fire Triangle
Module 61: Chemical Awareness Part 5
Oxidizers and Gases
Health Effects of Oxidizers and Gases
Protective Measures
Module 62: Chemical Awareness Part 6
Water Reactive Substances and Explosives
Characteristics of Water Reactive Metals
Unstable Materials
Module 63: Chemical Awareness Part 7
Radioactive Hazards
Types of Radiation
Measurement of Radioactive Materials
Radiation Dose Rates
Module 64: Chemical Awareness Part 8
Radiation Exposure and Protection
Acute and Chronic Radiation Exposure
Transferable Contamination
Radiation Protection
Sources of Exposure
Module 65: Air Monitoring Part 1
Requirements for Air Monitoring Devices
Sampling Methods
Air Monitoring Equipment Characteristics
Module 66: Air Monitoring Part 2
Types of Direct Reading Instruments
Calibration
Toxic Atmosphere Monitors
Module 67: Air Monitoring Part 3
Types of Direct Reading Instruments Cont'd
Photoionization Detector (PID)
Flame Ionization Detector (FID)
Radiation Monitors
OSHA Action Levels
Module 68: Air Monitoring Part 4
Active and Passive Sampling Equipment
Personal Monitors
Radiation Dosimeters
Calibration
Personal Sampling Plan
Module 69: Air Monitoring Part 5
OSHA Exposure Limits
Measuring Particles, Gases and Vapors
Permissible Exposure Limit (PEL)
Time Weighted Averages (TWA)
Calculating TWAs
Module 70: Air Monitoring Part 6
Site Monitoring
Monitoring for Immediately Dangerous to Life and Health (IDLH)
Perimeter Monitoring
Variables of Hazardous Waste Site Exposures
Module 71: Hazardous Materials Sampling Part 1
Sampling Plan
Hazardous Materials Sampling
Sample Collection and Documentation
Module 72: Hazardous Materials Sampling Part 2
Soil, Surface Water and Groundwater Sampling
Types of Sampling Equipment
Module 73: Hazardous Materials Sampling Part 3
Container Sampling
Drum Opening
Personal Protective Equipment
Selection of Sampling Equipment
Module 74: Site Emergencies Part 1
Planning and Personnel
Site Emergencies
How Teams assist in Emergencies
Roles of Personnel During Emergencies
Module 75: Site Emergencies Part 2
Communications Safe Distances and Site Mapping
Sage Refuge
Public Evacuations
Module 76: Site Emergencies Part 3
Evacuations and Emergency Decontamination
Personal Locator Systems
Evacuation Routes and Procedures
First Aid/Medical Treatment
Module 77: Emergency Response Procedures and Documentation
Rescue/Response Action
Implementing Procedures
Follow up and Documentation
Module 78: Hazardous Waste Regulations
RCRA
Goals of RCRA
RCRA 40 CFR Subtitle C
Module 79: Generator Requirements
Generator Classifications
Typical RCRA Hazardous Wastestreams
Generator Requirements
What is a Hazardous Waste?
Hazardous Waste Identification
Listed Hazardous Waste
Characteristic Hazardous Waste
Mixture and Derived From Rules
Contained In Policy
Module 80: Hazardous Waste Storage and Disposal Regulations
Container Labeling
Proper Containers
Storage of Hazardous Waste
Requirements for Satellite Accumulation Areas
Requirements for 90 Day Storage
Permitted Treatment Storage and Disposal Facilities
Module 81: Chemical Compatibilities
Chemical Compatibilities?
Chemical Incompatibilities
Module 82: Other Regulated Waste
Biohazardous Waste
Mixed Waste
Polychlorinated biphenyls (PCBs)
Module 83: Emergencies and Spill Response
Preparing for Emergencies and Preventing Accidents
Emergencies and Spill Response
Emergency Response Coordinator Responsibilities
Requirements for Emergencies
Emergency Planning Requirements for Large Quantity Generators
Module 84: Offsite Shipments
Choosing a Hazardous Waste Transporter and TSDF
Preparing your Hazardous Waste for Shipment
The Hazardous Waste Manifest
Land Disposal Restriction Notice
Biennial Reports
Module 85: Used Oil
What is Used Oil?
Types of Used Oil
What is a Used Oil Generator?
What Can Generators Do with Their Used Oil?
Burning Used Oil From Generators
What About PCBs?
What About Used Oil Filters?
Recycling and Pollution Prevention Opportunities
Module 86: Universal Wastes
What Is Universal Waste?
EPA Criteria For Universal Waste
Types of Universal Wastes
Labeling and Storage Requirements
HAZWOPER Hands-On Simulator
Final Exam