Lead Awareness for Construction
Cost: $50 per person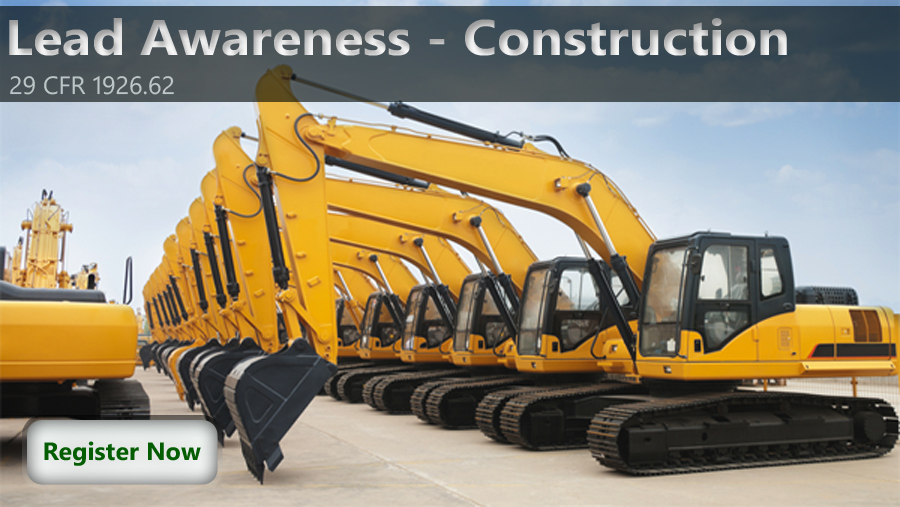 Lead awareness training for construction workers. A 2 hour course as required OSHA for employees who work construction areas.
Group discounts available (3 or more people). Please email or call us at 1.888.877.7130 for a quote.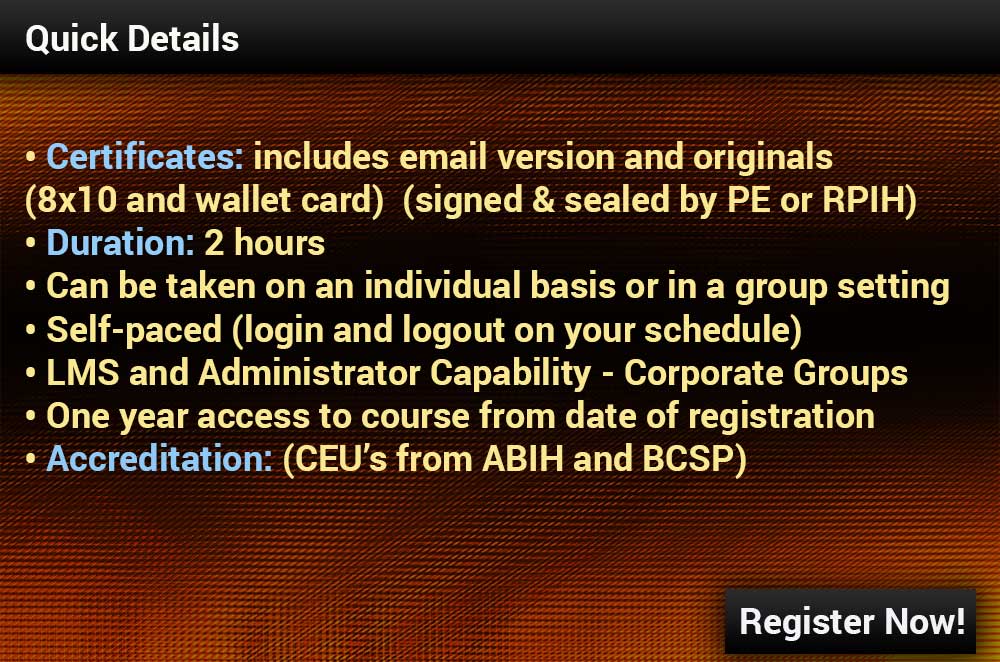 Course Features
– Audio narration of text
– Over 20 interactive flash animations
– Award winning content
– CEU's
– Self grading quizzes and final exam
– OSHA Study Timer (tracks your study time login and logout at your convenience)
– Certificate of Completion (3 certificates) e-cert, 8×10 and wallet card
Course Description
In compliance with OSHA 29 CFR 1926.62 regulations, Lead Awareness training is required for individuals who are required to work around lead or lead containing materials in a construction setting but who do not perform lead-based abatement work.
All personnel who are subject to lead exposure are required to take this training. This 2 hour course communicates information such as methods of recognizing lead, health effects associated with lead exposure, how to minimize exposure, warning signs and labels.
This online safety course addresses the specific nature of operations which could result in exposure to lead above the reaction level. You will learn the Environmental Protection Agency's requirements for ensuring safety to the highest possible standard in the workplace. When you have finished with this course, you will have a better understanding of the properties and uses of lead, health hazards, lead standards and exposure limits, and the control of lead in the workplace.
Course Topics
• Overview of Lead Awareness in Construction
• Lead Awareness Program Requirements
• How a Lead Awareness Program Works
• Properties and Uses of Lead
• Health Hazards
• Standards and Exposure Limits
• Medical Surveillance and Lead Removal
• Lead Controls
Certificates
Upon successful completion of the course, you will receive a total of 3 certificates. An email with an e-certificate will be sent to you or your designee immediately upon completing the course and the original certificates (8×10 and pvc wallet card) will arrive in the mail.Support
Includes U.S. Based support. An experienced and highly qualified instructor is available to you throughout the training process. Our toll free hotline or email will allow access to some of the finest instructors in the U.S.
Duration
2 hours
Continuing Education Units (CEU's)
This course is eligible for .25 Continuance of Certification (COC) points from the Board of Certified Safety Professionals (BCSP).
Prerequisites
None
Table of Contents
Module 1 – Uses of Lead
Module 2 – Properties of Lead
Module 3 – Health Effects
Module 4 – OSHA Lead Standards and Exposure Limits
Module 5 – Airborne Exposure Monitoring
Module 6 – Storage of Lead in Your Body
Module 7 – Medical Surveillance Program
Module 8 – Physical Examinations
Module 9 – Medical Removal Protection Program
Module 10 – Housekeeping and Hygiene
Module 11 – Control Measures Part 1
Module 12 – Control Measures Part 2
Module 13 – Respiratory Protection Part 1
Module 14 – Respiratory Protection Part 2
Module 15 – Respiratory Protection Part 3
Module 16 – Respiratory Protection Part 4
Module 17 – Personnel Protective Equipment
Module 18 – Required Equipment List for Levels of Protection
Module 19 – Lead Detection
Module 20 – Hazard Communication (HAZCOM) Regulatory Overview
Module 21 – Hazard Evaluation
Module 22 – Material Safety Data Sheets
Module 23 – Container Labeling Requirements
Module 24 – Hazardous Materials Information System Labels
Exam