Lockout/Tagout Training
Cost: $125 per person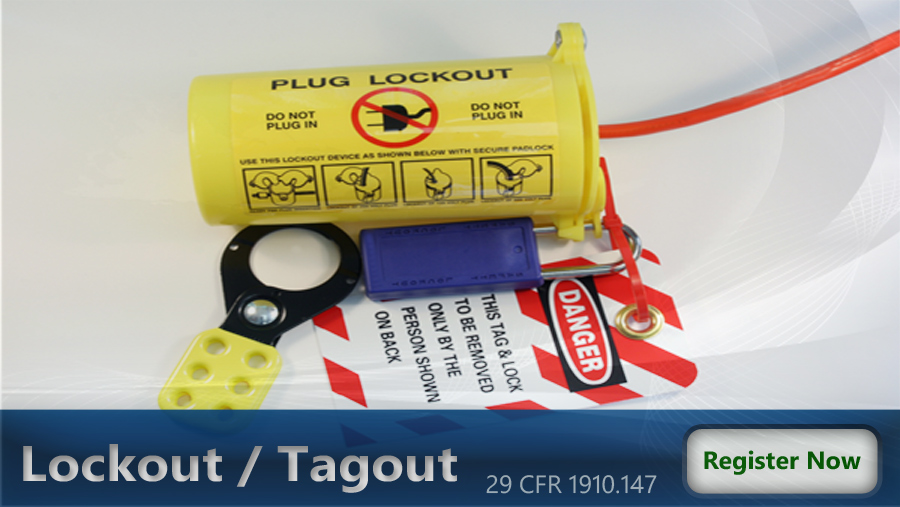 In compliance with OSHA 29 CFR 1910.147 regulations, this training must be provided for all authorized and affected employees whenever there is a change in job assignments, a change in operations or procedures regarding energy control procedures.
Group discounts available (3 or more people). Please email or call us at 1.888.877.7130 for a quote.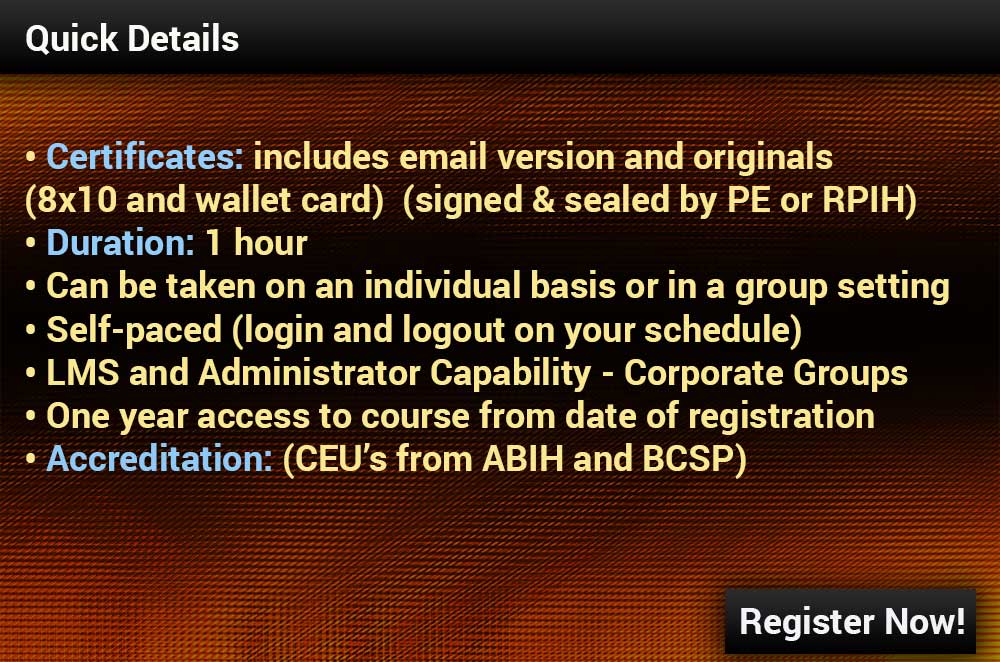 Course Features
– Includes 1 full length video
– Over 25 interactive flash animations
– Award winning content
– CEU's
– Self grading quizzes and final exam
– OSHA Study Timer (tracks your study time login and logout at your convenience)
– Certificate of Completion (3 certificates) e-cert, 8×10 and wallet card
Course Description
This course covers the role and responsibility of the employer to develop and implement an energy control program, or lock-out/tag-out (LOTO) for the protection of workers while performing servicing and maintenance activities on machinery and equipment. Course topics include types of hazardous energy, detecting hazardous conditions, implementing control measures as they relate to the control of hazardous energy, developing and implementing energy control programs including written isolation procedures, training of authorized and affected employees, and periodic inspection of energy control procedures using the OSHA Control of Hazardous Energy Standard.
This Lockout/Tagout training provides the basic guidelines for developing a lockout / tagout program for the workplace as well as an overview of the general industry standard 29 CFR 1910.147. This standard covers the servicing and maintenance of machines and equipment in which their "unexpected" energization, start up or release of stored energy could cause injury to employees. Energy may consist of gravitational, hydraulic, pneumatic, electric, and kinetic.
This training is not intended to be totally inclusive of the OSHA standard or does not alter the standard but to give employers a better understanding of the standard and control procedures. Employers should obtain a copy of the standard and develop their own site-specific policy for lockout / tagout procedures on machines and equipment.
Upon course completion the student will have the ability to explain the importance of energy control programs, procedures, training, audits and methods of controlling hazardous energy.
Certificates
Upon successful completion of the course, you will receive a total of 3 certificates. An email with an e-certificate will be sent to you or your designee immediately upon completing the course and the original certificates (8×10 and pvc wallet card) will arrive in the mail.
Support
Includes U.S. Based support. An experienced and highly qualified instructor is available to you throughout the training process. Our toll free hotline or email will allow access to some of the finest instructors in the U.S.
Duration
1 hour
Continuing Education Units (CEU's)
This course is eligible for .08 Continuance of Certification (COC) points from the Board of Certified Safety Professionals (BCSP).
Prerequisites
None