Professional Certificates
Upon successful completion of a course, you will receive a total of 3 certificates. An e-certificate will be emailed to you when you complete a course. The other certificates will arrive in the U.S. mail.
All certificates are signed by a qualified and licensed instructor. Many of our instructors have advanced degrees in the Health and Safety field. Our onsite instructors are former U.S. OSHA Compliance Officers – the best in the business.
Your cerificates will display the most recognized name in the training industry – National Environmental Trainers®. Compliance officials from OSHA, EPA, DOT and others see our certificates on a daily basis. You can also download your certificates using our National Respository®.
e-certificate (instant download upon course completion)
Original (8×10)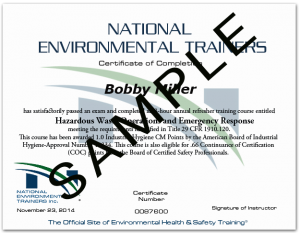 Wallet Card Size