HAZWOPER Hands-on Simulator®
National Environmental Trainers' (NET) exclusive HAZWOPER Hands-on Simulator® helps your company meet OSHA safety training requirements while cutting training costs.
In an interpretation letter dated February 4, 2009, OSHA stated that our exclusive HAZWOPER Hands-on Simulator® is acceptable when used in conjunction with site-specific training. This clarification from OSHA allows an employer to train their employees online for the 40- or 24-hour HAZWOPER courses and then conduct site-specific hands-on training on the actual equipment an employee will be using in their job. Please note that site-specific hands-on training on the actual equipment an employee will be using is required for both online training and classroom training.
OSHA requires that people be trained on the Personal Protective Equipment (PPE) and other equipment they'll use in the field. With the NET Hands-on Simulator® , a qualified and properly trained site supervisor may guide an employee through hands-on training on the actual PPE. An employee can don, doff, and manipulate their actual PPE while using our simulator as a guide.
It is important to note that the simulator covers PPE only and not any additional site-specific equipment unique to your site.
Learn PPE Processes Guided by the Simulator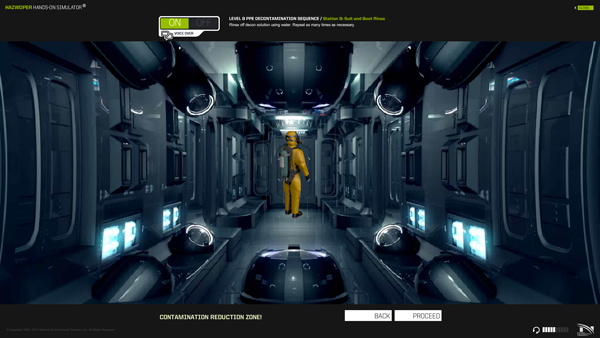 NET's Hands-on Simulator® is included in every HAZWOPER course and provides realistic and vivid presentations of people donning and doffing PPE and a decontamination sequence for each PPE level of protection (Level A, Level B, and Level C). It uses high-definition, 3D graphics and a highly-intuitive navigation system to guide students through the PPE processes. Engaging full-screen presentations with professional voiceovers are available in English and Spanish.
The actual HAZWOPER training certification comes from both the instructor and the employer. While some training providers may say hands-on training in class meets OSHA regulations, please know that you risk violations and fines — plus your employees' safety — if they don't also have site-specific, hands-on training.
Important note: OSHA holds the employer responsible for adequately training their employees. We believe our exclusive simulator offers great benefit to employers to adequately train their employees for work in HAZWOPER zones. Using the Hands-on Simulator®, employers can save valuable time and money. They no longer need to send employees off-site to remote seminars that provide generic hands-on training.
Please contact us to learn more about how the simulator can enhance your employees' HAZWOPER training and cut costs.
Have a Question? Let us know!
Use the contact form below to let us know how we can help you.