HAZWOPER 8 Hour Annual Refresher - 1910.120 (e)
Cost: $95 per person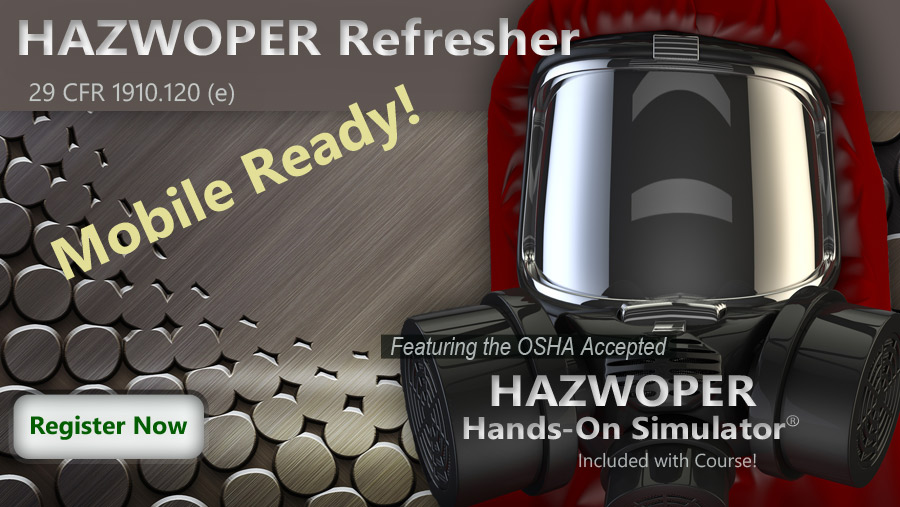 In 1998, our HAZWOPER refresher training was the first health and safety course published online. Today, many top rated companies and organizations rely on our training. Our in-house subject matter experts revise the course on an annual basis bringing you the latest HAZWOPER information.
Overview
This HAZWOPER refresher course is for individuals who need to keep their initial 24 or 40 hour General Site Worker certification current. This course complies with OSHA 29 CFR 1910.120 paragraph (e) regulations. The course is offered online, self paced and available 24/7.
Our course provides the opportunity to refresh vital skill sets so as to be in compliance with OSHA regulations and work safely. In addition, we include updated information in a unique modular format producing engaging, interactive, user enjoyable training with high content retention rates.



Group discounts available (3 or more people). Please email or call us at 1.888.877.7130 for a quote.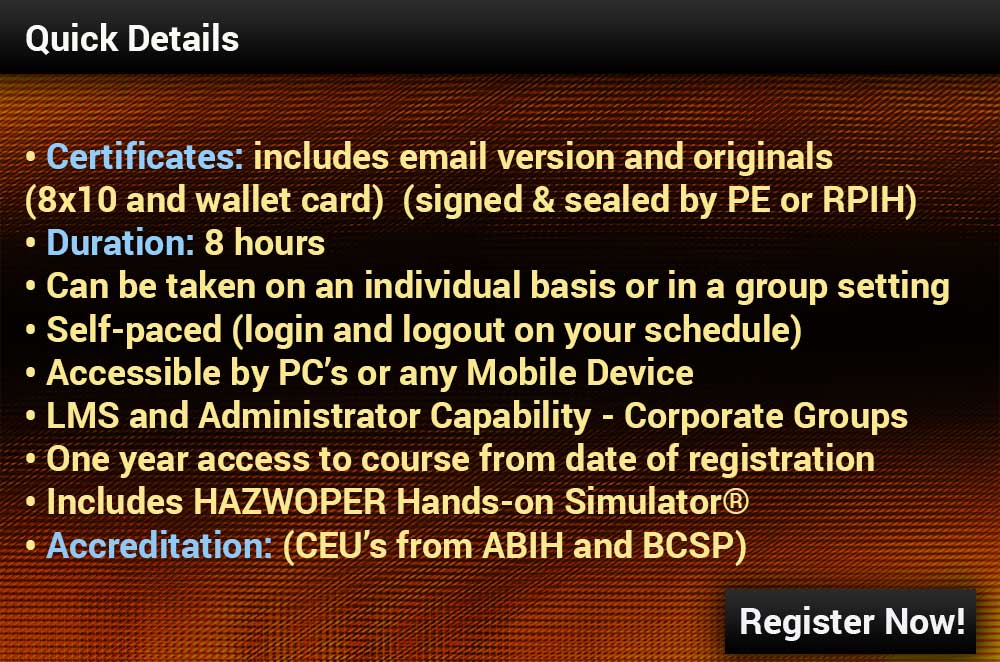 Who Needs This Course?
You are required by OSHA to have 8 hour HAZWOPER refresher training on an annual basis. The HAZWOPER renewal date is on or before the anniversary date of your initial 24 or 40 hour training. It is essential for individuals to refresh and understand the protective abilities and limitations of equipment that can minimize their exposure to hazardous substances. A typical place where you would need this training is an abandoned hazardous waste site - these are commonly referred to as Superfund sites. A Superfund site is any parcel of land that by virtue of contamination has been identified by the EPA as posing a risk to human health and/or the environment. Many of these sites are listed on The National Priority List (NPL) as determined by the U.S. Environmental Protection Agency (EPA).
Many years ago, major chemical companies and other corporations disposed of hazardous materials/waste by simply "dumping it out back". In time, these areas became seepage pits and not only contaminated the soil but groundwater as well. Many of the hazardous substances disposed are known carcinogens. Depending on the soil type, various organic and inorganic chemicals would permeate the soil and leach into a groundwater aquifer. Moreover, underground chemical pipelines developed leaks releasing thousands of gallons of hazardous product to the environment. So, you need to understand the environment where you will be conducting work.
How Are We Different From Other Companies?
We are the only HAZWOPER training provider with a regulatory acceptance letter allowing the use of our exclusive HAZWOPER Hands-on Simulator®. This letter is from the U.S. OSHA Directorate of Enforcement Programs in Washington, D.C. This is the office that writes interpretation letters for OSHA. So, U.S. OSHA has formally accepted the use of our simulator online. Their interpretation letter about the simulator is considered a "landmark letter" by many in the industry. As an employer, safety of your employees and OSHA compliance should always be first. Please see the OSHA acceptance letter on our downloads page.
NEW! HAZWOPER Mobile Training® - Learn More