COVID-19 Employer Updates
Pandemic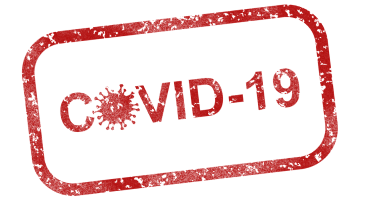 The COVID-19 global pandemic has created unprecedented economic conditions and brought concern to our daily lives, as well as to industries, businesses, and workforces. Many would say the worst is behind us, while others, with the rise of several variants and subsequent infections regardless of vaccination status, suggest we are not out of the woods. One thing is absolutely clear, however. Infectious diseases are hazardous, not only to the health and well-being of our workforce, but to our economy. COVID-19 is fueling economic chaos through the global supply chain.
Over 740,000 U.S. deaths have been confirmed since the beginning of the pandemic, and politicization of the disease, vaccines, and ongoing information has created a conundrum for individuals and employers. Now more than ever, it's important for everyone to understand the latest regulatory guidance and compliance information.
Compliance
Safety and health compliance during this pandemic have created several immediate concerns for both private and public sector employers. These include: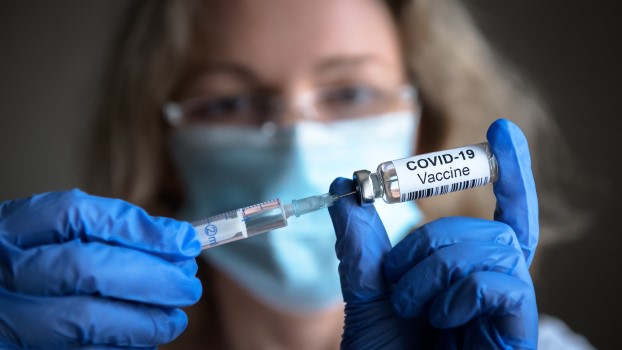 • Employer mandated vaccinations
• Social distancing
• Masking
• Recordkeeping
• Contact tracing
• Personal protective equipment (PPE) supply, limitations, and substitutions
• High attrition rates/workforce shortages
The Occupational Safety and Health Administration, or OSHA, understands the current challenges and the challenges that lie ahead, for both its administration and employers alike. OSHA presently has a dedicated COVID-19/Coronavirus web page.
There are two early indicators that an infectious disease standard may soon be on the horizon. One may be OSHA's June 21, 2021, Emergency Temporary Standard (ETS) for Healthcare. The standard applies in settings where employers and workers provide healthcare services and healthcare support services. Healthcare employers affected by this ETS should routinely check the website for updates.
The second indicator is OSHA's recently announced and published Emergency Temporary Standard (ETS) for all employers with 100 or more employees which could affect more than 84 million employees. The standard will mandate that covered employers must develop, implement, and enforce a mandatory COVID-19 vaccination policy, unless they adopt a policy requiring employees to choose to either be vaccinated or undergo regular COVID-19 testing and wear a face covering at work. This will also require employers to do the following:
• Determine the vaccination status of each employee, obtain acceptable proof of vaccination status from vaccinated employees and maintain records and a roster of each employee's vaccination status.
• Require employees to provide prompt notice when they test positive for COVID-19 or receive a COVID-19 diagnosis. Employers must then remove the employee from the workplace, regardless of vaccination status; employers must not allow them to return to work until they meet required criteria.
• Ensure each worker who is not fully vaccinated is tested for COVID-19 at least weekly (if the worker is in the workplace at least once a week) or within 7 days before returning to work (if the worker is away from the workplace for a week or longer).
• Ensure that, in most circumstances, each employee who has not been fully vaccinated wears a face covering when indoors or when occupying a vehicle with another person for work purposes.
Employers affected by this ETS should routinely check the OSHA web site for updates but in the interim, review the OSHA federal register page at: Federal Register: COVID-19 Vaccination and Testing; Emergency Temporary Standard.
Guidance
In conjunction with current and ongoing guidance from the Center for Disease Control and Prevention (CDC), OSHA and other employers continue to encourage and recommend certain actions in the aim of mitigating and preventing COVID-19 exposure in the workplace. New employer guidance guidelines issued by OSHA on August 13, 2021, place emphasis on the following eleven recommendations:
1. Facilitate employees getting vaccinated. Employers should grant paid time off for employees to get vaccinated and recover from any side effects. The Department of Labor and OSHA, as well as other federal agencies, are working diligently to ensure access to COVID-19 vaccinations. CDC provides information on the benefits and safety of vaccinations. Employers should also consider working with local public health authorities to provide vaccinations in the workplace for unvaccinated workers. Finally, OSHA suggests that employers consider adopting policies that require workers to get vaccinated or to undergo regular COVID-19 testing – in addition to mask wearing and physical distancing – if they remain unvaccinated.
2. Instruct any workers who are infected, unvaccinated workers who have had close contact with someone who tested positive for SARS-CoV-2, and all workers with COVID-19 symptoms to stay home from work to prevent or reduce the risk of transmission of the virus that causes COVID-19. As recommended by the CDC, fully vaccinated people who have a known exposure to someone with suspected or confirmed COVID-19 should get tested 3-5 days after exposure and should wear a mask in public indoor settings for 14 days or until they receive a negative test result. People who are not fully vaccinated should be tested immediately after being identified, and, if negative, tested again in 5–7 days after last exposure or immediately if symptoms develop during quarantine.
3. Implement physical distancing in all communal work areas for unvaccinated and otherwise at-risk workers. A key way to protect such workers is to physically distance them from other such people (workers or customers) – generally at least 6 feet of distance is recommended, although this is not a guarantee of safety, especially in enclosed or poorly ventilated spaces. In a workplace, workers often are required to work in close proximity to each other and/or customers or clients for extended periods of time. Maintaining physical distancing at the workplace for such workers is an important control to limit the spread of COVID-19.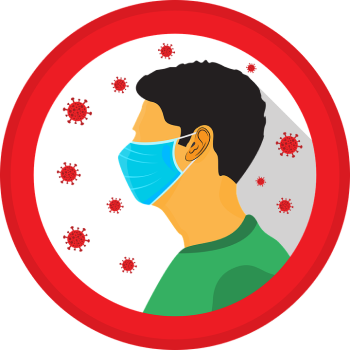 4. Provide workers with face coverings or surgical masks, as appropriate, unless their work task requires a respirator or other PPE. In addition to unvaccinated and otherwise at-risk workers, CDC recommends that even fully vaccinated people wear masks in public indoor settings in areas of substantial or high transmission and notes that fully vaccinated people may appropriately choose to wear masks in public indoor settings regardless of community level of transmission, particularly if they are at risk or have someone in their household who is at risk or not fully vaccinated.
5. Educate and train workers on your COVID-19 policies and procedures using accessible formats and in languages they understand. Train managers on how to implement COVID-19 policies. Communicate supportive workplace policies clearly, frequently, and via multiple methods to promote a safe and healthy workplace. Communications should be in plain language that unvaccinated and otherwise at-risk workers understand (including non-English languages, and American Sign Language or other accessible communication methods, if applicable) and in a manner accessible to individuals with disabilities. Training should be directed at employees, contractors, and any other individuals on site, as appropriate, and should include:
Basic facts about COVID-19, including how it is spread and the importance of physical distancing (including remote work), ventilation, vaccination, use of face coverings, and hand hygiene.
Workplace policies and procedures implemented to protect workers from COVID-19 hazards.
6. Suggest or require that unvaccinated customers, visitors, or guests wear face coverings in public-facing workplaces such as retail establishments, and that all customers, visitors, or guests wear face coverings in public, indoor settings in areas of substantial or high transmission. This could include posting a notice or otherwise suggesting or requiring that people wear face coverings, even if no longer required by your jurisdiction.
7. Maintain ventilation systems. The virus that causes COVID-19 spreads between people more readily indoors than outdoors. Improving ventilation is a key engineering control that can be used as part of a layered strategy to reduce the concentration of viral particles in indoor air and the risk of virus transmission to unvaccinated and otherwise at-risk workers in particular.
8. Perform routine cleaning and disinfection. If someone who has been in the facility within 24 hours is suspected of having or confirmed to have COVID-19, follow the CDC cleaning and disinfection recommendations. Follow requirements in mandatory OSHA standards 29 CFR 1910.1200 and 1910.132, 133, and 138 for hazard communication and PPE appropriate for exposure to cleaning chemicals.
9. Record and report COVID-19 infections and deaths. Under mandatory OSHA rules in 29 CFR part 1904, employers are required to record work-related cases of COVID-19 illness on OSHA's Form 300 logs if the following requirements are met: (1) the case is a confirmed case of COVID-19; (2) the case is work-related (as defined by 29 CFR 1904.5); and (3) the case involves one or more relevant recording criteria (set forth in 29 CFR 1904.7) (e.g., medical treatment, days away from work). Employers must follow the requirements in 29 CFR part 1904 when reporting COVID-19 fatalities and hospitalizations to OSHA. More information is available on OSHA's website. Employers should also report outbreaks to local health departments as required and support their contact tracing efforts.
10. Implement protections from retaliation and set up an anonymous process for workers to voice concerns about COVID-19-related hazards. Section 11(c) of the OSH Act prohibits discharging or in any other way discriminating against an employee for engaging in various occupational safety and health activities. Examples of violations of Section 11(c) could include discriminating against employees for raising a reasonable concern about infection control related to COVID-19 to the employer, the employer's agent, other employees, a government agency, or to the public, such as through print, online, social, or any other media; or against an employee for voluntarily providing and safely wearing their own PPE, such as a respirator, face shield, gloves, or surgical mask.
11. Follow other applicable mandatory OSHA standards. All of OSHA's standards that apply to protecting workers from infection remain in place. These mandatory OSHA standards include: requirements for PPE (29 CFR part 1910, Subpart I (e.g., 1910.132 and 133)), respiratory protection (29 CFR 1910.134), sanitation (29 CFR 1910.141), protection from bloodborne pathogens: (29 CFR 1910.1030), and OSHA's requirements for employee access to medical and exposure records (29 CFR 1910.1020).
Note: The above eleven OSHA recommendations have been condensed due to the abundance of information and active links contained within them, so employers are encouraged to review them in detail at OSHA's Protecting Workers: Guidance on Mitigating and Preventing the Spread of COVID-19 in the Workplace.