40 Hour HAZWOPER 1910.120 (e)
Cost: $395 per person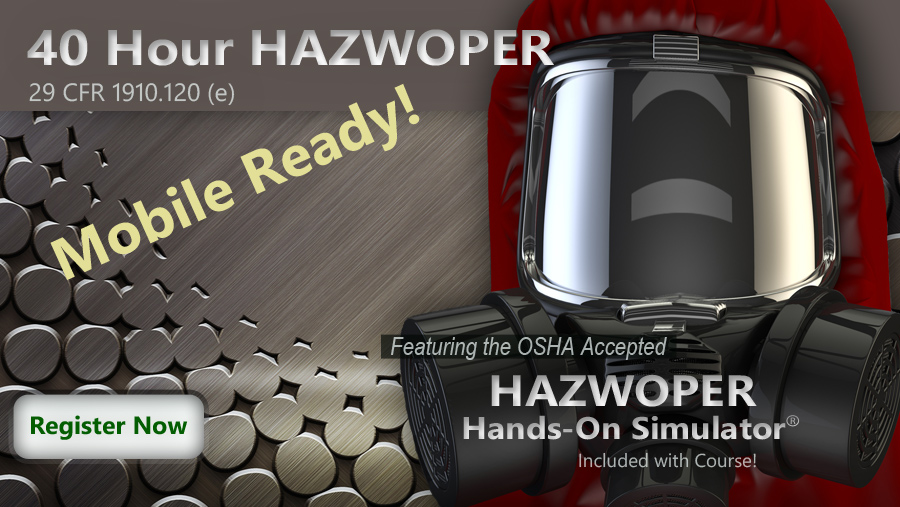 Course at a Glance
Job Function
For individuals seeking initial certification for HAZWOPER work in compliance with OSHA 29 CFR 1910.120 (e) regulations.
Key Features
Online course that can be accessed by PC's and ALL Mobile devices.
Duration - 40 hours (TimeBoost® option available as directed by employer)
Can be taken by individuals or in a group setting
Immediate download of e-certificate upon course completion. Hard copy and wallet card certificates arrive in U.S. mail.
Download OSHA interpretation letter accepting the use of our HAZWOPER Hands-on Simulator®.

Group discounts available (3 or more people). Please email or call us at 1.888.877.7130 for a quote.
You may find less expensive online HAZWOPER courses but they cannot fulfill the OSHA HAZWOPER hands-on requirement without a simulator or other means. We also offer U.S. Based support.

This training is typically utilized by individuals who are exposed to hazardous substances at or above the (Permissible Exposure Limit) PEL's during remediation of a contaminated site. This training would require each person to be outfitted and wear either Level A or Level B (Personal Protective Equipment) PPE. So, indviduals must be physically capable of wearing a Self Contained Breathing Apparatus (SCBA) and wearing a fully encapsulating suit. Depending on the type of SCBA, the weight will vary but is usually in the 30 to 40 pound range. The suits also very in type and maneuverability at a work site can be difficult.
Instructor Access
You will have access to a qualified instructor during and after your training. Please click here for more information on who wrote and developed this training course.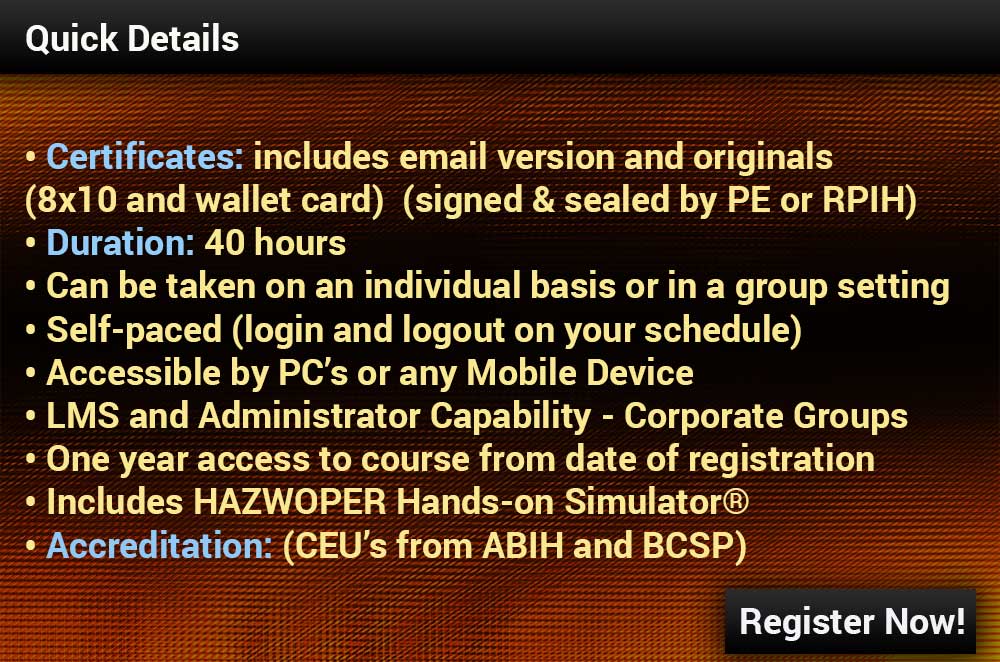 Why Should You Take This Course?
This course features the
only
OSHA accepted HAZWOPER training component – HAZWOPER Hands-on Simulator®. There is a lot of misinformation about our industry and required training on the internet today. Our advice is to select a training provider who has proven themselves over the years. A well respected training provider should have some communication with OSHA about their courses.
Read about our HAZWOPER Hands-on Simulator®.
If you value OSHA compliance and effective safety training, this is the course for you.
NEW! HAZWOPER Mobile Training® - Learn More
Our HAZWOPER training can now be accessed by all mobile devices including iPad®, tablets, smart phones i.e., iPhones® and Androids®. Our system is designed to give you seamless integration between desktop and mobile devices. You can login and logout between the two systems and your training will begin where it left off both in content and study time. Our HAZWOPER Mobile Training® allows you to switch from your PC to your mobile device with ease. The reviews for the course since its initial launch (July 10, 2015) have been very good. Clients seem to really enjoy being able to switch from their desktop or mobile device without any issues. We recommend taking the training on a tablet or iPad® as we believe this provides the best results. The gesture enabled features really come to life on a tablet. You will be able to swipe, tap, zoom, and interact with the training modules like never before. This is the next generation of HAZWOPER training.
Course Overview
Our course gives you in-depth regulatory information and topics in a modular format with professional voiceovers, custom high resolution graphics, and intuitive navigation. In house degreed and licensed subject matter experts developed the course along with information architects. Many topics originate from the
OSHA HAZWOPER regulatory requirements found in 29 CFR 1910.120(e)
. The course presents these topics in an interactive, enjoyable, and entertaining fashion. You will have a feeling of accomplishment as you progress through the HAZWOPER course. Quizzes are located at the end of each module and you do not have to pass the quizzes in order to continue. However, it is recommended that you pass the quizzes (70% or higher) as you will face similar questions in the final exam. Both quizzes and the final exam are self-grading so you immediately know your results.
You may login and logout on your own schedule. Our system keeps track of your session and each time you return, the course will pick up where it left off both in content and study time. A study timer is visible to you indicating how much time you have accrued in the course. When you have completed the 40 Hour HAZWOPER training modules and have the minimum required study time, you can take the final exam. You must pass the final exam (70%) or higher to receive your certificate. An email with your certificate is sent to you or a designee indicating completion of the course. The original certificates (8×10 and PVC wallet card) will be mailed to you. Your certificate will be signed by a registered professional health and safety professional as required by OSHA. Support is available to you during the course. You have 1 year from the time of registration to complete the course. So, you will have access to the HAZWOPER 40 course for a full year.
Course Details
Course Description
In compliance with OSHA 29 CFR 1910.120 regulations, this 40 hour HAZWOPER training is required for individuals who plan to work in an area that is defined as a HAZWOPER Work Site.

Upon successful completion of the course, students will receive a certificate of completion accepted by regulatory agencies. Students will be allowed to proceed at their own pace in this interactive program. Students must complete a minimum of 40 hours of study time in order to satisfy part of the 40 hour HAZWOPER certification requirement.
This course is designed to be taken online. As with any training (classroom or online) the employer is required by regulations to train the employee(s) on performance based standards for any applicable equipment. This is an OSHA site-specific requirement and typically cannot be achieved in a regular public seminar or open enrollment class where training on a respirator(s) or PPE in general does not meet the site-specific regulatory requirement.

Who needs 40 hour HAZWOPER training? General site workers (such as equipment operators, general laborers, and supervisory personnel) engaged in hazardous substance clean up and removal of other activities which expose or potentially expose workers to hazardous substances and health hazards shall receive a minimum of 40 hours of instruction off the site, and a minimum of 3 days actual field experience under the direct supervision of a trained, experienced supervisor.
Plan States (approved by U.S. OSHA) must have standards at least as stringent as the Federal 40 hour HAZWOPER training requirements. These Plan States may have additional training requirements.
Course Features
• PC and mobile devices can access the training
• HAZWOPER Hands-on Simulator® – (OSHA Accepted)
• Professional voiceovers
• 81 fully interactive modules
• CEU's
• Self grading quizzes and final exam
• OSHA Study Timer (tracks your study time login and logout at your convenience)
• Certificate of Completion (3 certificates) e-cert, 8×10 and wallet card (instant download of e-certificate upon course completion)
• HAZWOPER course access for 1 year from the time of registration
• Free registration into the National Repository® (download your certificates at anytime in the future)
Course Objectives
Upon completion of the training, you will have:
• Met the requirements for certification of 29 CFR 1910.120(e) and other applicable regulations for certification to the HAZWOPER 40 General Site Worker level.
• An understanding of hazardous substances/materials and the risks associated with them in the workplace.
• Knowledge of health effects to the human body (toxicology).
• Knowledge of the various regulations and statutes relating to HAZWOPER operations and the limitations of the various levels of certifications.
• The ability to minimize risks from the hazardous materials.
• Knowledge how to prepare a site safety and health plan and a job hazard analysis.
• The ability to identify the hazardous substances, if possible including the use of the Department of Transportation (DOT) labeling system, National Fire Protection Association (NFPA) 704 placard system, Hazardous Materials Information System (HMIS), container profiles, the Globally Harmonized System (GHS) and Safety Data Sheets (SDSs).
• An understanding of how to select and use proper personal protective equipment (PPE) provided to the participant including Level A, B, C and D protection. General Site Workers will engage in simulated donning, doffing exercises for PPE and contamination for Levels A, B and C using our HAZWOPER Hands-on Simulator®.
• An understanding of basic hazardous materials terms. Example include: vapor density, specific gravity, pH, TLV/TWA, PEL, STEL, IDLH, flammability range, L.E.L./U.E.L., combustible, flammable, flash point, and auto-ignition temperature.
• An understanding of the concepts of decontamination and of its importance in hazardous materials operations. General Site Workers will engage in simulations involving the use of the decontamination practices through the use of the HAZWOPER Hands-on Simulator®.
• An understanding of the operations involving confined space entry and of the methods used to ensure safety during operations involving confined space entry.
• An understanding of methods to contain and control spills relating at work sites.
• Certification as a HAZWOPER 40 General Site Worker
Certificates
Upon successful completion of the training, you will receive a total of 3 certificates. An email with an e-certificate will be sent to you or your designee immediately upon completing the course and the original certificates (8×10 and pvc wallet card) will arrive in the mail.
Accreditation – Continuing Education Units (CEU's)
This course has been awarded 6.68 Industrial Hygiene CM Points by the American Board of Industrial Hygiene (ABIH) – approval number 13334. This course is eligible for 3.33 Continuance of Certification (COC) points from the Board of Certified Safety Professionals (BCSP).
Accreditation from an impartial, qualified association or organization is critical to the acceptance of OSHA HAZWOPER training, its lasting value in the workplace, preventing liability issues for the employer and reducing employee accidents and injuries. Many health and safety professionals consider ABIH to be the benchmark for training accreditation.
Safetyneering®
We develop our training using our exclusive Safetyneering® concept that we believe delivers the best possible online training courses. Professional and degreed Engineers, Scientists, and information architects go through a series of steps to produce in-depth professional training. We work closely to fully scope the content of the course and then engage design professionals to bring the content to life. This is a rigorous and demanding process but one that just delivers time after time.
Added Assurance of OSHA Compliance
We also offer the added assurance that our 40 Hour HAZWOPER course complies with the OSHA regulations. We have an interpretation letter from the U.S. OSHA Directorate of Enforcement Programs in Washington D.C., accepting our HAZWOPER Hands-on Simulator. Please follow this link to download the OSHA interpretation letter. No other online company has such a letter from OSHA. So, for almost the same price as other companies that provide no assurance, you also receive added assurance from us that you are in compliance with OSHA.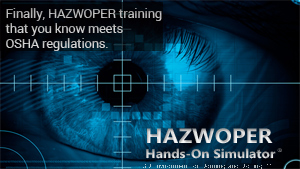 Successful companies and employers do not guess at regulatory compliance. They make certain they are in compliance at all times or at least they are making strong efforts to be in compliance. It is no different when it comes to health and safety training. The training received by employees is only as good as the instruction. Unfortunately, some people believe that a certificate is a certificate and they are in compliance. This is not always the case and companies pay huge fines for training deficiencies.
Who Developed Our Training? (Peer Review)
This course was reviewed by a former OSHA Training Institute instructor. Mr. Bill Bunner reviewed the course for accuracy and compliance relative to OSHA regulations, interpretation letters and guidelines. Mr. Bunner also reviewed the course for general good health and safety work practices.
Study Guide
Includes Free Study Guide! The study guide should be used as a reference for the course as some content will not contain the exact information as the online course.
What is The Duration of the Course?
40 hours (OSHA 40 Hour HAZWOPER Training Requirement) Note: OSHA requires this course will take a minimum of 40 hours of actual study time. Anything less will not comply with the OSHA standard. Our course allows you to login and logout at any time increment in order to fit your schedule. When you logout, the course will be bookmarked so you can begin where you left off. The study timer will also accrue your time and will begin where you left off in the course.
What Are The Prerequisites?
Support
Includes U.S. Based support. An experienced and highly qualified instructor is available to you throughout the training process. Our toll free hotline or email will allow access to some of the finest instructors in the U.S.
Levels of HAZWOPER Training
HAZWOPER training levels for various occupations and job functions. View the chart and matrix and decide which training course is right for you. The OSHA regulations are sometimes difficult to interpret. By reviewing the chart and matrix, you can determine the exact training needed for your employees. The information used to produce the chart and matrix was derived from OSHA regulations, guidance documents, and interpretation letters.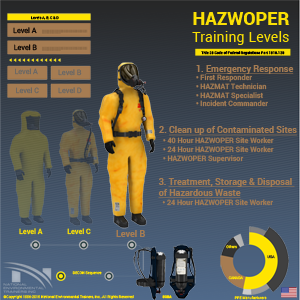 Individual or Group Training
Our training can be taken and completed on an individual basis or in a group setting. For individuals, the training is self-paced and you are able to complete the training on your schedule. You are able to logout and login at your discretion. When you login, the training will begin where it last left off both in content and study time. The same is true for training in a group setting. Usually, a company will project the course onto a screen where a group of people can take the training together. At conclusion of the modules, each person from the group will login to our site using their respective username and password and take the final exam.
Table of Contents
For a complete list of all modules please go to full table of contents. Listed below is an overview of the modules for the 40 hour HAZWOPER course.
Modules 1-10
These modules provide an introduction to HAZWOPER and focus on the revised Global Harmonization System (GHS) and Hazard Communication (HAZCOM) standards. Roles and responsibilities are presented along with Site Control and Zones.
Modules 11-20
The topics for this set of modules are Medical Surveillance, Hazard Recognition and Respiratory Protection. Medical surveillance for general site workers is critical in providing adequate health and safety. Medical monitoring of workers who are exposed to hazardous substances at or above the OSHA PEL's at or above must be performed by the employer. The HAZWOPER Medical Surveillance Program is a regulatory requirement designed to ensure the health of employees working on hazardous waste sites is, at a minimum, monitored and documented before, during, and at termination of work on the site.
Next, an overview of physical properties of chemicals is presented. These include Boiling Point, Vapor Pressure, Flash Point, Density, pH, Vapor Density, Oxidizers, and Lower/Upper Explosive Limits. When engineering controls alone do not mitigate the exposure to hazardous substances, the next step is to provide workers with adequate respiratory protection. Respiratory protection is key in protecting workers from dangerous exposures to hazardous substances that are released into the air. Many different types and levels of inhalation hazards exist on a contaminated site. Waste site workers need to thoroughly understand the different types of respiratory equipment available, protection factors, and fit testing so they can select the best respirator for the hazards they will encounter.
Modules 21-30
These modules focus on Personal Protective Equipment (PPE) and worksite Decontamination. The first and foremost protection from hazardous substances/chemicals is to employ the appropriate engineering controls to minimize the hazards. Frequently though, this will not offer the correct amount of worker protection and PPE must be utilized. In accordance with EPA guidelines, PPE to protect the body from chemical hazards has been divided into four categories – Level A, Level B, Level C and Level D.
Modules 31-40
Topics covered in this set of modules are Drum Handling and Excavations. These module defines practices and procedures for safe handling of drums and other hazardous waste containers at a contaminated site. The discussion is intended to aid personnel in setting up a waste container handling program. Also, these modules give an understanding of incompatible chemicals that should not be packaged together. The OSHA excavations standard became effective March 5, 1990. The Standard is explicit in intent and prescribes precautions which should be applied to all excavation sites for the safety of workers in or near the excavation.
Modules 41-50
Modules 41 thru 50 discuss Confined Space Entry and Site Characterization relating to HAZWOPER sites. All confined spaces must be identified and classified as either non-permit-required confined spaces or permit-required confined spaces. The degree of hazards that confront entrants determines the classification of the confined space. A hazard assessment should be performed and documented by industrial safety and hygiene personnel for each confined space.
Modules 51-60
The topics covered are Toxicology, Hazard Recognition and Chemical Awareness. Hazardous chemicals, hazardous materials, or hazardous substances, as they are variously called, have long been used for many purposes in homes, business and industry. Often the people who use such materials become lax and careless around chemicals. Working with the same chemicals every day, brings on the comfort of the commonplace. A basic knowledge of chemical hazard classes, chemical terms and terminology used relative to hazard classes, and a basic chemical hazard awareness is presented.
Modules 61-70
The focus of these modules is Air Monitoring at HAZWOPER sites. Site workers need to be familiar with the different types of air monitoring they will be using on the work site. They need to understand the advantages and limitations of the equipment and how to interpret the data they obtain. This information will be used to make many important decisions concerning worker safety. The atmosphere may be sampled in a potentially contaminated work area to identify and quantify (i.e., measure) any gases, vapors, or particulates to which workers may be exposed. Such information may be obtained by two methods: Area sampling, which involves placing collection devices within designated areas and operating them over specific periods of time. Personal sampling, which involves collecting samples from within the breathing zone of an individual and sometimes by the individual wearing a sampling device.
Modules 71-81
The topics for these modules are Hazardous Materials Sampling, Site Emergencies and Compressed Gas Cylinders. Workers must know how to collect samples from the different mediums in which hazardous materials may be present (drum sampling, soil sampling, groundwater sampling, etc.). Workers need to understand sampling procedures and sample storage so that the samples they collect will be valid for testing. Accurate records for the samples and their chain of custody must be documented carefully.
The purpose of sampling is to determine the characteristics of a source material based on testing a small selected amount. In order for those characteristics to truly describe the source, sampling procedures must be carefully planned and performed, and the sample must be representative of the waste from which it was taken. EPA specifies how to determine where to take samples so that they are representative of the entire area or container. On a hazardous waste site, a sample can come from one of two sources: the environment or hazardous waste.
Final Exam
The final exam consists of 65 multiple choice questions. The passing grade is 70% or higher and the exam is not timed.
Training for General Site Workers at Contaminated Sites
Where will I need HAZWOPER training? Without question, general site workers are the largest number of people requiring 40 hour HAZWOPER training. HAZWOPER training is required for work at all contaminated sites. These sites are placed on the National Priority List (NPL) by the U.S. Environmental Protection Agency (EPA) and are scheduled for clean up. The responsible party as identified in the EPA regulations – usually the site owner or past occupant must pay for the clean up cost. General Site Workers are primarily responsible for removing hazardous materials, segregating, packaging, storing and disposal of these substances. Therefore, these professional workers must be trained to a certain competency. This course certifies an individual to work in a HAZWOPER designated area.
"Very well done course. Great graphics and videos. Subject matter good depth, well organized, on point. A great 40 hour HAZWOPER training. Thanks for the good experience. Will pass the word to my colleagues." – Tom Rogers, T.R. Restoration and Abatement