8 Hour HAZWOPER Annual Refresher (29 CFR 1910.120) (p) RCRA TSD Operations
Cost: $95 per person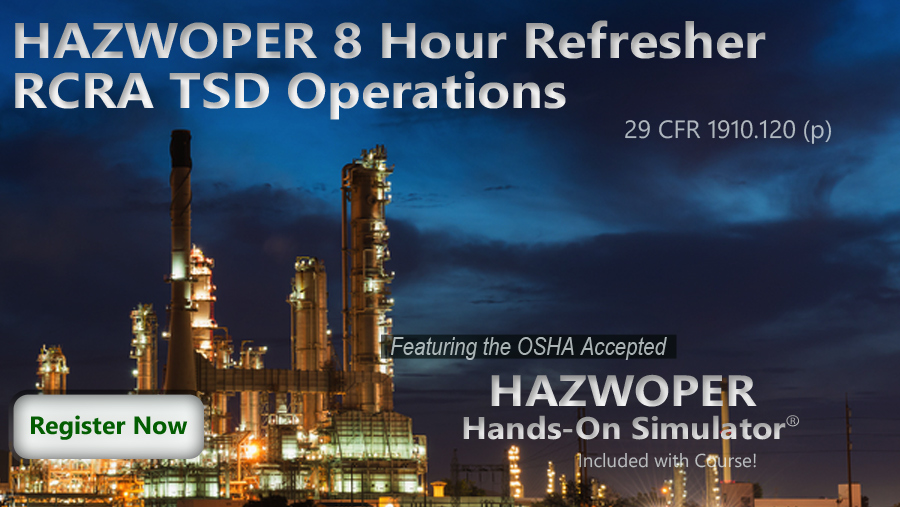 This RCRA HAZWOPER refresher training is designed for individuals who work at RCRA Treatment Storage and Disposal Facilities (TSDF's). U.S. OSHA regulations require an annual refresher for people already certified to respond to incidental releases of hazardous materials. This course satifies a different set of regulatory requirements than our RCRA Hazardous Waste Generator course. U.S. EPA requires training for generators of RCRA hazardous waste. The hazardous waste generator course is vastly different and does not include certification to respond to releases of hazardous waste to the environment. Included in this course is our exclusive HAZWOPER Hands-on Simulator® which OSHA has accepted. Please see the OSHA acceptance letter on our downloads page.
Group discounts available (3 or more people). Please email or call us at 1.888.877.7130 for a quote.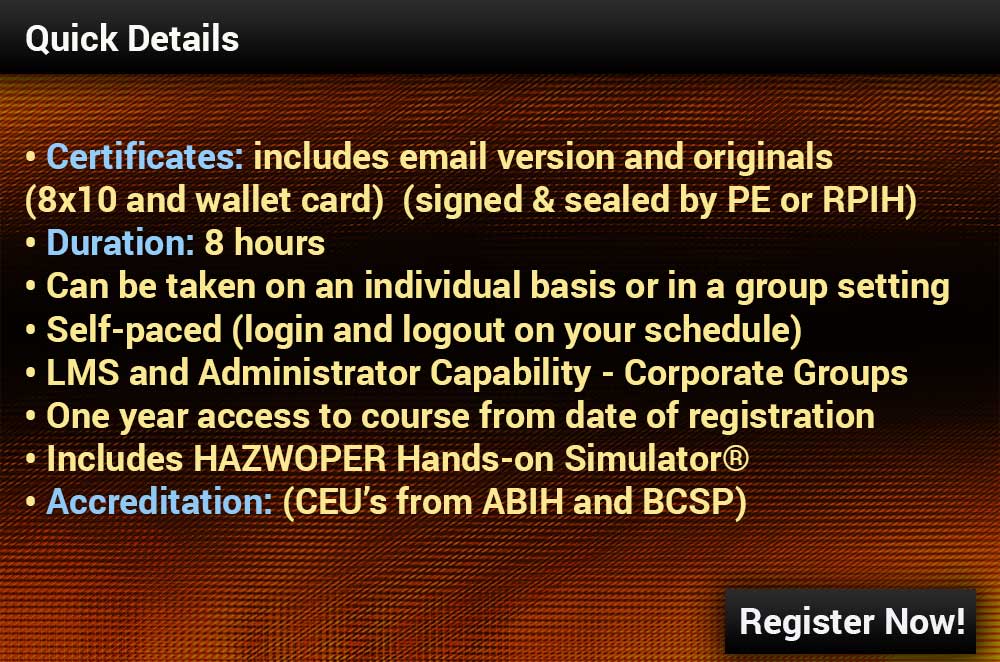 Why Should You Take This Course?
Our HAZWOPER refresher features the only OSHA accepted HAZWOPER training component – HAZWOPER Hands-on Simulator®. If you research prospective training companies online, you will find that we are the only company with anything accepted by OSHA with respect to HAZWOPER training. Others may state their training is OSHA accepted but we are the only company with an OSHA interpretation letter for our simulator. There is a lot of misinformation about HAZWOPER training on the internet today. Stick with a company who is authoritative and professional.
Our advice is to select a training provider who has proven themselves over the years. A well respected training provider should have some communication with OSHA about their courses. Read about our HAZWOPER Hands-on Simulator®.
Course Description
In compliance with the Occupational Safety and Health Administration (OSHA) regulation 29 CFR 1910.120, this training is to re-certify individuals who will be engaged in Hazardous Waste Operations and Emergency Response (HAZWOPER) work at Treatment, Storage and Disposal (TSD) facilities. While this training course is very comprehensive, we highly recommend that additional site-specific training be taken for certain hazardous materials that may be encountered at different sites.
The objective of this HAZWOPER refresher course is to provide refresher training and re-certification.
Plan States (approved by U.S. OSHA) must have standards at least as stringent as the Federal HAZWOPER training requirements. These Plan States may have additional training requirements.
Course Objectives
•Describe training and other requirements for HAZWOPER workers.
•Describe various types of hazardous substances.
•Define toxicity and describe factors that affect it.
•Describe hazardous substance labeling requirements and standards.
•Describe factors associated with respiratory protection.
•Describe various types of and selection criteria for personnel protective equipment.
•Describe decontamination guidelines and methods.
•Describe proper handling of drums and other hazardous waste containers.
•Recognize results of mixing incompatible chemicals and list examples of various incompatible chemicals.
•Experience proper donning, doffing and decontamination in the HAZWOPER Hands-on Simulator®.
•Explain why managing hazardous waste is important
•Discuss the roles and activities of workers in the event of a spill response
•Learn the proper techniques for collecting and storing hazardous waste
•Know how RCRA hazardous waste is to be properly managed
•Take the HAZWOPER Certification exam
Table of Contents
To view and download the Table of Contents, please click here.
"Our group really enjoyed the course - very informative and professionally developed." – Pete Knight, Navy Public Works