HAZWOPER Supervisor Refresher
Cost: $150 per person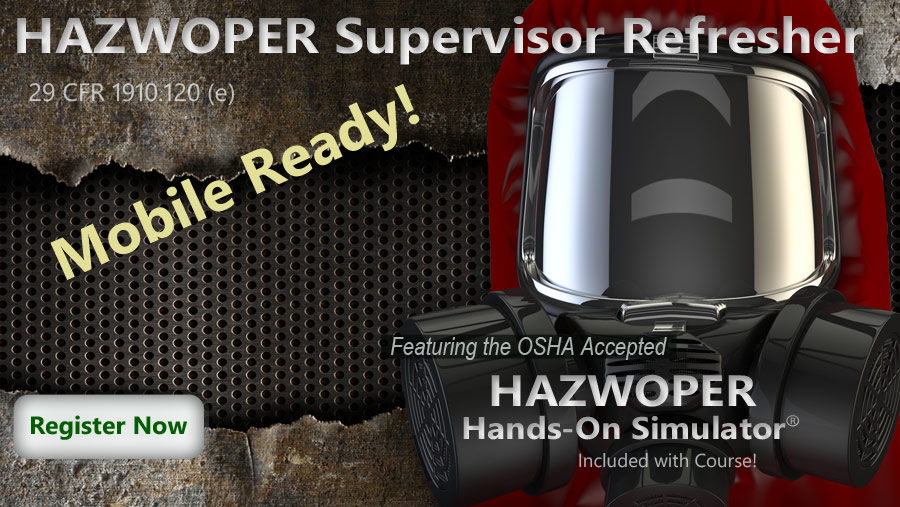 The training provides in-depth information as required by OSHA for individuals seeking re-certification as a HAZWOPER Supervisor.This course was written and developed by licensed and degreed (Graduate School) health and safety professionals.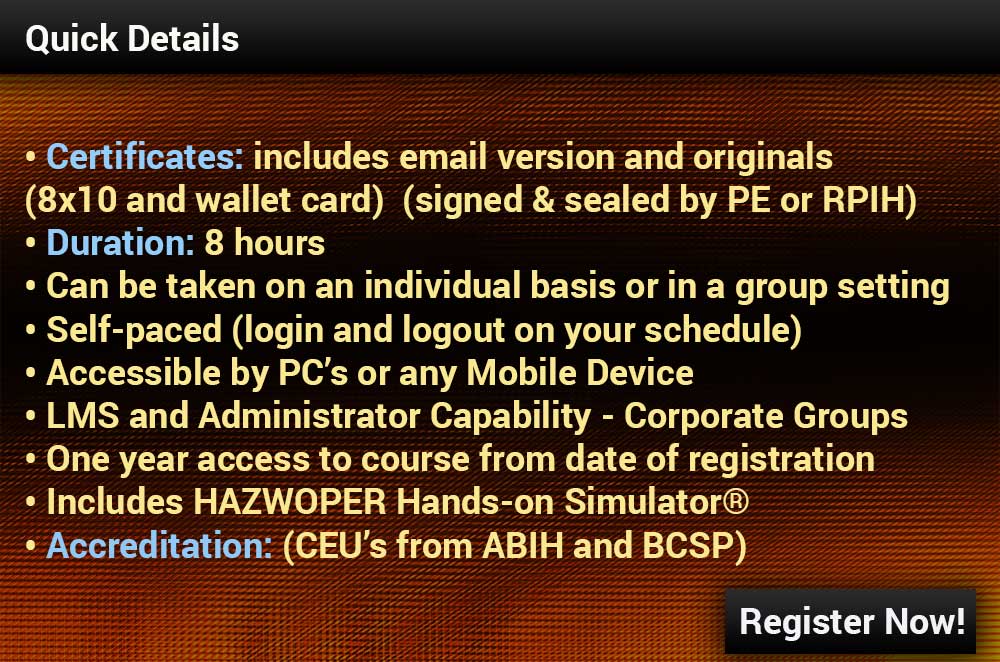 Course Features
• Includes 14 full length videos
• HAZWOPER Hands-on Simulator® (OSHA accepted)
• Professional voiceovers
• Over 35 interactive flash animations
• Accessible by PC's and mobile devices
• CEU's
• Self grading quizzes and final exam
• OSHA Study Timer (tracks your study time login and logout at your convenience)
• Certificate of Completion (3 certificates) e-cert, 8×10 and wallet card (instant download of e-certificate upon course completion)
• HAZWOPER supervisor training access for 1 year from the time of registration
• Free registration into the National Repository® (download your certificates at anytime in the future)
Course Description
In compliance with OSHA 29 CFR 1910.120 regulations, this HAZWOPER supervisor annual refresher training is required for individuals having a supervisory role with Hazardous Waste Operations and Emergency Response (HAZWOPER). OSHA requires that a supervisor have this training in order to be a qualified supervisor at a HAZWOPER site. This course was designed for foremen, supervisors, site safety officers, project managers, etc.

The HAZWOPER supervisor must have an understanding of the roles, responsibilities and interrelationship between the various hazardous materials functions within the ICS management system as called for by the employers hazardous materials emergency response plan (ERP). These roles should include backup, decontamination, entry, safety officer(s), science, site access control, technical specialists.

Annual refreshers are needed to maintain certification as a HAZWOPER Supervisor.
Plan States (approved by U.S. OSHA) must have standards at least as stringent as the Federal HAZWOPER training requirements. These Plan States may have additional training requirements.
A HAZWOPER Supervisor is responsible for the following:
• 1910.120(b)(4)(ii)(F) Site control measures in accordance with the site control program required in paragraph (d) of this section.
• 1910.120(b)(4)(ii)(G) Decontamination procedures in accordance with paragraph (k) of this section.
• 1910.120(b)(4)(ii)(H) An emergency response plan meeting the requirements of paragraph (l) of this section for safe and effective responses to emergencies, including the necessary PPE and other equipment.
• 1910.120(b)(4)(ii)(I) Confined space entry procedures.
• 1910.120(b)(4)(ii)(J) A spill containment program meeting the requirements of paragraph (j) of this section.
• 1910.120(d) Site control.—1910.120(d)(1) General. Appropriate site control procedures shall be implemented to control employee exposure to hazardous substances before clean-up work begins.
– 1910.120(d)(2) Site control program. A site control program for protecting employees which is part of the employer's site safety and health program required in paragraph (b) of this section shall be developed during the planning stages of a hazardous waste clean-up operation and modified as necessary as new information becomes available.
– 1910.120(d)(3) Elements of the site control program. The site control program shall, as a minimum, include: A site map; site work zones; the use of a "buddy system"; site communications including alerting means for emergencies; the standard operating procedures or safe work practices; and, identification of the nearest medical assistance. Where these requirements are covered elsewhere they need not be repeated.
Added Assurance of OSHA Compliance
We also offer the added assurance that our 8 Hour HAZWOPER Supervisor course complies with the OSHA regulations. We have an interpretation letter from the U.S. OSHA Directorate of Enforcement Programs in Washington D.C., accepting our
HAZWOPER Hands-on Simulator
.
Please follow this link to download the OSHA interpretation letter.
No other online company has such a letter from OSHA.
So, for almost the same price as other companies that provide no assurance, you also receive added assurance from us that you are in compliance with OSHA.
Successful companies and employers do not guess at regulatory compliance. They make certain they are in compliance at all times or at least they are making strong efforts to be in compliance. It is no different when it comes to health and safety training.
The training received by employees is only as good as the instruction.
Unfortunately, some people believe that a certificate is a certificate and they are in compliance. This is not always the case and companies pay huge fines for training deficiencies.
Certificates
Upon successful completion of the HAZWOPER Supervisor course, you will receive a total of 3 certificates. An email with an e-certificate will be sent to you or your designee immediately upon completing the course and the original certificates (8×10 and pvc wallet card) will arrive in the mail.
Support
Includes U.S. Based support. An experienced and highly qualified instructor is available to you throughout the training process. Our toll free hotline or email will allow access to some of the finest instructors in the U.S.
Duration
8 hours (OSHA 8 Hour HAZWOPER Supervisor Training Requirement) Note: OSHA requires the HAZWOPER supervisor training will take a minimum of 8 hours of actual study time. Anything less will not comply with the OSHA standard. Our course allows you to login and logout at any time increment in order to fit your schedule. When you logout, the course will be bookmarked so you can begin where you left off. The study timer will also accrue your time and will begin where you left off in the course.
Accreditation – Continuing Education Units (CEU's)
This HAZWOPER Supervisor training has been awarded 1.34 Industrial Hygiene CM Points by the American Board of Industrial Hygiene (ABIH) – approval number 13334. This course is eligible for .66 Continuance of Certification (COC) points from the Board of Certified Safety Professionals (BCSP).
Accreditation from an impartial, qualified association or organization is critical to the acceptance of training, its lasting value in the workplace, preventing liability issues for the employer and reducing employee accidents and injuries. Many health and safety professionals consider ABIH to be the benchmark for training accreditation.
Prerequisites
24 or 40 hour HAZWOPER and Initial HAZWOPER Supervisor Training
HAZWOPER 8 Hour Annual Supervisor Refresher and HAZWOPER 8 Hour Annual Refresher
Can the HAZWOPER 8 hour Supervisor refresher serve as a refresher for the regular 8 hour HAZWOPER refresher? OSHA has written an interpretation letter on the matter. Please click here to view the letter.
Table of Contents
Module 1: HAZWOPER Part 1 (Overview)
Scope and Provisions of Standard
Purpose
Terminology
Module 2: HAZWOPER Part 2 (Overview)
Training Levels
Emergency Responders
General Site Workers
Hazardous Waste Treatment, Storage and Disposal Facilities
Module 3: Overview of Industrial Hygiene Part 1
Definitions
Principles of Industrial Hygiene
Exposure Assessment
Controls
Module 4: Overview of Industrial Hygiene Part 2
Control Methods
Administrative Controls
Engineering Controls
PPE
Biological, Physical and Chemical Hazards
Module 5: Worker Exposure Assessment
Exposure Assessment Steps
Types of Evaluations
Comprehensive Exposure Assessment
Medical and Epidemiological Studies
Process Operations
Process Description
Potential Industrial Air Contaminants
Module 6: Workplace Monitoring Part 1
Toxicity vs. Hazard
Occupational Exposure Limits (OELs)
Job Classifications/Work Health Status
Past Evaluations/Identify Potential Hazards
Control Measures
Module 7: Workplace Monitoring Part 2
Contaminant Estimation
Sampling and Analytical Method Selection
Equipment Selection
Sampling Strategy
Sampling and Analytical Procedures
Module 8: General Health and Safety Plan Guidelines
Health and Safety Guidelines
Overview of Health and Safety Plan
Module 9: Facility Emergency Response Audit Part 1
Performing a Process Hazard Analysis
Site Identification
Hazard Qualification
Consequence Analysis

Module 10: Facility Emergency Response Audit Part 2
Performing a Workplace Hazard Analysis
Determining Location
Examine Container Condition
Determine the Physical State of Contents
Determine Dispersion Pathways
Exposure Indicators
Module 11: Federal, State and Local Emergency Response Requirements
Site Zones Explained
Establishing the Hot Line
Site Zones Explained
Establishing the Hot Line
The Buddy System
Module 12: Spill and Release Reporting Under Federal Regulations Part 1
Emergency Planning Requirements
Emergency Planning and Notification
Procedures for SARA Title III Compliance
Regional Response Team
National Response Team
Module 13: Spill and Release Reporting Under Federal Regulations Part 2
DOT Notification Requirements
Leaking Containers
Module 14: Applicable Laws and Regulations
EPA
Difference Between Laws and Regulations
Major EPA and OSHA Laws
Recordkeeping and Notifying OSHA
OSHA Plan States
Module 15: Overview of DOT Emergency Response Guidebook (ERG)
Introduction
How to Read the ERG
List of DOT Tanks and Containers
Labeling
Module 16: Hazard Recognition (Overview)
Injury Prevention
Boiling Point, Vapor Pressure, Vapor Density, pH, Flashpoint
Oxidizers
Lower/Upper Explosive Limits
Flammability
Fire Triangle
SDS
Module 17: Hazard Recognition Part 1
NFPA Requirements
Job Hazard Analysis
Defining Risk
Chemical Hazard Identification Systems
NFPA 704 System
DOT Labels and Placards
Ionizing Radiation
Module 18: Hazard Recognition Part 2
Chemical and Physical Hazards
Fires and Explosions
Combustibles
Shock Sensitive
Oxygen Deficiency
Module 19: Hazard Recognition Part 3
Site and Equipment Hazards
Noise
Heat Stress
Heat Stroke
Cold Stress
Module 20: Hazard Recognition Part 4
Infectious Diseases (Bloodborne Pathogens, HIV, HBV)
Sanitation
Illumination
Lockout/Tagout
Module 21: Toxicology Part 1
Chemical Classification
Toxicology
Routes of Exposure and Dose
Interaction with Other Chemicals
Dust, Fumes, Mists and Vapors
Module 22: Toxicology Part 2
Toxicokinetics
Metabolism
Classes of Chemical Toxins
Dose to Organs
Module 23: Toxicology Part 3
Dose and Response
Storage in the Body
Chronic Response
Toxic
Chemical Interaction
Dose/Response
OSHA Exposure Limits
Module 24: Placards and Labeling
NFPA Hazardous System Identification
DOT Placards

Module 25: Respiratory Protection Part 1
Respirator Protection Program
Respirator Types
Selection of Respiratory Equipment
Module 26: Respiratory Protection Part 2
Air-purifying Respirators
Combination Canisters and Cartridges
Types of APR Face Pieces
Module 27: Respiratory Protection Part 3
Supplied Air Respirators (SAR)
Self Contained Breathing Apparatus (SCBA)
Combination SCBA/SAR
Module 28: Respiratory Protection Part 4
Chemical Concentration
Protection Factors
Calculating Protection Factors
Module 29: Respiratory Protection Part 5
Respirator Fit Test (Quantitative and Qualitative)
Respiratory Maintenance
Types of Respirator Canisters
How Respirators Work
Positive and Negative Pressure Fit Test
Respirator Limits
Cleaning, Maintenance and Storage
Module 30: Personal Protection Equipment (PPE) Part 1
Clothing and Ensembles
Developing a PPE Program
Training
Program Review and Evaluation
Module 31: Personal Protection Equipment (PPE) Part 2
Level A
Level B
Level C
Level D
Selecting the level of protection
Module 32: Personal Protection Equipment (PPE) Part 3
Protective Clothing
Inspection and Maintenance of Protective Clothing
Selection of Chemical Protective Clothing
Permeation and Degradation
Work Mission Duration
Module 33: Personal Protection Equipment (PPE) Part 4
Considerations for working in PPE
Air Supply Consumption
Coolant Supply
Accessories
Special Considerations
Module 34: Personal Protection Equipment (PPE) Part 5
Reasons to Upgrade/Downgrade PPE
PPE Inspection Program
Proper Storage
PPE Before Use Inspection
Module 35: Personal Protection Equipment (PPE) Part 6
In-use Monitoring
Donning and Doffing
Clothing Reuse
Heat Stress and Monitoring
Heat Rash
Heat Cramps
Heat Stroke
Module 36: Personal Protection Equipment (PPE) Part 7
Hand Protection
General Requirements of the OSHA Standard
Eye and Face Protection
Selection of Eye and Face Protection
Head Protection
Foot Protection
Module 37: HAZWOPER Site Control
Site Map
Site Preparation
Module 38: HAZWOPER Site Zones
Site Zones Explained
Establishing the Hot Line
The Buddy System
Module 39: HAZWOPER Support Zones
Site Security
Communication Systems
Module 40: Air Monitoring Part 1
Requirements for Air Monitoring Devices
Sampling Methods
Air Monitoring Equipment Characteristics
Module 41: Air Monitoring Part 2
Types of Direct Reading Instruments
Calibration
Toxic Atmosphere Monitors
Module 42: Air Monitoring Part 3
Types of Direct Reading Instruments Cont'd
Photoionization Detector (PID)
Flame Ionization Detector (FID)
Radiation Monitors
OSHA Action Levels
Module 43: Air Monitoring Part 4
Active and Passive Sampling Equipment
Personal Monitors
Radiation Dosimeters
Calibration
Personal Sampling Plan
Module 44: Air Monitoring Part 5
OSHA Exposure Limits
Measuring Particles, Gases and Vapors
Permissible Exposure Limit (PEL)
Time Weighted Averages (TWA)
Calculating TWAs
Module 45: Air Monitoring Part 6
Site Monitoring
Monitoring for Immediately Dangerous to Life and Health (IDLH)
Perimeter Monitoring
Variables of Hazardous Waste Site Exposures
Module 46: Medical Surveillance Part 1
Information for Medical Program
Develop a Site Specific Medical Program

Module 47: Medical Surveillance Part 2
Medical Examination
Periodic Medical Monitoring
Examination After Injury
Termination Exam
Module 48: Site Emergencies Part 1
Planning and Personnel
Site Emergencies
How Teams Assist in Emergencies
Roles of Personnel During Emergencies
Module 49: Site Emergencies Part 2
Communications Safe Distances and Site Mapping
Safe Refuge
Public Evacuations
Module 50: Site Emergencies Part 3
Evacuations and Emergency Decontamination
Personal Locator Systems
Evacuation Routes and Procedures
First Aid/Medical Treatment
Module 51: The Ability to Recognize and Identify Hazardous Materials Part 1
Hazardous Materials Clues
Occupancy/Location
Fixed Sites
Transportation Sources
Highway, Rail and Air
Marine
Pipelines
Module 52: The Ability to Recognize and Identify Hazardous Materials Part 2
Tanks and Containers
Container Shape and Size
Types of DOT Highway Transportation Tanks, Tankers, Trailers and Containers
Types of DOT Rail Transportation Tank
Cars
Types of DOT Storage Containers
Marine
Pipelines
Module 53: The Ability to Recognize and Identify Hazardous Materials Part 3
Tanks and Containers Markings and Colors
NFPA 704 System
HMIS Placards and Labels
UN NA Hazard Class System
DOT 9 Classes of Hazardous Materials
Shipping Papers and SDS
Module 54: Containment, Confinement and Control of Hazardous Materials Releases Part 1
Standard Strategic Goals
Site Perimeters and Hazard Control Zones
Factors Affecting the Ability of Personnel to Perform a Rescue
Rescue Risks Associated with DOT 9 Hazard Classes
Operational Level Response Actions
Sizing Up a HAZMAT Incident
Module 55: Containment, Confinement and Control of Hazardous Materials Releases Part 2
Release Control Methods
Confinement, Absorption and Adsorption
Damming, Diking, Diversion and Retention
Ventilation and Vapor Dispersion
Dispersion and Dilution
Other Spill Control Tactics
Module 56: Containment, Confinement and Control of Hazardous Materials Releases Part 3
Vapor Suppression
Using Foams
Types of Foams
Foam Methods
Typical Fire Control Tactics
Leak Control/Containment for Containers
Termination Phase
Module 57: Facility Emergency Response Plan Part 1
Pre-emergency Planning
Personnel Roles and Communication
Recognition and Prevention
Safe Distances and Refuge
Module 58: Facility Emergency Response Plan Part 2
Site Security and Control
Evacuation Routes and Procedures
Emergency Decontamination
Emergency Medical Treatment and First Aid
Emergency Response Procedures and Critique
Module 59: Training and Equipping Your HAZMAT Team Part 1
Training Requirements
HAZMAT Levels
Responsibilities
Module 60: Training and Equipping Your HAZMAT Team Part 2
Medical Monitoring
Cost of Training
Protection Levels and Equipment
HAZWOPER Hands-On Simulator
Final Exam
"We really enjoyed your HAZWOPER Supervisor training. One of the best I've taken." – John Kain, CBH, Inc.
" Thanks so much for the great HAZWOPER Supervisor training. We loved the quality and engaging animations." – Susan Peterson