Asbestos Awareness Training
Cost: $125 per person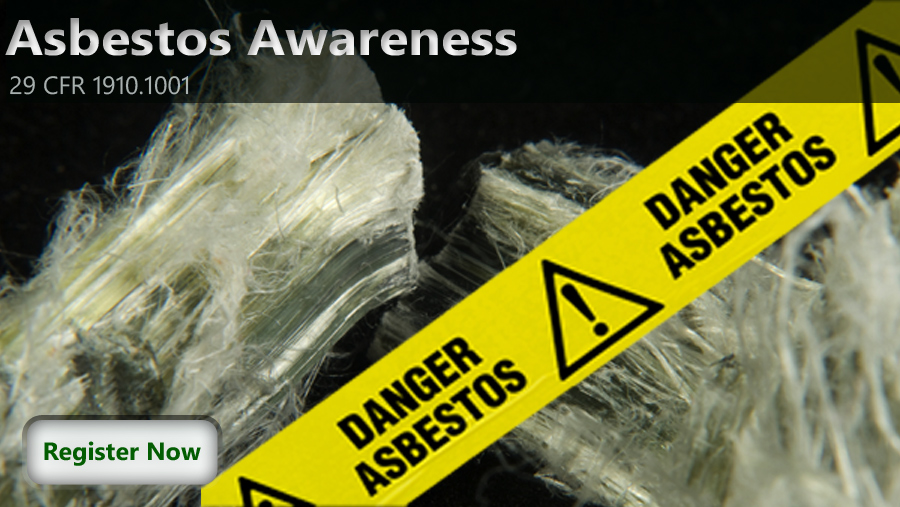 Employers are required to present what is called "asbestos awareness training" to maintenance and custodial personnel who may come in contact with asbestos-containing materials. This does not imply that any of you will be doing asbestos abatement work.
Group discounts available (3 or more people). Please email or call us at 1.888.877.7130 for a quote.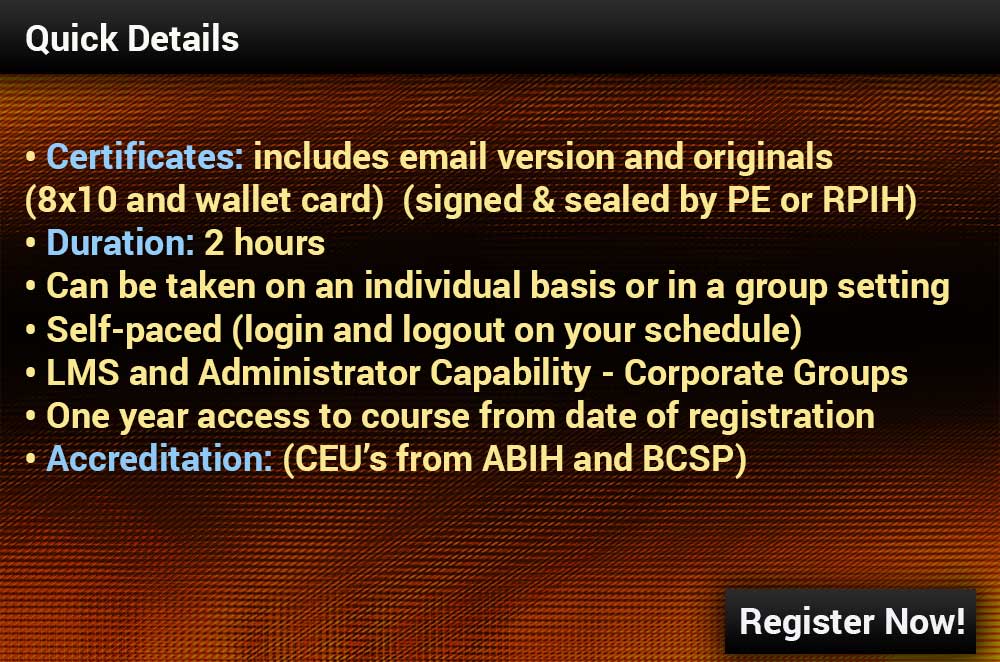 Course Features
– Includes 1 full length video
– Audio narration of text
– Over 25 interactive flash animations
– Award winning content
– CEU's
– Self grading quizzes and final exam
– OSHA Study Timer (tracks your study time login and logout at your convenience)
– Certificate of Completion (3 certificates) e-cert, 8×10 and wallet card
Course Description
In compliance with OSHA 29 CFR 1910.1001 regulations, the Asbestos Awareness training is required for individuals having a role working with Asbestos Containing Materials (ACM) or exposure to them. This training must be provided to professionals at the start of their job assignment and annually thereafter. Attending this two-hour Asbestos Awareness Training Course does not imply that maintenance and custodial staff will be required to work with asbestos-containing materials (ACM). This course meets both the Occupational Safety and Health Administration (OSHA) Class IV Worker and Environmental Protection Agency (EPA) Asbestos Hazard Emergency Response Act (AHERA) awareness training
The purpose of the session is to provide a basic overview of asbestos and its associated hazards in addition to satisfying the employee training requirements under OSHA regulations "Occupational Exposure to Asbestos." The scope and content of this course an is limited to the information essential to this requirement. Important questions such as the ones that follow will be answered.
– What is asbestos?
– What are the health effects of exposure to asbestos?
– Where can asbestos be found?
– How to properly protect yourself?
– What are the laws governing asbestos?
Who Needs Asbestos Awareness Training?
This training is for maintenance and custodial staff involved in cleaning and minor maintenance tasks where ACM may be accidentally disturbed. Two-hour Asbestos Awareness Training includes such topics as:
Background information on asbestos
Health effects of asbestos
Worker protection programs
Locations of ACM in the building
Recognition of ACM damage and deterioration
The O&M program for that building.
Our online Asbestos Awareness training course provides students with the information they will need to identify work areas where asbestos may be present, understand the harmful effects of asbestos, describe methods to avoid asbestos exposure, and become familiar with OSHA and EPA standards designed to protect workers on the job site, among many other important topics. Students who should take this course are those who may be exposed to asbestos on the work site. This training is NOT for those workers that perform asbestos abatement activities, and does not provide equipment training for workers required to use personal protective equipment (PPE) on the job site.
This is an asbestos awareness course which is very different from Asbestos Abatement Worker, Asbestos Supervisor, Asbestos Inspector and the NIOSH 582 Abestos Fibers Sampling courses.
Certificates
Upon successful completion of the course, you will receive a total of 3 certificates. An email with an e-certificate will be sent to you or your designee immediately upon completing the course and the original certificates (8×10 and pvc wallet card) will arrive in the mail.
Support
Includes U.S. Based support. An experienced and highly qualified instructor is available to you throughout the training process. Our toll free hotline or email will allow access to some of the finest instructors in the U.S.
Duration
2 hours
Continuing Education Units (CEU's)
This course has been awarded .34 Industrial Hygiene CM Points by the American Board of Industrial Hygiene (ABIH). This course is eligible for .08 Continuance of Certification (COC) points from the Board of Certified Safety Professionals (BCSP).
Prerequisites
None