Bloodborne Pathogens Training
Cost: $50 per person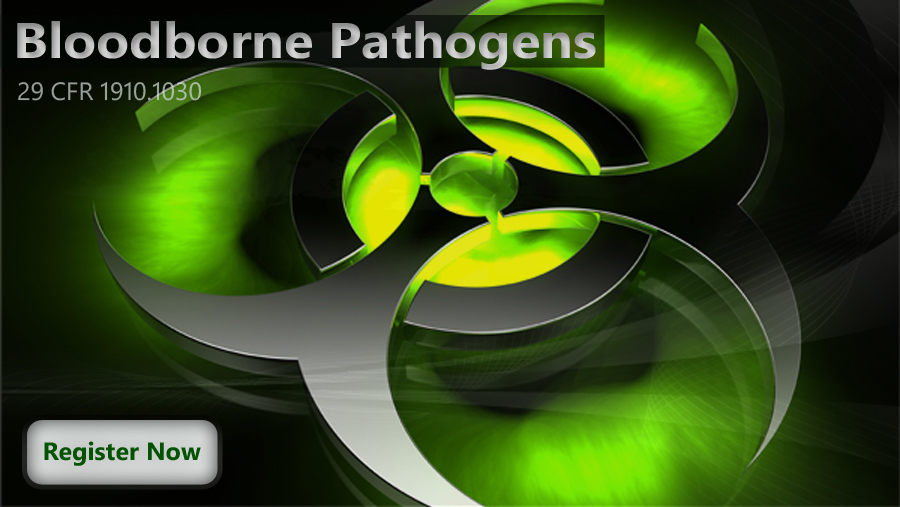 Bloodborne Pathogens training is required for all employees that are potentially exposed to infectious materials including blood.
Group discounts available (3 or more people). Please email or call us at 1.888.877.7130 for a quote.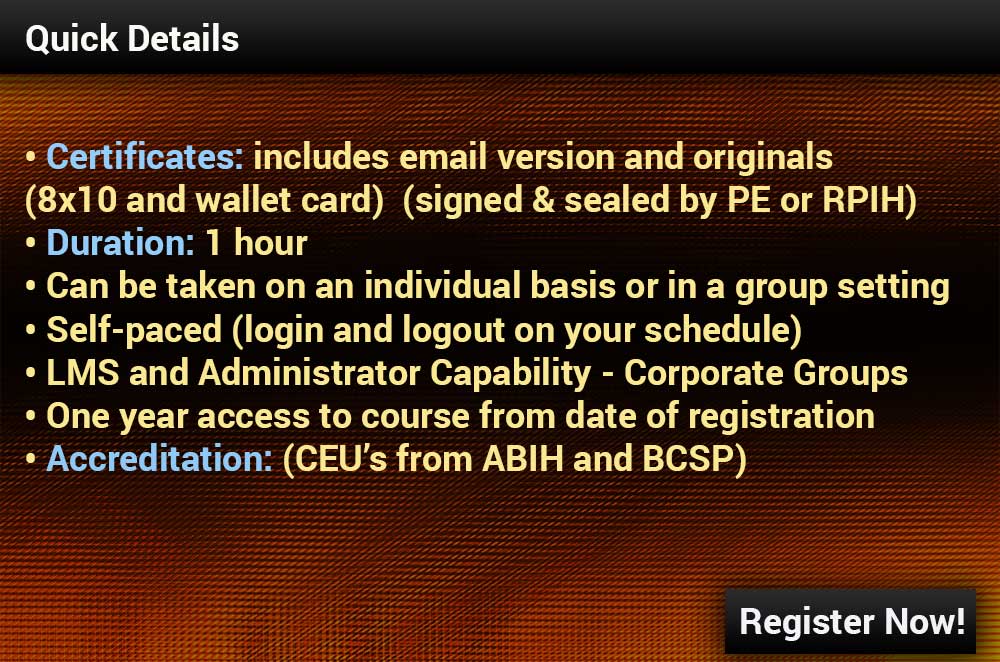 Course Features
– Includes 1 full length video
– Audio narration of text
– Over 20 interactive flash animations
– Award winning content
– CEU's
– Self grading quizzes and final exam
– OSHA Study Timer (tracks your study time login and logout at your convenience)
– Certificate of Completion (3 certificates)
Course Description
In compliance with OSHA 29 CFR 1910.1030 regulations, this training is required for individuals who have a role with bloodborne pathogens. This initial or annual refresher training must be taken for professionals engaged in working with items or materials that come in contact with blood. The purpose of this training is to identify the appropriate kinds of facilities where bloodborne pathogens may be encountered, discuss work practices for reducing exposures, and the proper management of bloodborne pathogen agents.
This course has been designed to comply with Occupational Safety and Health Standards 1910.1030. This program discusses bloodborne diseases such as Aids, Hepatitis B virus (HBV), and Hepatitis C (HCV) virus, exposure controls, how universal precautions should be applied during emergency situations, housekeeping, PPE, work practice controls, cleanup of an accident site, and waste disposal.
Main Topics Covered in this Course Include
OSHA Requirements
Exposure and Health Effects
Controls
Post-Exposure Actions
Certificates
Upon successful completion of the course, you will receive a total of 3 certificates. An email with an e-certificate will be sent to you or your designee immediately upon completing the course and the original certificates (8×10 and pvc wallet card) will arrive in the mail.
Target Audience
All emergency first aid squad members, laboratory workers, housekeeping or janitorial personnel and all others who may come in contact with blood or other bodily fluids. This training provides an annual review of bloodborne pathogen exposure control principles, practices, and requirements as required by the OSHA Bloodborne Pathogens Standard. This training is required for all personnel who work with human blood or blood products or human tissues, fluids, or cells that are considered "other potentially infectious materials" (OPIM) as defined by OSHA.
Which employees are covered by OSHA's Bloodborne Pathogen Standard?
Employees having reasonably expectations of exposure to blood or OPIM through skin, eye, mucous membrane, or broken skin by: (needlesticks, human bites, cuts, abrasions) that result from the performance of an employee's job duties. The hazard of exposure to bloodborne pathogens affects employees in many types of employment and is not restricted to the healthcare or emergency service industry.
Support
Includes U.S. Based support. An experienced and highly qualified instructor is available to you throughout the training process. Our toll free hotline or email will allow access to some of the finest instructors in the U.S.
Duration
1 hour
Continuing Education Units (CEU's)
This course has been awarded .5 Industrial Hygiene CM Points by the American Board of Industrial Hygiene (ABIH) – approval number 13335. This course is also eligible for .08 Continuance of Certification (COC) points from the Board of Certified Safety Professionals (BCSP).
Prerequisites
None