Compressed Gas Cylinder Safety (29 CFR 1910.101)
Cost: $50 per person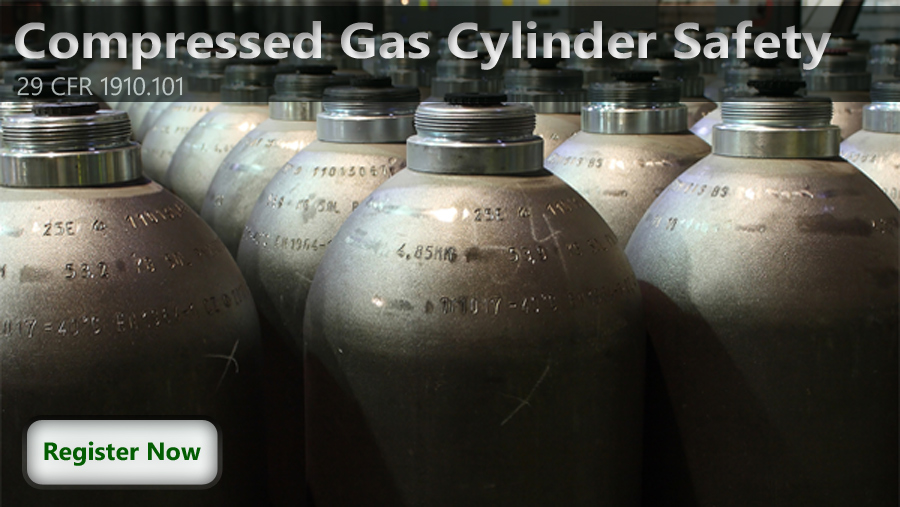 Compressed gas cylinder training for equipment is addressed in specific standards for the general industry, shipyard employment, marine terminals, and the construction industry. This training must be accomplished by the employer and before an employee works with compressed gas cylinders.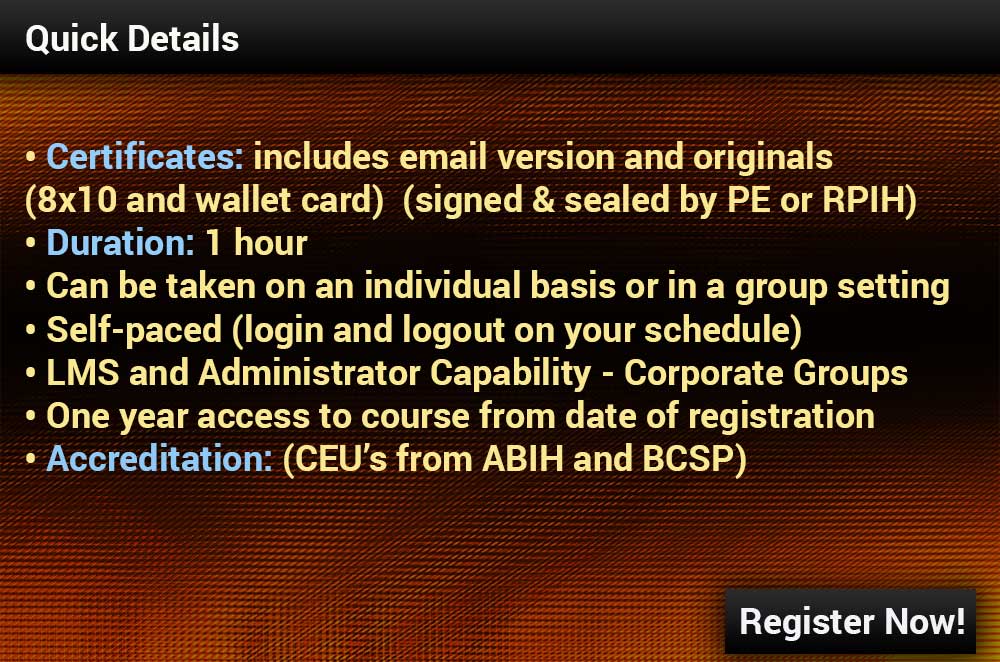 Course Features
– Professional audio voice overs
– Award winning content
– CEU's
– Self grading quizzes and final exam
– OSHA Study Timer (tracks your study time login and logout at your convenience)
– Certificate of Completion (3 certificates)
Course Description
In compliance with OSHA 29 CFR 1910.101 regulations, this compressed gas cylinder training course addresses many of the hazards and safe working conditions for compressed gas cylinders. Hazards associated with compressed gases include oxygen displacement, fires, explosions, and toxic gas exposures, as well as the physical hazards associated with high pressure systems. Special storage, use, and handling precautions are necessary in order to control these hazards.
Certificates
Upon successful completion of the course, you will receive a total of 3 certificates. An email with an e-certificate will be sent to you or your designee immediately upon completing the course and the original certificates (8×10 and pvc wallet card) will arrive in the mail.
Course Objectives
This Compressed Gas Cylinder training course has the following topics. Once a student completes the training, a certificate will be issued.
What are gas cylinders?
Gas cylinder hazards
Risk assessments
Safety precautions
Transporting cylinders
Storing cylinders
Emergency procedures
Cylinder disposal
In addition, the course also includes information as follows.
• Definition of a compressed gas
• Definition of a cryogenic liquid
• Proper handling procedures
• Proper compressed gas storage procedures
• The hazards associated with compressed gases, such as the high pressure and damage to cylinder causing the cylinder to become a missile
• The hazards of cryogenic liquids
• The PPE required for the compressed gases and cryogenic liquids.
Support
Includes U.S. Based support. An experienced and highly qualified instructor is available to you throughout the training process. Our toll free hotline or email will allow access to some of the finest instructors in the U.S.
Duration
1 hour
Continuing Education Units (CEU's)
This course is eligible for .08 Continuance of Certification (COC) points from the Board of Certified Safety Professionals (BCSP).
Prerequisites
None
Table of Contents
Module 1: Compressed Gases
Introduction
Types of Compressed Gases
Identification
Module 2: Handling and Use
Gas Cylinders in Use
Valve Connections
Regulators
Module 3: Cylinder Leaks
Detecting Leaks
Control of Leaks
Module 4: Transportation and Storage
Transportation of Cylinders
Storage of Cylinders
Empty Cylinders
Segregation of Cylinders
Compressed Gas Cylinders and Torpedoes
Final Exam