Confined Space Entry Training
Cost: $195 per person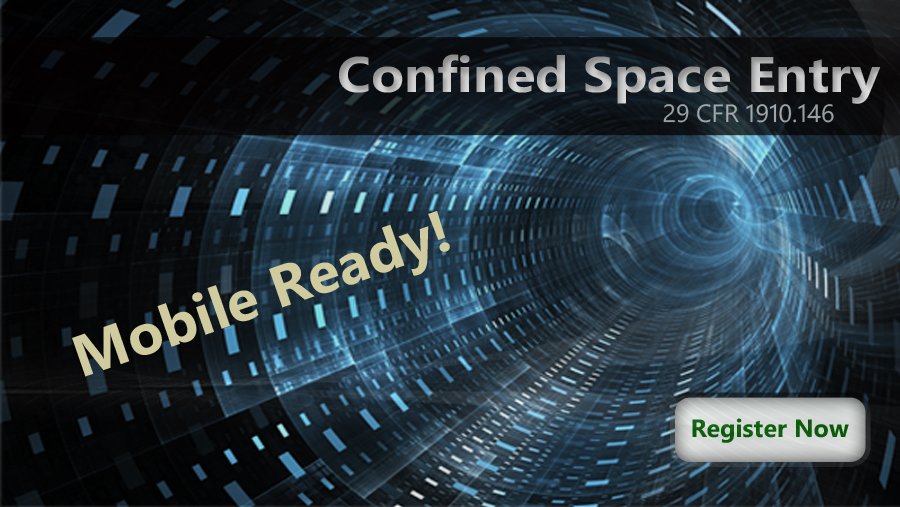 This training provides you with the tools to enter a permit required confined space safely and be able to determine if a confined space can be entered without a required permit. There are two types of confined spaces - permit required and non-permit required.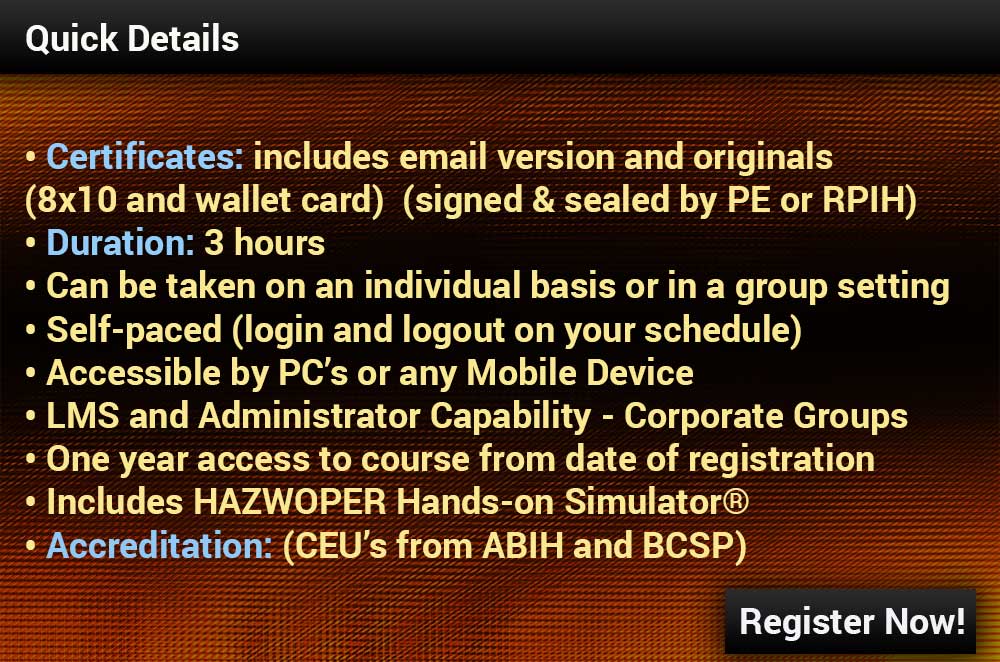 Group discounts available (3 or more people). Please email or call us at 1.888.877.7130 for a quote.

Course Details
Course Description
In compliance with OSHA 29 CFR 1910.146 regulations, confined space training is required for individuals who have a role with confined space entry. Training must be provided for these individuals at the start of their job assignment. There are 4 occupations to which confined space entry training applies. They are authorized entrant, safety attendant, supervisor and emergency response personnel.
The training will cover:
• Definitions of confined space and permit-required confined space
• Roles and duties of entrants, attendants and entry supervisors
• Confined space & permit-required confined space pre-entry evaluation
• Confined space & permit-required confined space entry procedure
• Atmospheric testing requirements
• Site security
• Isolation
Course Features
• Includes 2 full length videos
• Professional voiceovers
• Over 20 interactive flash animations
• Award winning content
• CEU's
• Self grading quizzes and final exam
• OSHA Study Timer (tracks your study time login and logout at your convenience)
• Certificate of Completion (3 certificates) e-cert, 8×10 and wallet card
Course Overview
What Is Confined Space Entry Permit?
This training covers the safety and health hazards associated with permit-required confined space entry. Course topics include recognition of confined space hazards, identification of permit and non-permit required confined spaces, use of instrumentation to evaluate atmospheric hazards, ventilation techniques, development and implementation of a confined space program, proper signage, and training requirements.
Certificates
Upon successful completion of the training, you will receive a total of 3 certificates. An email with an e-certificate will be sent to you or your designee immediately upon completing the course and the original certificates (8×10 and pvc wallet card) will arrive in the mail.
Support
Includes U.S. Based support. An experienced and highly qualified instructor is available to you throughout the training process. Our toll free hotline or email will allow access to some of the finest instructors in the U.S.
Continuing Education Units (CEU's)
This course has been awarded .5 Industrial Hygiene CM Points by the American Board of Industrial Hygiene (ABIH) – approval number 13336. This course is also eligible for .25 Continuance of Certification (COC) points from the Board of Certified Safety Professionals (BCSP).
Table of Contents
Module 1: Key Occupational Roles
Supervisor
Safety Attendant
Authorized Entrant
Module 2: What is a Confined Space?
Definitions
Confined Space Fatalities
Types of Confined Spaces
Specific Confined Space Hazards
Identification of Confined Spaces
Module 3: Confined Space Pre-entry Procedure Part 1
Safe Entry Procedures
Confined Space Entry Plan
Pre-entry
Conduct Air Sampling
Atmosphere Testing Equipment
Eliminate or Control Hazards
Ventilation
Module 4: Confined Space Pre-entry Procedure Part 2
Develop Entry Permits
Crew Briefing and Training
Elements of Confined Space Permit
Communications
Rescue Operations
Module 5: Confined Space Entry
Preparing the Confined Space for Entry
Entering a Confined Space
Confined Space Atmosphere
Module 6: Confined Space Protective Devices, Controls and Monitoring Part 1
Protective Devices and Controls
Lockout/Tagout Devices
Safety Barriers
Equipment Used in Emergency Response
First Aid Equipment
Retrieval Equipment
Personal Protective Equipment
Module 7: Confined Space Protective Devices, Controls and Monitoring Part 2
Monitoring
Fire Suppression Equipment
Top Entry
Hot Work
Inert Atmospheres
Electrical Equipment
Corrosives
Module 8: Injury Prevention
Causes of Fatalities
Module 9: Confined Space Hazards
Electrical/Mechanical Hazards
Engulfment/Drowning
Fall Hazards
Toxic Atmosphere
Safety Measures
Hazardous Atmosphere
Final Exam
Regulatory Overview
Before an initial work assignment begins, the employer must provide proper confined space training for all employees who are required to work in permit spaces. Upon completing this training, employers must ensure that employees have acquired the understanding, knowledge and skills necessary for the safe performance of their duties.
The employer is to mark confined spaces that are permit-required. They must identify the hazards of the space and post a permit before allowing authorized employees to enter. Employers posts permits near the entrance of each confined space displaying the necessary information.
– Only Trained and Authorized Entrants are to enter a confined space.
– Emergency rescues should only be made by trained personnel or a rescue service.
– Always report any concerns you may have regarding confined spaces.
Additional confined space training is required when (1) the job duties change, (2) there is a change in the permit space program or the permit space operation presents a new hazard, and (3) when an employee's job performance shows deficiencies. Training is also required for rescue team members, including cardiopulmonary resuscitation and first-aid training. Employers must certify that training has been accomplished.
Upon completion of confined space training, employees must receive a
certificate of training
that includes the employee's name, signature or initials of trainer(s), and dates of training. The confined space training certification must be made available for inspection by employees and their authorized representatives. In addition, the employer also must ensure that employees are trained in their assigned duties. The term permit-required confined space refers to those spaces that meet the definition of a confined space and contain health or safety hazards, thereby requiring a permit for entry.
Featured Clients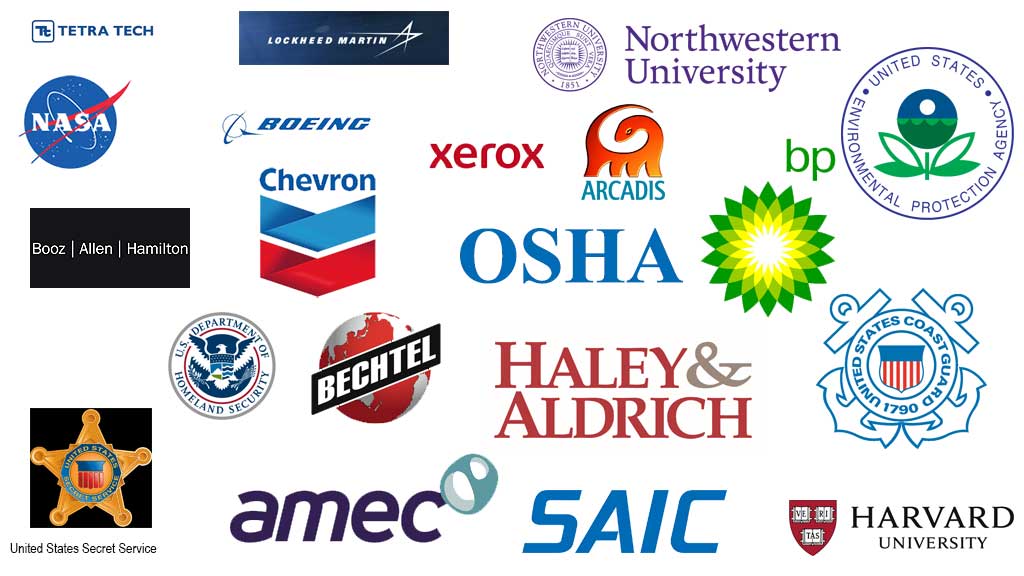 "One of the best confined space training courses online. I have taken others but the quality and thoroughness of your course is by far the best." – Roger Meybohm