Electrical Safety Training
Cost: $60 per person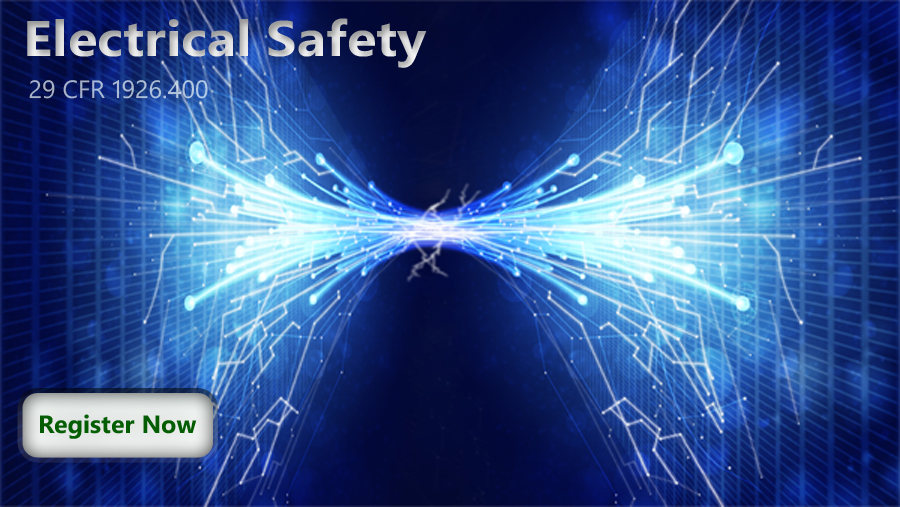 Electrical safety training is required for workers who work with or around electricity. Electricity is an invisible hazard and has the potential to cause injuries and fatalities.
Group discounts available (3 or more people). Please email or call us at 1.888.877.7130 for a quote.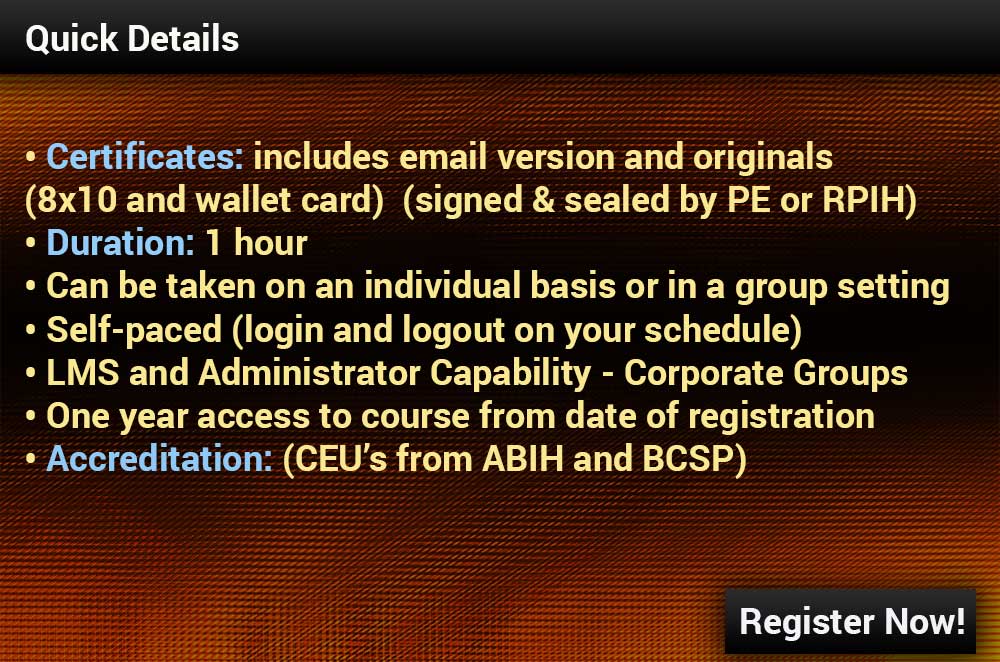 Course Features
– Includes 1 full length video
– Audio narration of text
– Over 25 interactive flash animations
– Award winning content
– CEU's
– Self grading quizzes and final exam
– OSHA Study Timer (tracks your study time login and logout at your convenience)
– Certificate of Completion (3 certificates) e-cert, 8×10 and wallet card
Course Description
In compliance with OSHA 29 CFR 1926.400 subpart K regulations, this training is required for construction workers and supervisors who work with electrical components. This training course provides an overview of basic electrical safety for construction workers with little or limited training or familiarity with electrical hazards.
This course covers OSHA Electrical Standards and the hazards associated with electrical installations and equipment. Course topics include single-and three-phase systems, cord-and plug-connected and fixed equipment, grounding, ground fault circuit interrupters, and safety-related work practices. Emphasis is placed on electrical hazard recognition and OSHA Standards, policies, and procedures and applicable portions of the National Electrical Code (NEC). In addition, the course will cover the safe and correct use of electrical testing equipment.
Upon course completion students will have the ability to understand the severity of electrical current on the human body, recognize and evaluate actual and potential electrical hazards and reference the applicable OSHA Standard, determine hazard abatement measures, and understand the proper use of electrical testing equipment.
Certificates
Upon successful completion of the course, you will receive a total of 3 certificates. An email with an e-certificate will be sent to you or your designee immediately upon completing the course and the original certificates (8×10 and pvc wallet card) will arrive in the mail.
Support
Includes U.S. Based support. An experienced and highly qualified instructor is available to you throughout the training process. Our toll free hotline or email will allow access to some of the finest instructors in the U.S.
Duration
1 hour
Continuing Education Units (CEU's)
This course is eligible for .08 Continuance of Certification (COC) points from the Board of Certified Safety Professionals (BCSP).
Prerequisites
None
Overview
An assessment of the electrical hazards must be performed for all work that requires employees to work on or near exposed electrical conductors or circuit parts. The assessment should be done by a qualified worker to determine the required safety-related work practices.
When an electrical hazard exists, the exposed circuit parts must be placed into an electrically safe work condition unless it is infeasible to do so.
There are requirements for de-energization and verification for some classes of electrical hazards. If the work must be done with a hazardous circuit energized, safety-related work practices and procedures must be followed to eliminate or control the electrical hazards.
Hazard assessments must consider equipment failure modes, possible accidents, documentation inadequacies, procedural failure, and human error.
Table of Contents
Module 1: How Electricity Works
How Electricity Works
How Shocks Occur
Electrical Hazards
Power Line Risks
Electrocution
Electric Shock
Module 2: Factors of Electrical Shock
How Electrical Current Affects the Human Body
Electric Shock
Factors of Electric Shock
Module 3: Hazards of Electricity
Identifying and Recognizing Hazards
PPE
Module 4: Arc Flash Awareness
What is Arc Flash?
How does Arc Flash Occur?
Avoiding Arc Flash
Module 5: OSHA Electrical Safety Regulation for Construction 1926.400 Part 1
OSHA Subtitle K sections
Module 6: OSHA Electrical Safety Regulation for Construction 1926.400 Part 2
OSHA Subtitle K sections (cont'd)
Module 7: How to Protect Yourself from Electricity Part 1
Electrical Hazards and How to Control Them
Hazards and Controls
Module 8: How to Protect Yourself from Electricity Part 2
Grounding
Proper Use of GFCI's
Hazards and Controls
Preventing Electrical Hazards
Final Exam