Competent Person for Excavation Trenching and Shoring
Cost: $60 per person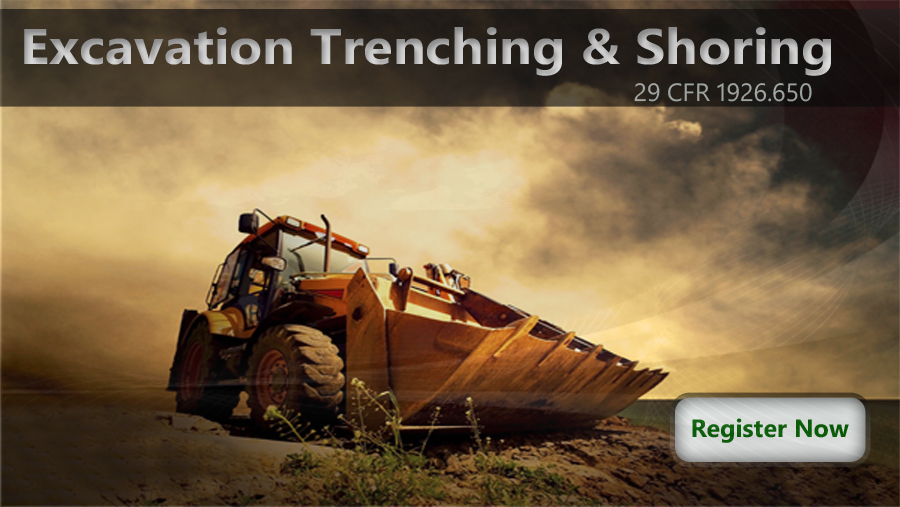 Collapse is the primary hazard for workers in an open excavation. Water is the number one enemy for workers in excavations. There are additional hazards included that are covered in length in the training. This training is designed for competent persons.
Group discounts available (3 or more people). Please email or call us at 1.888.877.7130 for a quote.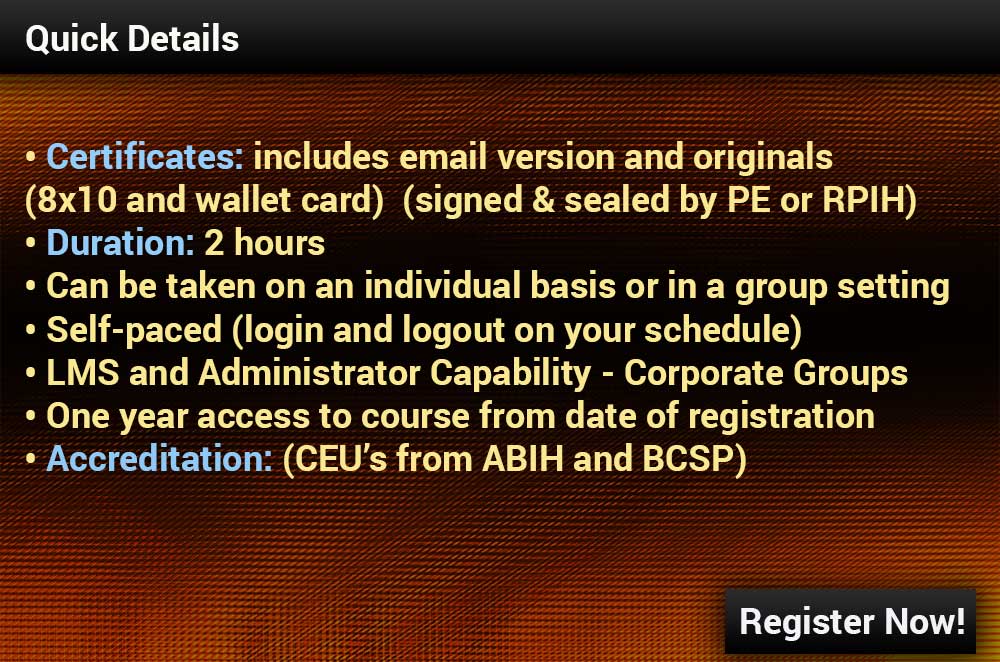 Course Features
– Includes 1 full length video
– Audio narration of text
– Over 25 interactive flash animations
– Award winning content
– CEU's
– Self grading quizzes and final exam
– OSHA Study Timer (tracks your study time login and logout at your convenience)
– Excavation training
– Certificate of Completion (3 certificates) e-cert, 8×10 and wallet card
Course Description
In compliance with OSHA 29 CFR 1926.650 subpart P regulations, this excavation training is required for workers and supervisors who work in trenches and excavations. OSHA requires that at least one person be trained as a competent person for excavation sites. This excavation training covers the OSHA Excavation Standard and safety and health aspects of excavation and trenching. Course topics include practical soil mechanics and its relationship to the stability of shored and unshored slopes and walls of excavations, introduction of various types of shoring (wood timbers and hydraulic), soil classification, and use of protective systems.
Testing methods are discussed in the use of instruments such as penetrometers, torvane shears, and engineering rods. Upon course completion students will have the ability to assess their employer's compliance with the OSHA Excavation Standard, utilize soil testing methods to classify soil types, determine protective systems for excavation operations, and training requirements.
Certificates
Upon successful completion of the course, you will receive a total of 3 certificates. An email with an e-certificate will be sent to you or your designee immediately upon completing the course and the original certificates (8×10 and pvc wallet card) will arrive in the mail.
OSHA Competent Person Requirements
Excavating is recognized as one of the most hazardous construction operations. Most workers caught in a cave-in are either seriously injured or killed. OSHA requires that there be a "Competent Person" present whenever a worker enters an excavation or trench.
OSHA defines a "Competent Person" as "one who by way of training and/or experience, is knowledgeable of applicable OSHA Standards, capable of identifying existing and predictable hazards in the surroundings or working conditions which are unsanitary, hazardous, or dangerous to employees, and who has the authority to take prompt corrective measures to eliminate those hazards.
Note: The excavation Competent Person designation is an employer designation and this training will help satisfy this requirement. However, the employer is responsible for actually making this determination.
Support
Includes U.S. Based support. An experienced and highly qualified instructor is available to you throughout the training process. Our toll free hotline or email will allow access to some of the finest instructors in the U.S.
Duration
1 hour
Continuing Education Units (CEU's)
This course is eligible for .08 Continuance of Certification (COC) points from the Board of Certified Safety Professionals (BCSP).
Prerequisites
None
Table of Contents
Module 1: Introduction and Excavation Requirements
OSHA Excavation Standard
General Requirements of 29 CFR, Subpart P
Excavations
The Competent Person
Responsibilities of the Competent Person
Module 2: OSHA Soil Classification
Stable Rock
Soil Types A, B and C
OSHA Accepted Methods for Soil Classification
OSHA Accepted Field Test Methods
Visual Test
Manual Tests
Module 3: Requirements for Protective Systems
Sloping, Shoring and Shields
Options for Protective Systems
Sloping and Benching
Maximum Allowable Slopes for OSHA Soil Types
Distressed Soils
Shoring and Shielding Systems
Timber Shoring
Aluminum-Hydraulic Shoring Systems
Trench Shields (Boxes)
Safe Entry and Exit
Excavation Policy
Module 4: Installation and Removal of Protective Systems
Materials and Equipment
Mechanics of a Cave-In
What Makes Trenches Hazardous?
Final Exam