Competent Person for Fall Protection
Cost: $60 per person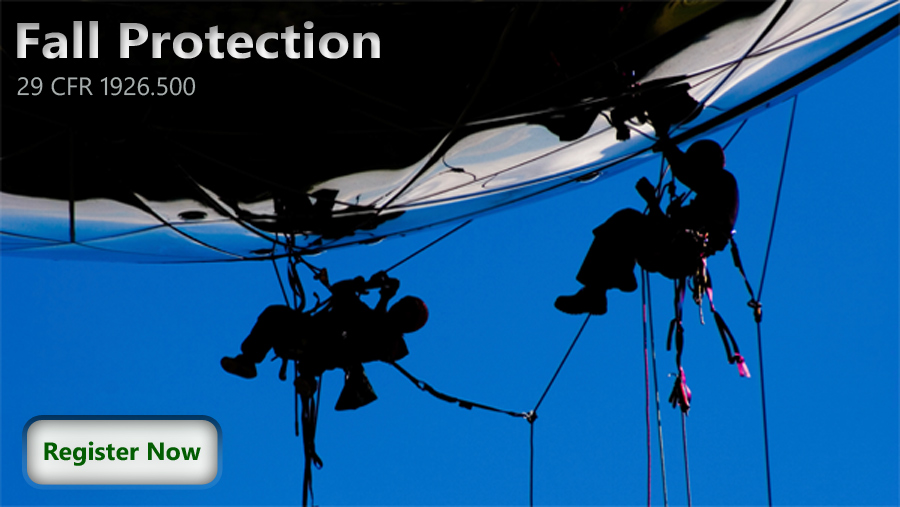 Fall protection training that covers the aspects for a competent person as required by OSHA regulations. Employers are required to provide fall protection training to their employees prior to working on and around elevated surfaces.
Group discounts available (3 or more people). Please email or call us at 1.888.877.7130 for a quote.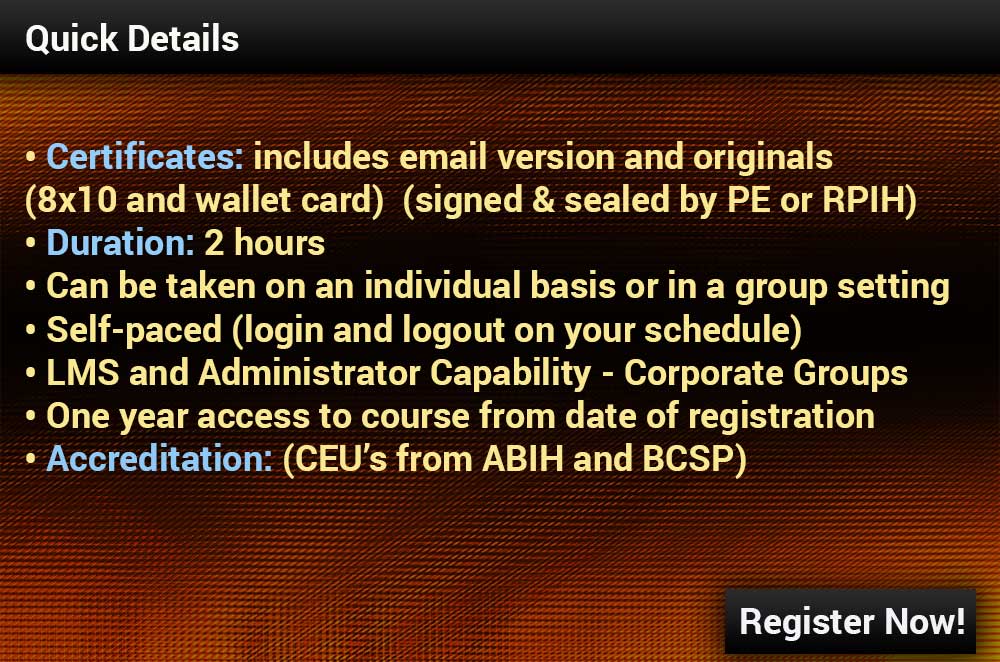 Course Features
• Includes 1 full length video
• Audio narration of text
• Over 25 interactive flash animations
• Award winning content
• CEU's
• Self grading quizzes and final exam
• OSHA Study Timer (tracks your study time login and logout at your convenience)
• Certificate of Completion (3 certificates) e-cert, 8×10 and wallet card
Course Description
In compliance with OSHA 29 CFR 1926.500 subpart M regulations, this fall protection training is required for construction workers and supervisors who work at elevations. This course teaches employees to use fall protection systems in construction settings. Note: While this course can be used to help in a competent person designation, the employer must designate a person as a "competent person". Per the OSHA regulations, no training provider can award this designation it must be the employer.
This course covers the OSHA Fall Protection Standard for construction and an overview of fall protection methods. Course topics include principles of fall protection, components and limitations of fall arrest systems, the OSHA fall protection training standards, fall protection systems, selection of fall protection measures, and inspection and maintenance of fall protection systems.
Upon course completion students will have the ability to assess compliance with the OSHA Fall Protection Standard, evaluate installed passive systems and fall arrest systems, and develop and implement fall protection plans.
Fall protection is a broad concept that includes training, procedures, rules, systems, and methods intended to protect workers from fall hazards. Fall protection doesn't mean bulky or cumbersome equipment. It doesn't interfere with work tasks, and it doesn't get in the way of coworkers – if you understand the concept and apply it appropriately. Fall protection also implies shared responsibilities. If you are an employer, you must be aware of fall hazards and you must eliminate them or control your employees' exposure to them.
If your are an employee, you are responsible for following the policies, procedures, and fall protection training requirements established by your employer. Building owners and managers, architects, engineers, and equipment manufacturers also have responsible roles to play during a typical construction project. This course will help you understand the fall-protection concept and how it applies to the construction industry.
Certificates
Upon successful completion of the fall protection training, you will receive a total of 3 certificates. An email with an e-certificate will be sent to you or your designee immediately upon completing the course and the original certificates (8×10 and pvc wallet card) will arrive in the mail.
Support
Includes U.S. Based support. An experienced and highly qualified instructor is available to you throughout the training process. Our toll free hotline or email will allow access to some of the finest instructors in the U.S.
Duration
2 hours
Continuing Education Units (CEU's)
This course is eligible for .08 Continuance of Certification (COC) points from the Board of Certified Safety Professionals (BCSP).
Prerequisites
None
Certification of Fall Protection Training
The employer shall verify compliance with paragraph (a) of this section by preparing a written certification record. The written certification record shall contain the name or other identity of the employee trained, the date(s) of the fall protection training, and the signature of the person who conducted the training or the signature of the employer. If the employer relies on training conducted by another employer or completed prior to the effective date of this section, the certification record shall indicate the date the employer determined the prior fall protection training was adequate rather than the date of actual training.
Table of Contents
Module 1: Falls
Module 2: Personal Fall Arrest Systems
Module 3: Proper Donning of Harness
Module 4: Using Personal Fall Arrest Systems Safely Part 1
Module 5: Using Personal Fall Arrest Systems Safely Part 2
Module 6: Aerial Lift Safety
Module 7: Ladder Safety, Types of Ladders and Inspection
Module 8: Setting Up Ladders
Module 9: Ladder Safety Basics
Module 10: OSHA Requirements for Ladders in Use
Module 11: Ladder Safety Use
Module 12: Stairways and Ladders
Final Exam
"Great job on the fall protection training. My employer wanted me to take your training to become a designated competent person for our company." – Greg Bordeaux, Allied Construction, Inc.