Hazard Communication (HAZCOM) and Global Harmonization System (GHS)
Cost: $25 per person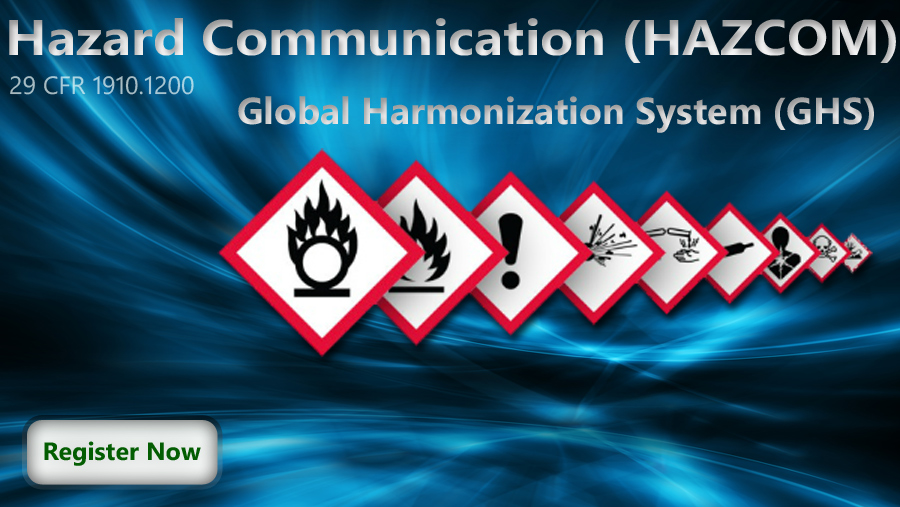 HAZCOM training newly revised to reflect the Global Harmonization System (GHS) requirements.
Group discounts available (3 or more people). Please email or call us at 1.888.877.7130 for a quote.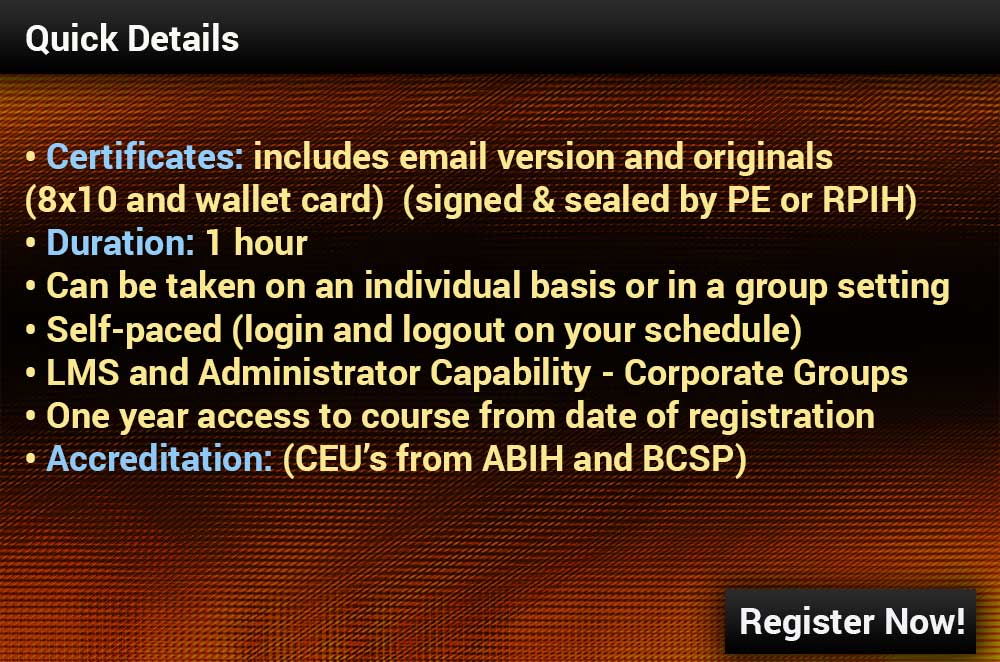 Course Features
– Includes 1 full length video
– Professional voiceovers
– Over 25 interactive flash animations
– Award winning content
– CEU's
– Self grading quizzes and final exam
– OSHA Study Timer (tracks your study time login and logout at your convenience)
– Certificate of Completion (3 certificates) e-cert, 8×10 and wallet card
Course Description
December 1, 2013 marks the first critical implementation date when employees must be trained on new workplace label elements and the updated Safety Data Sheet (SDS) format. Employee HAZCOM training must be updated so that workers can recognize and understand the new labels, pictograms, new hazard statements and precautions on SDSs. This updated HAZCOM/GHS course is designed for the employee, employer, safety professional, manager, consultant and trainer who wish to receive an overview of the changes to OSHA's Hazard Communication Standard (1910.1200) plus helpful information, resources and materials on GHS vs. NFPA and HMIS labeling, the new classification of chemicals, changing from MSDS to SDS, new training requirements, and the comparison and contrasts between the former and the new requirements.
The basic goal of a Hazard Communication Program is to be sure employers and employees know about work hazards and how to protect themselves; this should help to reduce the incidence of chemical source illness and injuries. Protection under OSHA's HAZCOM Standard (HCS) includes all workers exposed to hazardous chemicals in all industrial sectors. This standard is based on a simple concept – that employees have both a need and a right to know the hazards and the identities of the chemicals they are exposed to when working. They also need to know what protective measures are available to prevent adverse effects from occurring.
Certificates
Upon successful completion of the course, you will receive a total of 3 certificates. An email with an e-certificate will be sent to you or your designee immediately upon completing the course and the original certificates (8×10 and pvc wallet card) will arrive in the mail.
Course Objectives
The structure and objectives of this course are centered around the requirements outlined in the HAZCOM regulation, including the newly adopted Globally Harmonized System (GHS).
• Meet the requirements of 29 CFR, Part 1910.1200 for certification in Hazard Communications.
• Demonstrate an understanding of what constitutes a hazardous substance and the risks and hazards associated with them.
• Demonstrate an ability to recognize the presence of the hazardous materials used in the workplace.
• Demonstrate knowledge of the use of Safety Data Sheets (SDS), GHS pictograms and labeling, NFPA labeling, DOT labels/placards, and other chemical labeling used at the site in working safely around chemical hazards found in the workplace.
• Demonstrate knowledge of the routes of entry for hazardous materials to enter the body, and of the effects that the specific chemical found at the site might have on people, property, or the environment.
• Demonstrate an understanding of the terminology used on an SDS including flash point, flammable range, carcinogen, mutagen, teratogen, concentration, incompatibility, PEL, and TLV/TWA.
• List proper workplace procedures to follow for the safe handling and use of chemicals including proper storage techniques, use of personal protective equipment, engineering controls, and spill containment/cleanup materials.
Support
Includes U.S. Based support. An experienced and highly qualified instructor is available to you throughout the training process. Our toll free hotline or email will allow access to some of the finest instructors in the U.S.
Duration
1 hour
Continuing Education Units (CEU's)
This course is eligible for .08 Continuance of Certification (COC) points from the Board of Certified Safety Professionals (BCSP).
Prerequisites
None