HAZMAT Specialist Training– 29 CFR 1910.120 (q)
Cost: $295 per person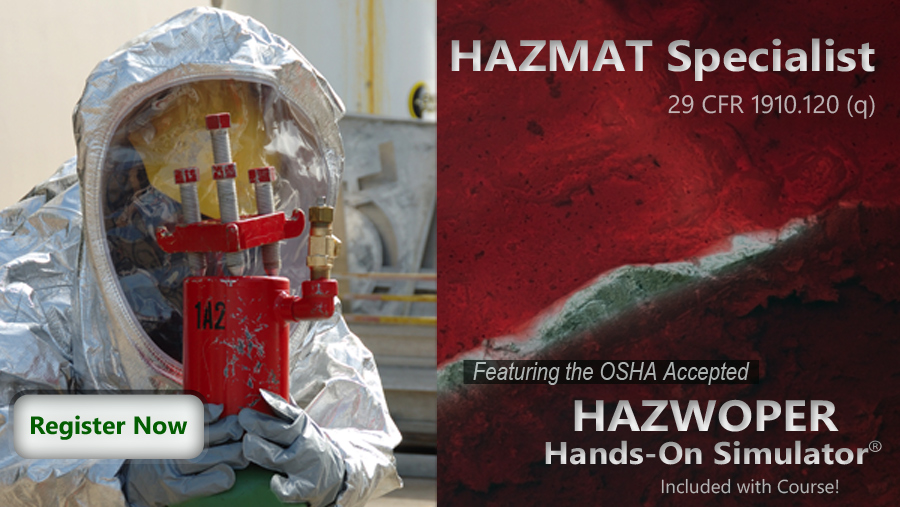 Group discounts available (3 or more people). Please email or call us at 1.888.877.7130 for a quote. Hazardous Materials (HAZMAT) specialist training for individuals seeking certification as a HAZMAT Specialist for emergency response operations.
OSHA 24 Hour HAZWOPER Courses — Know the difference.
Did you know there are FIVE 24-Hour HAZWOPER courses required by the OSHA standard 29 CFR 1910.120? Each of these courses is very different in both who they apply to and the topics that are covered during the training.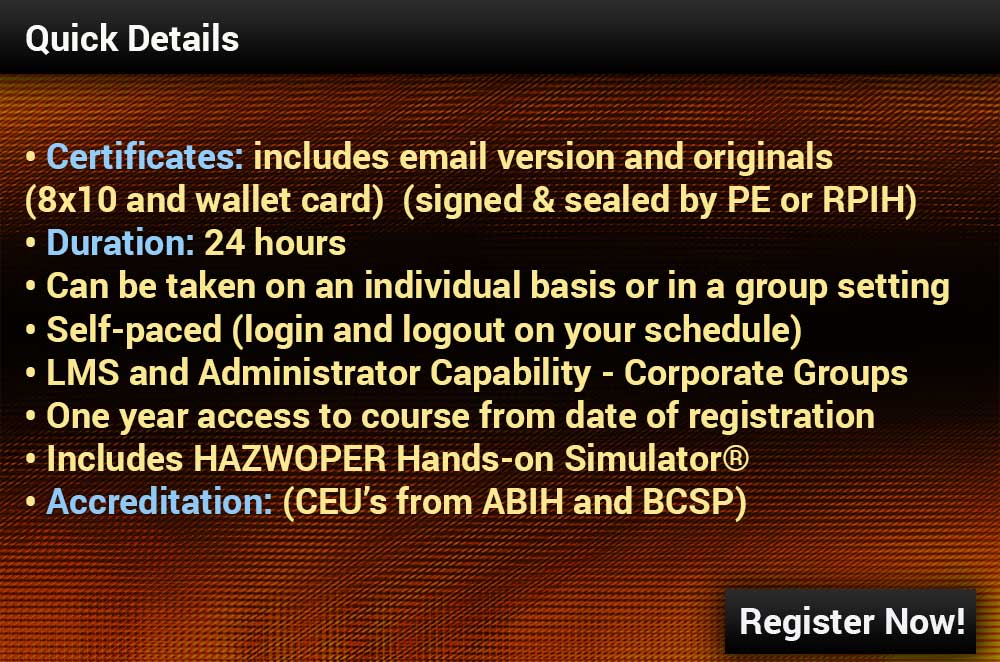 The HAZMAT Specialist training was developed for those professionals in fire, rescue, Emergency Medical Services (EMS), general industry and other first responders who may respond to and mitigate incidents involving hazardous materials. We are the only company today with an OSHA accepted online simulator. We also offer U.S. Based support. Download OSHA Interpretation Letter (Acceptance Letter)
HAZMAT Specialists are those persons who respond to releases or potential releases of hazardous materials for the purpose of controlling the release. They are more aggressive than first responders at the operations level in that they will approach the point of release to plug, patch, or otherwise stop the release of a hazardous materials substance. They are expected to use specialized chemical protective clothing and specialized control equipment. They are also specialists within certain designations to perform specialized operation to contain, confine, or mitigate hazardous substances releases.

HAZMAT Specialist Course Features
• Includes 14 full length videos
• HAZWOPER Hands-on Simulator® (OSHA accepted)
• Professional voiceovers
• Over 78 interactive flash animations
• Award winning content
• CEU's
• Self grading quizzes and final exam
• OSHA Study Timer (tracks your study time login and logout at your convenience)
• Certificate of Completion (3 certificates) e-cert, 8×10 and wallet card (instant download of e-certificate upon course completion)
• Free registration into the National Repository® (download your certificates at anytime in the future)
Course Description
In compliance with OSHA 29 CFR 1910.120(q) regulations, (HAZWOPER emergency response regulations) this training is required for individuals who plan to work as emergency responders with a HAZMAT Specialist designation. Upon successful completion of the course, students will receive a certificate of completion accepted by regulatory agencies. Students will be allowed to proceed at their own pace in this interactive program. Students must complete a minimum of 24 hours of study time in order to satisfy part of the 24 hour
HAZMAT
Specialist certification requirement.
Along the way there are self grading quizzes, interactive exercises, full length videos and a self grading final exam. The quizzes can be taken as many times as needed, and the final exam can be taken a maximum of 3 times. Once a person satisfactorily completes the course, an e-certificate is immediately sent to them via email. The original certificates (8×10 and wallet card size) arrive in the U.S. mail.
The HAZMAT Specialist training is taken online. As with any training (classroom or online) the employer is required by regulations to train the employee(s) on performance based standards for any applicable equipment. This is a site-specific requirement and typically cannot be achieved in a regular public seminar or open enrollment class where training on a respirator(s) or PPE in general does not meet the site-specific regulatory requirement. Generic hands-on training on PPE and equipment does not fully meet the OSHA regulations.
This specialized training utilizes a modular format where employers may analyze its current level of competency and choose course modules that will provide the skills needed by its hazardous materials team. Training includes offensive procedures for mitigation of hazardous materials spills, leaks, and exposures. Topics include chemistry, detection devices, advanced recognition and identification, pre-incident planning, incident management, scene evaluation and termination, terrorism, toxicology, medical surveillance, emergency care, PPE usage and limitations, and decontamination.
Plan States (approved by U.S. OSHA) must have standards at least as stringent as the Federal HAZWOPER training requirements. These Plan States may have additional training requirements.
Course Objectives
At completion of this course, students will be able to:
• Explain the federal regulations governing the use, storage, and transport of hazardous materials in the United States
• Describe health and safety issues by classes of chemicals and toxic effects on specific body systems
• Discuss the importance of medical surveillance and proactive health and safety planning
• Identify the different types of containers used to transport/store hazardous materials.
• Describe the pre-incident planning process, including the performance of hazard analysis and risk assessment
• Discuss the chemical principles and terms of practical application to fire fighters responding to hazardous materials and weapons of mass destruction incidents
• Explain the factors related to the use of personal protective equipment (PPE), including chemical compatibility, the physiological and psychological stresses of wearing encapsulated clothing, and maintenance
• Explain the types, levels, and process of decontamination, including step- by-step procedures and set-up of the area
• Describe special decontamination situations such as decon for radiation and etiologic agents
• Describe the structure of a typical incident management system at a hazardous materials incident with a focus on the Hazardous Materials Sector/Group
• Describe the technician level responder's role at a hazardous materials incident resulting from terrorist activities
• Describe how to assess, treat, and transport patients who have been exposed to hazardous materials or injured at such incidents
• Describe the defensive and offensive control measures used by hazardous materials response team members in students' jurisdiction including, but not limited to:
– Diking
– Damming
– Plugging
– Patching
– Overpacking
– Transfer operations
Take the HAZMAT Specialist Certification exam.
Duration
24 hours
Key Regulatory Topics
• Know how to implement the employer's emergency response plan
• Know the classification, identification and verification of known and unknown materials by using field survey instruments and equipment
• Be able to function within an assigned role in the Incident Command System
• Know how to select and use proper specialized chemical protective equipment provided to the hazardous materials technician
• Understand hazard and risk assessment techniques
• Be able to perform advanced control containment and/or confinement operations within the capabilities of the resources and personal protective equipment
• Understand and implement decontamination procedures
• Understand termination procedures
• Understand basic chemical and toxicological terminology and behavior
Certificates
Upon successful completion of the HAZMAT Specialist training, you will receive a total of 3 certificates. An email with an e-certificate will be sent to you or your designee immediately upon completing the course and the original certificates (8×10 and pvc wallet card) will arrive in the mail.
Support
Includes U.S. Based support. An experienced and highly qualified instructor is available to you throughout the training process. Our toll free hotline or email will allow access to some of the finest instructors in the U.S.
Continuing Education Units (CEU's)
This HAZMAT Specialist training has been awarded 4.01 Industrial Hygiene CM Points by the American Board of Industrial Hygiene (ABIH) – approval number 13334. This course is eligible for 2.00 Continuance of Certification (COC) points from the Board of Certified Safety Professionals (BCSP).
Prerequisites
Must have 24 hours of HAZMAT Technician level training or equivalent prior to completing the Specialist course.
Table of Contents
Module 1: Regulatory Overview
EPA
OSHA
Levels of Training
Module 2: Overview of Incident Command System
Introduction
Incident Commander Responsibilities
Hazardous Materials Contingency Plan
Organization
Incident Command System
Module 3: Incident Command Facilities
Incident Command Facilities and Locations
Command Post
Staging Areas
Bases

Module 4: Incident Command System Concepts and Principles
Common Terminology
Unity of Command
Designated Incident Facilities
Module 5: Roles and Responsibilities Part 1
Organizational Structure
Essential Personnel
Health and Safety Plan (HASP)
Module 6: Roles and Responsibilities Part 2
Optional Personnel
Lines of Authority
Module 7: HAZMAT Site Control
Site Map
Site Preparation

Module 8: HAZMAT Site Zones
Site Zones Explained
Establishing the Hot Line
The Buddy System
Module 9: HAZMAT Support Zones
Site Security
Communication Systems
Module 10: General Health and Safety Plan Guidelines
Health and Safety Guidelines
Overview of Health and Safety Plan
Module 11: Medical Surveillance Part 1
Information for Medical Program
Develop a Site Specific Medical Program

Module 12: Medical Surveillance Part 2
Medical Examination
Periodic Medical Monitoring
Examination After Injury
Termination Exam
Module 13: Hazard Recognition (Overview)
Injury Prevention
Boiling Point, Vapor Pressure, Vapor Density, pH, Flashpoint
Oxidizers
Lower/Upper Explosive Limits
Flammability
Fire Triangle
SDS

Module 14: Respiratory Protection Part 1
Respirator Protection Program
Respirator Types
Selection of Respiratory Equipment
Module 15: Respiratory Protection Part 2
Air-purifying Respirators
Combination Canisters and Cartridges
Types of APR Face Pieces
Module 16: Respiratory Protection Part 3
Supplied Air Respirators (SAR)
Self Contained Breathing Apparatus (SCBA)
Combination SCBA/SAR
Module 17: Respiratory Protection Part 4
Chemical Concentration
Protection Factors
Calculating Protection Factors
Module 18: Respiratory Protection Part 5
Respirator Fit Test (Quantitative and Qualitative)
Respiratory Maintenance
Types of Respirator Canisters
How Respirators Work
Positive and Negative Pressure Fit Test
Respirator Limits
Cleaning, Maintenance and Storage
Module 19: Personal Protection Equipment (PPE) Part 1
Clothing and Ensembles
Developing a PPE Program
Training
Program Review and Evaluation
Module 20: Personal Protection Equipment (PPE) Part 2
Level A
Level B
Level C
Level D
Selecting the level of protection
Module 21: Personal Protection Equipment (PPE) Part 3
Protective Clothing
Inspection and Maintenance of Protective Clothing
Selection of Chemical Protective Clothing
Permeation and Degradation
Work Mission Duration
Module 22: Personal Protection Equipment (PPE) Part 4
Considerations for working in PPE
Air Supply Consumption
Coolant Supply
Accessories
Special Considerations
Module 23: Personal Protection Equipment (PPE) Part 5
Reasons to Upgrade/Downgrade PPE
PPE Inspection Program
Proper Storage
PPE Before Use Inspection
Module 24: Personal Protection Equipment (PPE) Part 6
In-use Monitoring
Donning and Doffing
Clothing Reuse
Heat Stress and Monitoring
Heat Rash
Heat Cramps
Heat Stroke
Module 25: Personal Protection Equipment (PPE) Part 7
Hand Protection
General Requirements of the OSHA Standard
Eye and Face Protection
Selection of Eye and Face Protection
Head Protection
Foot Protection
Module 26: Decontamination Part 1
Decon Plan and Procedures
Standard Operating Procedures
Maximizing Worker Protection from Hazardous Wastes
Proper Dress Out Procedures
Levels of Contamination
Module 27: Decontamination Part 2
Personal Decon Station
Extent of Decon Required
Types of Contamination
Amount of Contamination
Levels of Protection
Module 28: Decontamination Part 3
Decon of Personnel and Equipment
Decon During Medical Emergencies
Physical Injury
Heat Stress
Module 29: Decontamination Part 4
Protection for Decon Workers
Decon Procedures
Chemical and Physical Removal of Contamination
Module 30: Decontamination Part 5
Persistent Contamination
What if Decon procedure has not worked?
Lab Testing Articles
Fundamentals that Affect Permeation of Protective Clothing
Substance and Tools for Effective Decontamination
Module 31: Decontamination Part 6
Disposal of Contaminated Equipment and Materials
Decon Tools, Devices and Equipment
Disposal of Contaminated Materials
Health and Safety Hazards of Decontamination
Decon Facility Design
Module 32: Placards and Labeling
NFPA Hazardous System Identification
DOT Placards
Module 33: Toxicology Part 1
Chemical Classification
Toxicology
Routes of Exposure and Dose
Interaction with Other Chemicals
Dust, Fumes, Mists and Vapors
Module 34: Toxicology Part 2
Toxicokinetics
Metabolism
Classes of Chemical Toxins
Dose to Organs
Module 35: Toxicology Part 3
Dose and Response
Storage in the Body
Chronic Response
Toxic
Chemical Interaction
Dose/Response
OSHA Exposure Limits
Module 36: Hazard Recognition Part 1
NFPA Requirements
Job Hazard Analysis
Defining Risk
Chemical Hazard Identification Systems
NFPA 704 System
DOT Labels and Placards
Ionizing Radiation
Module 37: Hazard Recognition Part 2
Chemical and Physical Hazards
Fires and Explosions
Combustibles
Shock Sensitive
Oxygen Deficiency
Module38: Hazard Recognition Part 3
Site and Equipment Hazards
Noise
Heat Stress
Heat Stroke
Cold Stress
Module 39: Hazard Recognition Part 4
Infectious Diseases (Bloodborne Pathogens, HIV, HBV)
Sanitation
Illumination
Lockout/Tagout
Module 40: Air Monitoring Part 1
Requirements for Air Monitoring Devices
Sampling Methods
Air Monitoring Equipment Characteristics
Module 41: Air Monitoring Part 2
Types of Direct Reading Instruments
Calibration
Toxic Atmosphere Monitors
Module 42: Air Monitoring Part 3
Types of Direct Reading Instruments Cont'd
Photoionization Detector (PID)
Flame Ionization Detector (FID)
Radiation Monitors
OSHA Action Levels
Module 43: Air Monitoring Part 4
Active and Passive Sampling Equipment
Personal Monitors
Radiation Dosimeters
Calibration
Personal Sampling Plan
Module 44: Air Monitoring Part 5
OSHA Exposure Limits
Measuring Particles, Gases and Vapors
Permissible Exposure Limit (PEL)
Time Weighted Averages (TWA)
Calculating TWAs
Module 45: Air Monitoring Part 6
Site Monitoring
Monitoring for Immediately Dangerous to Life and Health (IDLH)
Perimeter Monitoring
Variables of Hazardous Waste Site Exposures
Module 46: Site Emergencies Part 1
Planning and Personnel
Site Emergencies
How Teams assist in Emergencies
Roles of Personnel During Emergencies
Module 47: Site Emergencies Part 2
Communications
Safe Distances and Site Mapping
Safe Refuge
Public Evacuations
Module 48: Site Emergencies Part 3
Evacuations and Emergency Decontamination
Personal Locator Systems
Evacuation Routes and Procedures
First Aid/Medical Treatment
Module 49: Site Emergencies Part 4
Emergency Response Procedures
Notification
Size-Up
Rescue/Response Action
Follow Up
Documentation

Module 50: Facility Emergency Response Plan Part 1
Pre-emergency Planning
Personnel Roles and Communication
Recognition and Prevention
Safe Distances and Refuge
Module 51: Facility Emergency Response Plan Part 2
Site Security and Control
Evacuation Routes and Procedures
Emergency Decontamination
Emergency Medical Treatment and First Aid
Emergency Response Procedures and Critique
Module 52: Training and Equipping Your HAZMAT Team Part 1
Training Requirements
HAZMAT Levels
Responsibilities
Module 53: Training and Equipping Your HAZMAT Team Part 2
Medical Monitoring
Cost of Training
Protection Levels and Equipment
Module 54: Facility Emergency Response Audit Part 1
Performing a Process Hazard Analysis
Site Identification
Hazard Qualification
Consequence Analysis

Module 55: Facility Emergency Response Audit Part 2
Performing a Workplace Hazard Analysis
Determining Location
Examine Container Condition
Determine the Physical State of Contents
Determine Dispersion Pathways
Exposure Indicators
Module 56: Federal, State and Local Emergency Response Requirements
Site Zones Explained
Establishing the Hot Line
The Buddy System
Module 57: Spill and Release Reporting Under Federal Regulations Part 1
Emergency Planning Requirements
Emergency Planning and Notification
Procedures for SARA Title III Compliance
Regional Response Team
National Response Team
Module 58: Spill and Release Reporting Under Federal Regulations Part 2
DOT Notification Requirements
Leaking Containers
Module 59: Applicable Laws and Regulations
EPA
Difference Between Laws and Regulations
Major EPA and OSHA Laws
Recordkeeping and Notifying OSHA
OSHA Plan States
Module 60: Overview of DOT Emergency Response Guidebook (ERG)
Introduction
How to Read the ERG
List of DOT Tanks and Containers
Labeling
Module 61: The Ability to Recognize and Identify Hazardous Materials Part 1
Hazardous Materials Clues
Occupancy/Location
Fixed Sites
Transportation Sources
Highway, Rail and Air
Marine
Pipelines
Module 62: The Ability to Recognize and Identify Hazardous Materials Part 2
Tanks and Containers
Container Shape and Size
Types of DOT Highway Transportation Tanks, Tankers, Trailers and Containers
Types of DOT Rail Transportation Tank
Cars
Intermodal Containers
Module 63: The Ability to Recognize and Identify Hazardous Materials Part 3
Stationary Bulk Tanks & Containers
Cryogenic Liquid Storage Tank
Dome Roof Tank
High Pressure Spherical Storage Tank
High Pressure Horizontal Tank
Cone Roof Tank
Covered Top Floating Roof Tank With Geodesic Dome
Covered Top Floating Roof Tank
Open Top Floating Roof Tank
Petroleum Storage Tanks
Horizontal Tank
Module 64: The Ability to Recognize and Identify Hazardous Materials Part 4
Non-Bulk Containers
Drums
Bags or Sacks
Boxes or Crates
Cylinders
Intermediate Bulk Containers
Module 65: The Ability to Recognize and Identify Hazardous Materials Part 5
Radioactive Containers
Type A
Type B
Excepted
Industrial Package I
Industrial Package II
Module 66: The Ability to Recognize and Identify Hazardous Materials Part 6
Tanks and Containers Markings and Colors
NFPA 704 System
HMIS Placards and Labels
UN NA Hazard Class System
DOT 9 Classes of Hazardous Materials
Shipping Papers and SDSs
Module 67: HAZMAT Emergency Response Strategy and Tactics
Incident Action Plan (IAP)
Strategy and Tactics
Module 68: HAZMAT Emergency Response Strategic Goal 1 – Isolation
HAZMAT Zones
Staging Areas
Public Protection
Shelter in Place
Evacuation
Module 69: HAZMAT Emergency Response Strategic Goal 2 – Notification of Others
Unity of Command
Emergency Response Plan
Incident Levels
Module 70: HAZMAT Emergency Response Strategic Goal 3 – Identification of Hazards
Surveying the Scene
Rescue Risks Associated with DOT Hazard Classes
Pipelines
Containers
Dispersion Patterns
Environment
Confined Spaces
Storage Areas
Module 71: HAZMAT Emergency Response Strategic Goal 4 – Protection of Responders and Public
HAZMAT Technician Personal Protective Equipment
Structural Firefighting Equipment
Proximity and Entry Suits
Chemical Protective Equipment
Limitation of Personal Protective Equipment (PPE)
Responder Rehabilitation
Emergency Decon
Mass Decontamination
Hose line Decontamination
Engine Corridor Decontamination
Ladder Corridor Decontamination
Decontamination Tents and Trailers
Hospital Decon
Contaminated Victim Decontamination
Pets and Animals Decontamination

Module 72: HAZMAT Emergency Response Strategic Goal 5 – Fire Control
Ignition Sources
Extinguishing Fires
Remove Fuel Supply
Remove Oxygen Source
Control Burn
Exposure Protection
Preventing Container Failure
Cool Containers
Stress Barriers
Remove Uninvolved Materials
Tactical Withdrawal
Explosion-Resistant Barriers
Module 73: HAZMAT Emergency Response Strategic Goal 6 – Spill Control (Confinement)
Air Releases
Foams
Ventilation
Releases Onto Land
Absorption
Blanketing
Diversion
Diking
Damming
Retention
Filter Fence
Floating Boom
Chemical Control Methods
Groundwater Contamination
Module 74: HAZMAT Emergency Response Strategic Goal 7 – Leak Control (Containment)
Tool Kits
Leaks from Drums
Leaks From Piping
Leaks from Tank Trucks and Assorted Containers
Product Transferring
Specialty Tools
Product Displacement
Crimping
Module 75: HAZMAT Emergency Response Strategic Goal 8 – Recovery and Termination Procedures
Incident Transition
Termination
Debriefing
Critiquing
After-Action Procedures
Reporting
Follow Up
Module 76: Specialized Mitigation Techniques Part 1
Basic Safety Procedures
Overpacking
Patching
Bandages
Sealants
Engineering Methods
Module 77: Specialized Mitigation Techniques – Non Bulk Containers Part 2
Control Techniques for Non-Bulk Containers
Mitigation Methods
Plugging/Patching
Bandages
Sealants
Compressed Gas Cylinders
Commercial Kits
Module 78: Specialized Mitigation Techniques – Highway Cargo Tanks Part 3
Control Techniques for Cargo Tanks
Types of Leaks
Dome Cover Leaks
Tears/Irregular Holes/Punctures
Vents/Relief Valves/Rupture Disk Leaks
Inspecting Damaged Cargo Tanks
Module 79: Specialized Mitigation Techniques – Highway Cargo Tanks Part 4
Inspecting and Repairing Damaged Cargo Tank Fittings
Handling Damaged Cargo Tanks
Field Product Removal Methods
Transfers
Venting, Flaring, and Venting and Burning
Non-Pressure Cargo Tank
Special Considerations – Fire in MC 306/DOT 406 Cargo Tanks
Vacuum trucks
Module 80: Specialized Mitigation Techniques – Rail Tanker Cars Part 5
Control Techniques for Tank Cars
Inspecting and Repairing Damaged Fittings
Decision-Making and Mitigation
Offensive Operations Decision-Making
Safety
Module 81: Review and Basic Chemistry Part 1
Physical Properties Terms
Module 82: Review and Basic Chemistry Part 2
Physical Properties Terms Continued
HAZWOPER Hands-On Simulator
Final Exam
"Your HAZMAT Specialist training was really good." – Steve Schmidt, Georgia Power