HAZWOPER 8-Hour Supervisor - 1910.120 (e)
Cost: $150 per person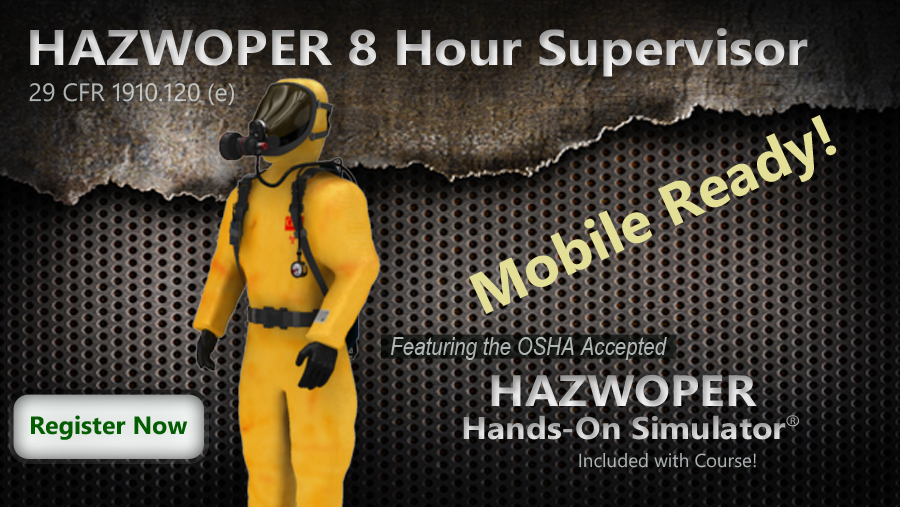 The HAZWOPER Supervisor course is now in a user-enjoyable mobile format where you can start and complete your training on any PC or mobile device. You can begin the training on one device and finish it on another! OSHA requires at least one person trained at the supervisory level for each work crew.
Group discounts available (3 or more people). Please email or call us at 1.888.877.7130 for a quote.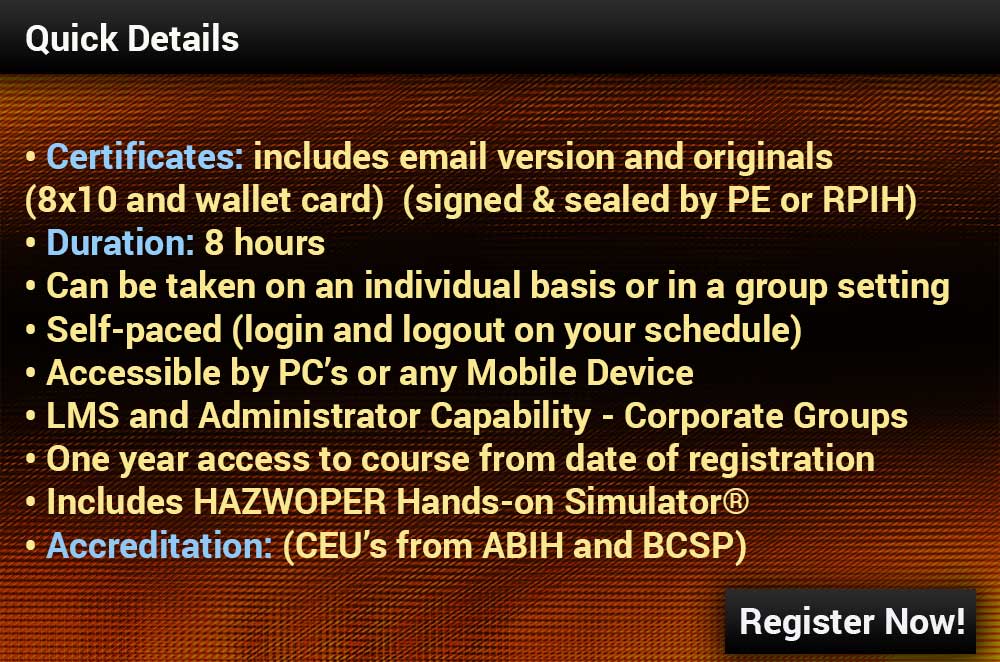 Course Details
Course Description
In compliance with OSHA 29 CFR 1910.120 regulations, this HAZWOPER supervisor training is required for individuals having a supervisory role at HAZWOPER sites. OSHA requires that a supervisor have this training in order to be a qualified supervisor at a HAZWOPER site. This course was designed for foremen, supervisors, site safety officers, project managers, etc. Annual refreshers are needed to maintain certification as a HAZWOPER Supervisor.

Supervisors are responsible for planning, directing, organizing and directing employees.
Plan States (approved by U.S. OSHA) must have standards at least as stringent as the Federal HAZWOPER training requirements. These Plan States may have additional training requirements.
Course Objectives
• Describe training and other requirements for HAZWOPER workers
• Describe various types of hazardous substances
• Recognize an effective employer health and safety plan
• Describe hazardous substance labeling requirements and standards
• Describe factors associated with respiratory protection
• Describe various types of and selection criteria for personnel protective equipment
• Describe decontamination guidelines and methods
• Describe a spill containment program
• Recognize proper health monitoring procedures and techniques
Take the HAZWOPER Supervisor Certification exam.
Course Features
• Includes 14 full length videos
• HAZWOPER Hands-on Simulator® (OSHA accepted)
• Audio narration of text
• Over 35 interactive flash animations
• Award winning content
• CEU's
• Self grading quizzes and final exam
• OSHA Study Timer (tracks your study time login and logout at your convenience)
• Certificate of Completion (3 certificates) e-cert, 8×10 and wallet card (instant download of e-certificate upon course completion)
• Course access for 1 year from the time of registration
• Free registration into the National Repository® (download your certificates at anytime in the future)
Certificates
Upon successful completion of the course, you will receive a total of 3 certificates. An email with an e-certificate will be sent to you or your designee immediately upon completing the course and the original certificates (8×10 and pvc wallet card) will arrive in the mail.
Accreditation – Continuing Education Units (CEU's)
This course has been awarded 1.34 Industrial Hygiene CM Points by the American Board of Industrial Hygiene (ABIH) – approval number 13334. This course is eligible for .66 Continuance of Certification (COC) points from the Board of Certified Safety Professionals (BCSP).
Accreditation from an impartial, qualified association or organization is critical to the acceptance of training, its lasting value in the workplace, preventing liability issues for the employer and reducing employee accidents and injuries. Many health and safety professionals consider ABIH to be the benchmark for training accreditation.
Added Assurance of OSHA HAZWOPER Compliance
We also offer the added assurance that our HAZWOPER refresher course complies with the OSHA regulations. We have an interpretation letter from the U.S. OSHA Directorate of Enforcement Programs in Washington D.C., accepting our HAZWOPER Hands-on Simulator. Please follow this link to download the OSHA interpretation letter. No other online company has such a letter from OSHA. So, for almost the same price as other companies that provide no assurance, you also receive added assurance from us that you are in compliance with OSHA.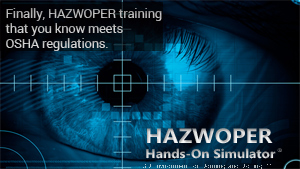 Successful companies and employers do not guess at regulatory compliance. They make certain they are in compliance at all times or at least they are making strong efforts to be in compliance. It is no different when it comes to health and safety training. The training received by employees is only as good as the instruction. Unfortunately, some people believe that a certificate is a certificate and they are in compliance. This is not always the case and companies pay huge fines for training deficiencies.
An effective HAZWOPER refresher training program:
• Develops a strong safety culture
• Heightens employee safety by helping employees protect themselves
• Improves a company's effectiveness, efficiency, and productivity
• Increases employee skills
• May prevent regulatory sanctions
• Aids in ensuring safe and secure shipments of hazardous materials
• Reduces likelihood of catastrophic events
• Provides employees with understanding of why compliance and safety are necessary
Who Developed Our Training? (Peer Review)
This HAZWOPER refresher course was reviewed by a former OSHA Training Institute instructor. Mr. Bill Bunner reviewed the course for accuracy and compliance relative to OSHA regulations, interpretation letters and guidelines. Mr. Bunner also reviewed the course for general good health and safety work practices.
Study Guide
Includes Free Study Guide! The study guide should be used as a reference for the course as some content will not contain the exact information as the online course.
Safetyneering®
We develop our courses using our exclusive Safetyneering® concept that we believe delivers the best possible online training courses. Professional and degreed Engineers, Scientists, and information architects go through a series of steps to produce in-depth professional HAZWOPER training. We work closely to fully scope the content of the course and then engage design professionals to bring the content to life. This is a rigorous and demanding process but one that just delivers time after time.
Duration
8 hours (OSHA 8 Hour Training Requirement) Note: OSHA requires the 8 hour course will take a minimum of 8 hours of actual study time. Anything less will not comply with the OSHA standard. Our course allows you to login and logout at any time increment in order to fit your schedule. When you logout, the course will be bookmarked so you can begin where you left off. The study timer will also accrue your time and will begin where you left off in the course.
Support
Includes U.S. Based support. An experienced and highly qualified HAZWOPER instructor is available to you throughout the training process. Our toll free hotline or email will allow access to some of the finest instructors in the U.S.
Levels of HAZWOPER Training
HAZWOPER training levels for various occupations and job functions. View the chart and matrix and decide which training course is right for you. The OSHA regulations are sometimes difficult to interpret. By reviewing the chart and matrix, you can determine the exact training needed for your employees. The information used to produce the chart and matrix was derived from OSHA regulations, guidance documents, and interpretation letters.
Individual or Group Training
Our training can be taken and completed on an individual basis or in a group setting. For individuals, the training is self-paced and you are able to complete the training on your schedule. You are able to logout and login at your discretion. When you login, the training will begin where it last left off both in content and study time. The same is true for training in a group setting. Usually, a company will project the course onto a screen where a group of people can take the training together. At conclusion of the modules, each person from the group will login to our site using their respective username and password and take the final exam.
Table of Contents
To view and download the Table of Contents, please click here.
HAZWOPER 8 Hour Annual Supervisor Refresher and HAZWOPER 8 hour Annual Refresher
Can the HAZWOPER 8 hour Supervisor refresher serve as a refresher for the regular 8 hour HAZWOPER refresher? OSHA has written an interpretation letter on the matter. Please click here to view the letter. Plan States (approved by U.S. OSHA) must have standards at least as stringent as the Federal HAZWOPER training requirements. These Plan States may have additional training requirements.