HAZWOPER First Responder Awareness Training
Cost: $85 per person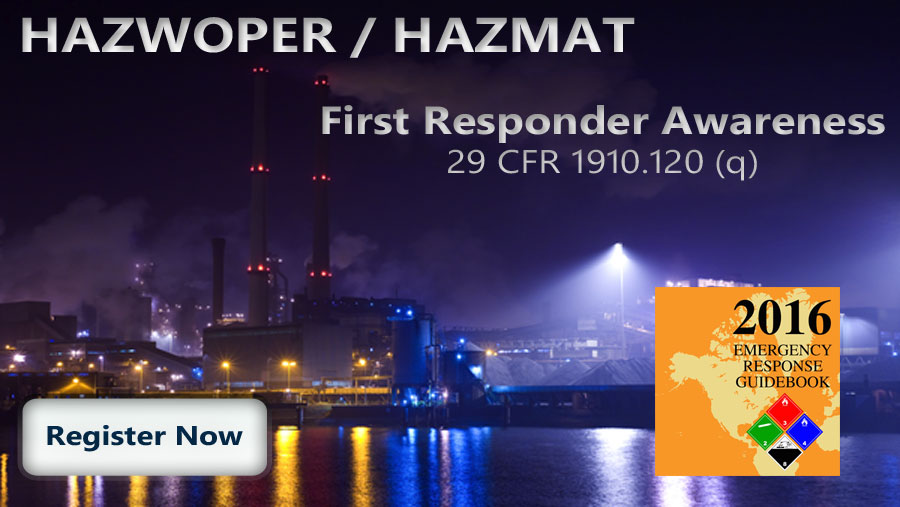 First Responders at the Awareness Level are individuals who are likely to witness or discover a hazardous substance release and who have been trained to initiate an emergency response sequence by notifying the proper authorities of the release. They would take no further action beyond notifying the authorities of the release.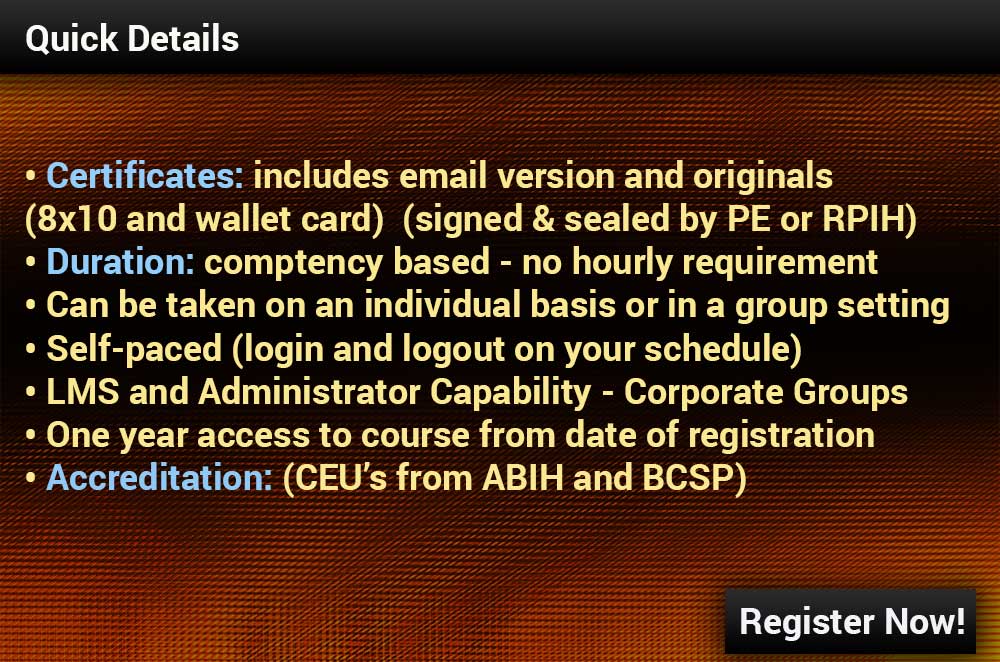 We offer group discounts for 3 or more people. Please email or call us at 1.888.877.7130 for a quote.
First Responder Roles at the Awareness Level

First responders at the awareness level have four responsibilities:
1. Recognition/Identification - the first responder's ability to recognize that an incident involves a hazardous material(s), and if possible, to identify the material(s) (if it can be done at no risk to the first responder)
2. Isolation – the first responder's ability to isolate the involved area, restrict access to the area and remove un-injured and un-contaminated persons from the area
3. Protection - the first responder's ability to ensure personal safety and safety of the uninvolved public. Protection may include the use of PPE and evacuation of nearby occupancies (if the first responder is so trained and properly equipped)
4. Notification – the first responder's ability to notify the next level of response as defined in the employer's Emergency Response Plan.
Course Details
Course Description
In compliance with OSHA 29 CFR 1910.120 (q) regulations, this HAZWOPER First Responder Awareness training is required for individuals who are likely to discover or witness a hazardous substance release and who will be

responsible for notifying personnel for an emergency response action. At conclusion of this course, students will have a basic understanding of what hazardous materials are, how they can be identified and what to do if they are the first on the scene of a hazardous materials incident. This program is for individuals whose position may require them to report a hazardous materials incident. Emphasis is placed on the identification of hazardous materials and effective reporting systems. The program is also designed to provide an overview of the standard for supervisors responsible for employees or contractors who may be exposed to, or handle, hazardous materials.
HAZWOPER First Responders Awareness level operations need to have sufficient training or experience to:
• Know what hazardous substances are, and the risks associated with them in an incident
• Know the potential outcomes associated with an emergency created when hazardous substances are present
• Recognize the presence of hazardous substances in an emergency
• Identify the hazardous substances, if possible
• Know their role in the employer's emergency response plan including site security and control and the U.S. Department of Transportation's Emergency Response Guidebook
• Realize the need for additional resources, and to make appropriate notifications to the communication center
Plan States (approved by U.S. OSHA) must have standards at least as stringent as the Federal HAZWOPER training requirements. These Plan States may have additional training requirements.
29 CFR 1910.120(q)(6)(i) First Responder Awareness Level – Generally, law enforcement and facility security personnel should be trained to the first responder awareness level since they are likely to witness or discover a release of a hazardous substance. Security guards or other similar personnel who, upon discovery of a release requiring an emergency response, are limited to activation of an alarm, notification of appropriate authorities, and controlling access to the release from a remote area (safe distance) must also at a minimum receive first responder awareness level training. These employees can initiate an emergency response sequence by notifying the authorities of the release, including alarm activation. Employees trained to the awareness level may control entry to and exit from the site from a remote location but must not assist in setting up safe distances because they lack knowledge regarding the potential for exposure, explosions, or radiation.
Course Features
• Includes 14 full length videos
• Professional voiceovers
• Over 20 interactive flash animations
• Award winning content
• CEU's
• Self grading quizzes and final exam
• OSHA Study Timer (tracks your study time login and logout at your convenience)
• Certificate of Completion (3 certificates) e-cert, 8×10 and wallet card (instant download of e-certificate upon course completion)
• HAZWOPER Awareness course access for 1 year from the time of registration
• Free registration into the National Repository® (download your certificates at anytime in the future)
Certificates
Upon successful completion of the HAZWOPER First Responder Awareness training, you will receive a total of 3 certificates. An email with an e-certificate will be sent to you or your designee immediately upon completing the course and the original certificates (8×10 and pvc wallet card) will arrive in the mail.
Support
Includes U.S. Based support. An experienced and highly qualified instructor is available to you throughout the training process. Our toll free hotline or email will allow access to some of the finest instructors in the U.S.
Duration
Note: OSHA requires a list of competencies that must be met rather than a minimum time requirement for HAZWOPER First Responder Awareness training. Our course allows you to login and logout at any time increment in order to fit your schedule. When you logout, the course will be bookmarked so you can begin where you left off. The study timer will also accrue your time and will begin where you left off in the course.
Accreditation
This HAZWOPER First Responder Awareness training has been awarded 1.34 Industrial Hygiene CM Points by the American Board of Industrial Hygiene (ABIH) – approval number 13334. This course is eligible for .66 Continuance of Certification (COC) points from the Board of Certified Safety Professionals (BCSP).
"I enjoyed your HAZWOPER First Responder Awareness training and will recommend National Environmental Trainers to others." – Jack Stone