Hydrogen Sulfide (H2S) Safety Training
Cost: $50 per person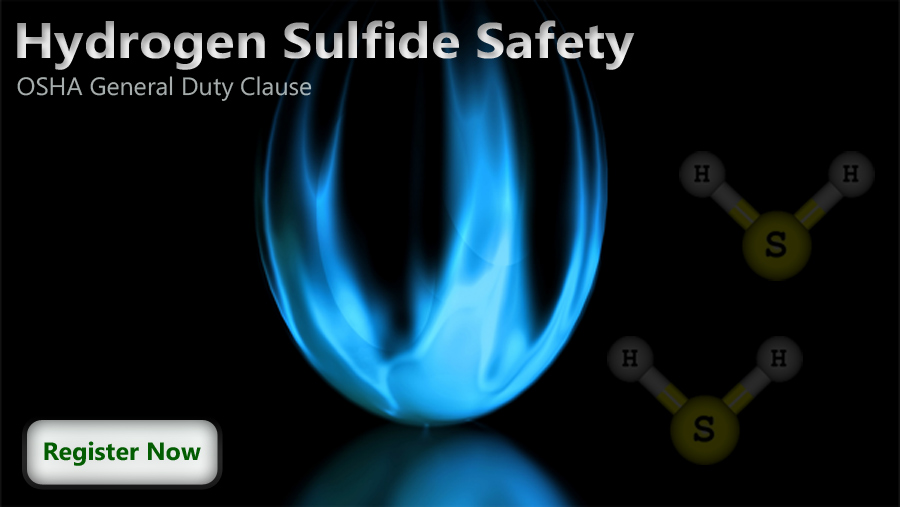 H2S training (Hydrogen Sulfide) is required by OSHA for all impacted employees. Hydrogen Sulfide training is required by the OSHA General Duty Clause.
Group discounts available (3 or more people). Please email or call us at 1.888.877.7130 for a quote.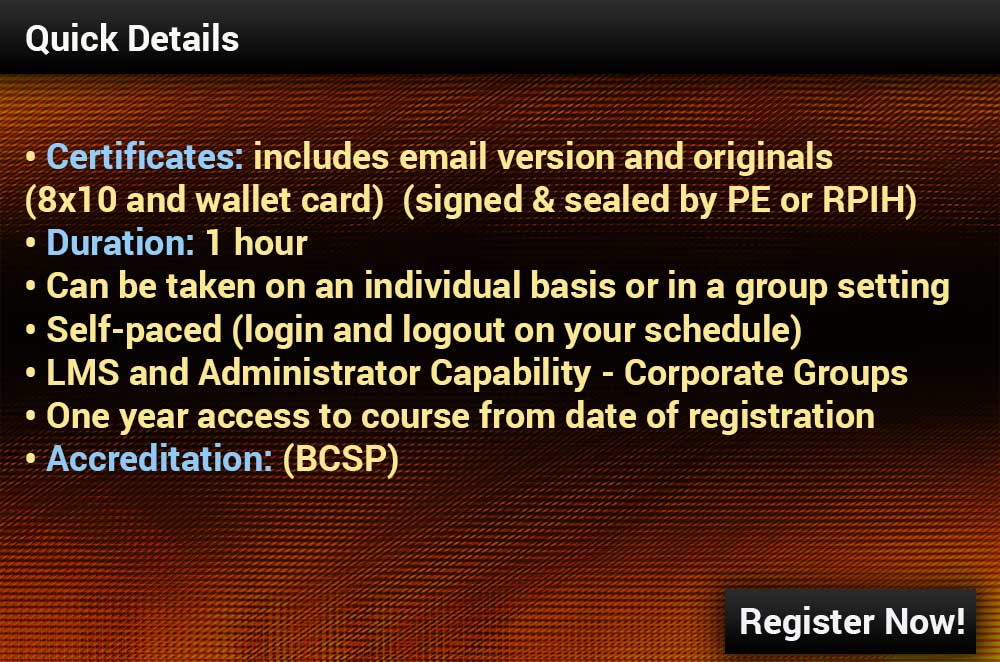 Course Features
– Includes 1 full length video
– Professional voiceovers
– Over 25 interactive modules
– CEU's
– Self grading quizzes and final exam
– OSHA Study Timer (tracks your study time login and logout at your convenience)
– Certificate of Completion (3 certificates) e-cert, 8×10 and wallet card
Course Description
While there is not a specific regulation for hydrogen sulfide training, the employer is responsible for adequately training their employees. Hydrogen sulfide (H2S) gas is a common hazard in the oil and gas industry. Upon completion of this H2S training, employees will demonstrate knowledge of the sources of hydrogen sulfide, its physical and chemical properties and effects on the body, hydrogen sulfide exposure controls and exposure response. This H2S training course is intended to assist the employer in meeting the requirements of OSHA Standard 1910.1000 Table Z-2 and the General Duty Clause Section 5(a)(1).
Topics
• Physical and chemical properties of H2S
• Safe work procedures for hydrogen sulfide
• Federal and state regulations
• Contingency and emergency response plans
• Burning and flaring attributes and hazards
• Methods of detection and monitoring
• Human physiology and respiratory protection
Entering Dangerous H2S Atmospheres
A level of H2S gas at or above 100 ppm is Immediately Dangerous to Life and Health (IDLH). Entry into IDLH atmospheres can only be made using: 1) a full facepiece pressure demand self contained breathing apparatus (SCBA) with a minimum service life of thirty minutes, or 2) a combination full facepiece pressure demand supplied-air respirator with an auxiliary self-contained air supply.
If H2S levels are below 100 ppm, an air-purifying respirator may be used, assuming the filter cartridge/canister is appropriate for hydrogen sulfide. A full facepiece respirator will prevent eye irritation.
If air concentrations are elevated, eye irritation may become a serious issue. If a half-mask respirator is used, tight fitting goggles must also be used. Workers in areas containing hydrogen sulfide must be monitored for signs of overexposure.
NEVER attempt a rescue in an area that may contain hydrogen sulfide without using appropriate respiratory protection and with-out being trained to perform such a rescue.
Health Effects of H2S Exposure
Hydrogen sulfide is both an irritant and a chemical asphyxiant with effects on both oxygen utilization and the central nervous system. Its health effects can vary depending on the level and duration of exposure. Repeated exposure can result in health effects occurring at levels that were previously tolerated without any effect.
Low concentrations irritate the eyes, nose, throat and respiratory system (e.g., burning/ tearing of eyes, cough, shortness of breath). Asthmatics may experience breathing difficulties. The effects can be delayed for several hours, or sometimes several days, when working in low-level concentrations. Repeated or prolonged exposures may cause eye inflammation, headache, fatigue, irritability, insomnia, digestive disturbances and weight loss.
Moderate concentrations can cause more severe eye and respiratory irritation (including coughing, difficulty breathing, accumulation of fluid in the lungs), headache, dizziness, nausea, vomiting, staggering and excitability.
High concentrations can cause shock, convulsions, inability to breathe, extremely rapid unconsciousness, coma and death. Effects can occur within a few breaths, and possibly a single breath.
Certificates
Upon successful completion of the course, you will receive a total of 3 certificates. An email with an e-certificate will be sent to you or your designee immediately upon completing the course and the original certificates (8×10 and pvc wallet card) will arrive in the mail.
Support
Includes U.S. Based support. An experienced and highly qualified instructor is available to you throughout the training process. Our toll free hotline or email will allow access to some of the finest instructors in the U.S.
Duration
1 hour
Continuing Education Units (CEU's)
This course is eligible for .08 Continuance of Certification (COC) points from the Board of Certified Safety Professionals (BCSP).
Prerequisites
None