Laboratory Safety Training
Cost: $45 per person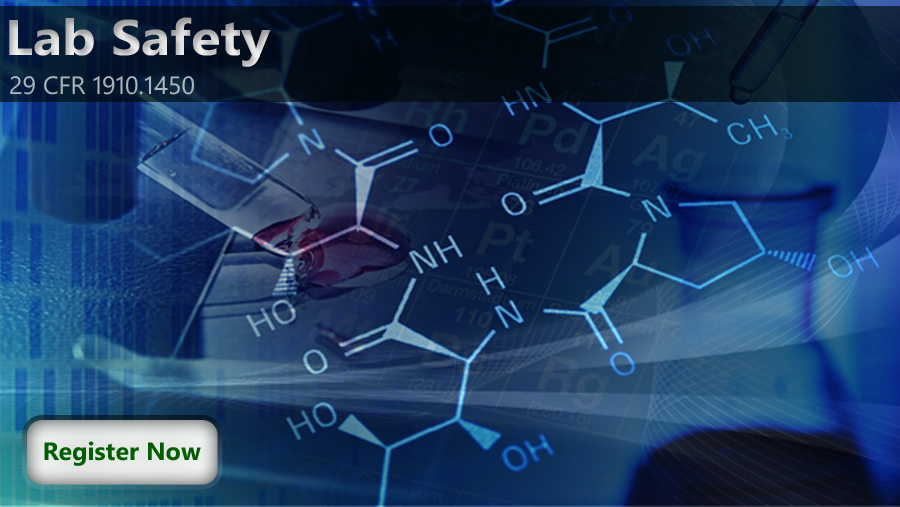 Lab safety training must be completed by every employee working in a laboratory. OSHA requires initial training and refresher training every year.
Group discounts available (3 or more people). Please email or call us at 1.888.877.7130 for a quote.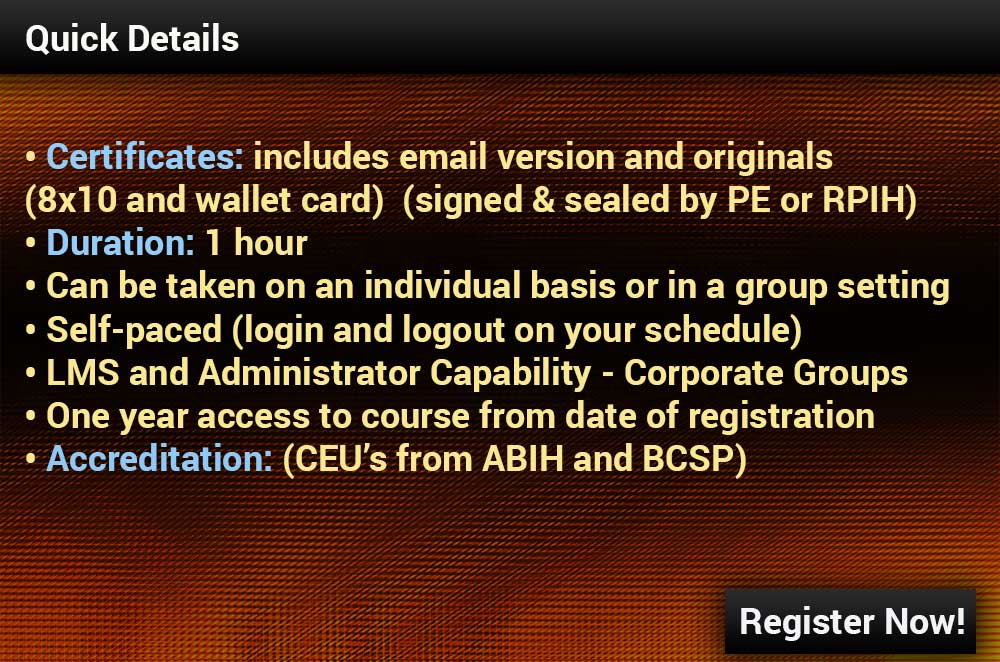 Course Features
– Includes 1 full length video
– 15 interactive flash animations
– Audio narration of text
– Award winning content
– CEU's
– Self grading quizzes and final exam
– OSHA Study Timer (tracks your study time login and logout at your convenience)
– Certificate of Completion (3 certificates)
Course Description
In compliance with OSHA 29 CFR 1910.1450 regulations, this training and or annual refresher training is required for individuals having a role with operations in a laboratory. This course explains safe lab practices to minimize the risk of spills and chemical or biological exposures. Laboratories involve many chemicals, procedures, and operations that require specific safety precautions. The course provides information about physical and health hazards present within a laboratory and explains safe lab practices to minimize the risk of spills and chemical or biological exposure.
This course is required for all employees, including faculty, staff, and students who work in a laboratory using hazardous chemicals or biological materials.
In 1990, OSHA issued the Occupational Exposure to Hazardous Chemicals in Laboratories standard (29 CFR 1910.1450). Commonly known as the Laboratory standard, it was developed to address workplaces where relatively small quantities of hazardous chemicals are used on a non-production basis. However, not all laboratories are covered by the Laboratory standard. For example, most quality control laboratories are not covered under the standard. These laboratories are usually adjuncts of production operations, which typically perform repetitive procedures for the purpose of assuring reliability of a product or a process. On the other hand, laboratories that conduct research and development and related analytical work are subject to the requirements of the Laboratory standard, regardless of whether or not they are used only to support manufacturing.
Required Safety Training
(i) Employee training shall include:
(A) Methods and observations that may be used to detect the presence or release of a hazardous chemical (such as monitoring conducted by the employer, continuous monitoring devices, visual appearance or odor of hazardous chemicals when being released, etc.);
(B) The physical and health hazards of chemicals in the work area; and
(C) The measures employees can take to protect themselves from these hazards, including specific procedures the employer has implemented to protect employees from exposure to hazardous chemicals, such as appropriate work practices, emergency procedures, and personal protective equipment to be used.
(ii) The employee shall be trained on the applicable details of the employer's written Chemical Hygiene Plan.
Initial and annual refresher training must be provided for supervisors, lab technicians, and workers.
Certificates
Upon successful completion of the course, you will receive a total of 3 certificates. An email with an e-certificate will be sent to you or your designee immediately upon completing the course and the original certificates (8×10 and pvc wallet card) will arrive in the mail.
Support
Includes U.S. Based support. An experienced and highly qualified instructor is available to you throughout the training process. Our toll free hotline or email will allow access to some of the finest instructors in the U.S.
Duration
1 hour
Continuing Education Units (CEU's)
This course is eligible for .08 Continuance of Certification (COC) points from the Board of Certified Safety Professionals (BCSP).
Prerequisites
None
Table of Contents
Introduction
Module 1 – OSHA Overview and Chemical Hygiene Plan
Module 2 – Hazard Prevention
Module 3 – Bloodborne Pathogens
Module 4 – Radiation
Module 5 – Chemical Hazards
Module 6 – Other Hazards
Module 7 – Engineering Controls
Module 8 – Personal Protective Equipment
Module 9 – Storage of Chemicals
Module 10 – Spills
Module 11 – Exam
Course Type: Text, Flash Animations, Audio, Graphics, and Photographs