Stairway and Ladder Safety
Cost: $50 per person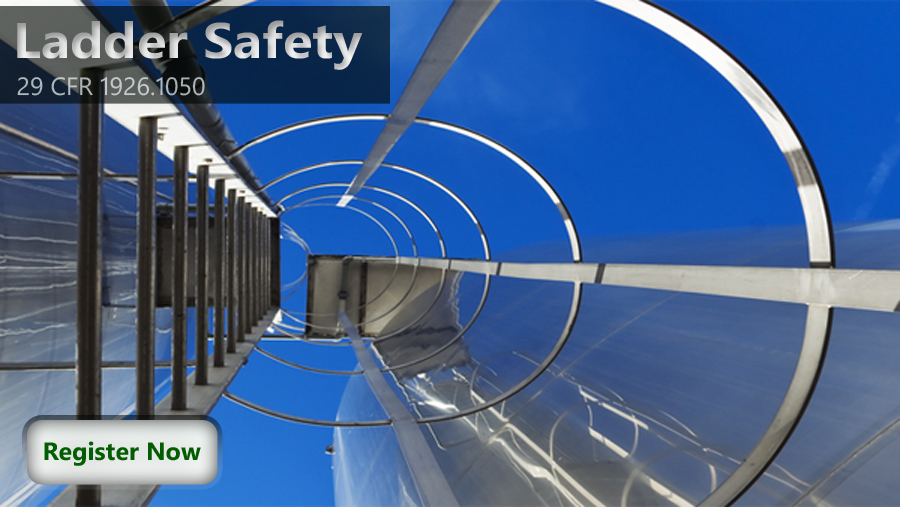 Ladder safety training is required for workers on elevated platforms or who have duties requiring the use of ladders. Stairways and ladders are a major source of injuries and fatalities among construction workers.
Group discounts available (3 or more people). Please email or call us at 1.888.877.7130 for a quote.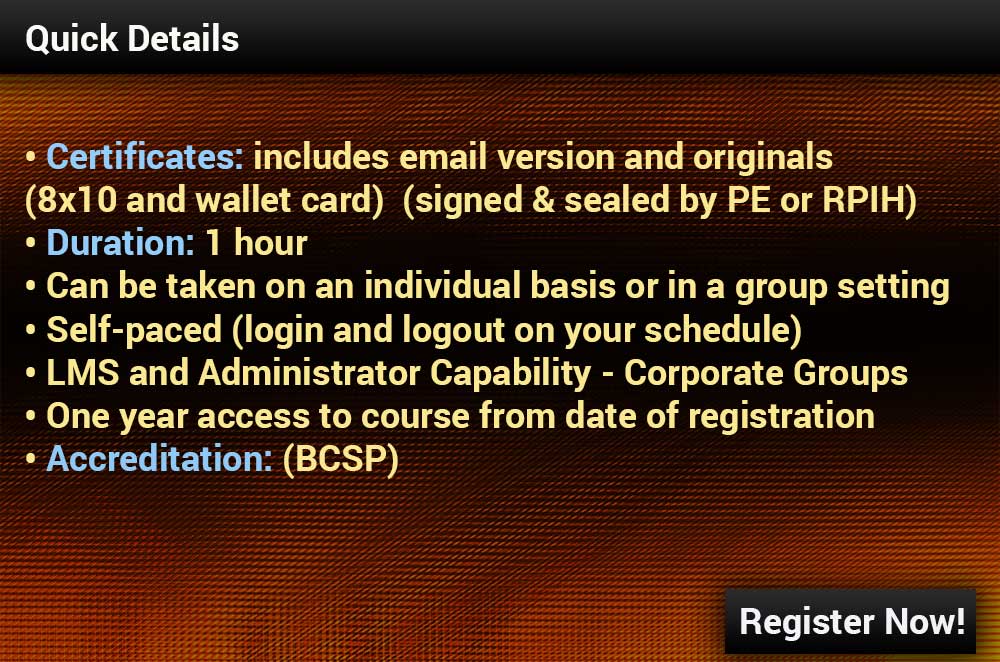 Course Features
– Includes 1 full length video
– Audio narration of text
– Over 25 interactive flash animations
– CEU's
– Self grading quizzes and final exam
– OSHA Study Timer (tracks your study time login and logout at your convenience)
– Certificate of Completion (3 certificates) e-cert, 8×10 and wallet card
Course Objectives
By completing this course participants will be able to:
- Identify the importance of preventing falls from ladders and scaffolds.
- Recognize fall hazards associated with ladder and scaffold use.
- Identify OSHA requirements for ladders, stairways, and scaffolds.
- Identify work practices for using ladders and scaffolds safely.
Course Description
In compliance with OSHA 29 CFR 1926.1050 regulations, this training is required for construction workers and supervisors who work at elevations. This course teaches employees to safely use ladders in construction settings. Working on and around stairways and ladders is hazardous. Stairways and ladders are major sources of injuries and fatalities among construction workers for example, and many of the injuries are serious enough to require time off the job. OSHA rules apply to all stairways and ladders used in construction, alteration, repair, painting, decorating and demolition of worksites covered by OSHA's construction safety and health standards.
Topics
Main topics include: ladder safety, types of ladders, inspection, setting up ladders, ladder safety basics, ladder safety use and stairways.
Certificates
Upon successful completion of the course, you will receive a total of 3 certificates. An email with an e-certificate will be sent to you or your designee immediately upon completing the course and the original certificates (8×10 and pvc wallet card) will arrive in the mail.
Support
Includes U.S. Based support. An experienced and highly qualified instructor is available to you throughout the training process. Our toll free hotline or email will allow access to some of the finest instructors in the U.S.
Duration
1 hour
Continuing Education Units (CEU's)
This course is eligible for .08 Continuance of Certification (COC) points from the Board of Certified Safety Professionals (BCSP).
Prerequisites
None
Table of Contents
Module 1: Setting Up Ladders
Module 2: Ladder Safety Basics
Module 3: OSHA Requirements for Ladders in Use
Module 4: Ladder Safety Use
Module 5: Stairways and Ladders
Final Exam