Personal Protective Equipment (PPE)
Cost: $50 per person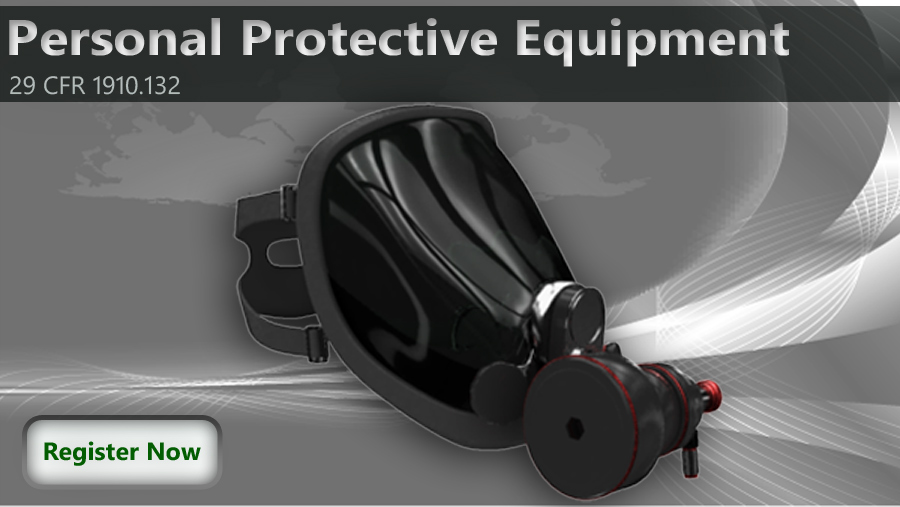 Personal Protective Equipment (PPE) is required for employees when administrative or engineering controls do not offer adequate protection for workers from hazards. PPE training is required prior to using any equipment.
Group discounts available (3 or more people). Please email or call us at 1.888.877.7130 for a quote.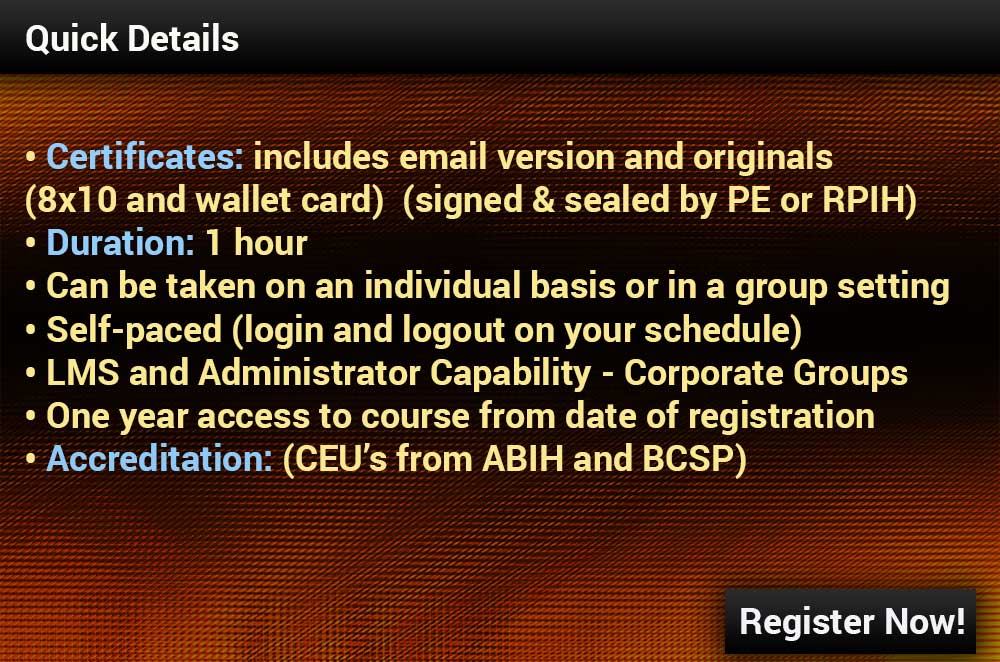 Course Features
– Includes 1 full length video
– Audio narration of text
– Over 25 interactive flash animations
– Award winning content
– CEU's
– Self grading quizzes and final exam
– OSHA Study Timer (tracks your study time login and logout at your convenience)
– Certificate of Completion (3 certificates) e-cert, 8×10 and wallet card
Course Description
In compliance with OSHA 29 CFR 1910.132 regulations, Personal Protective Equipment (PPE) training is required for individuals having a role working with hazardous materials or exposure to them. PPE ttraining must be provided to workers and supervisors involved with these operations. It is important that employees realize that no single combination of protective equipment and clothing is capable of protecting against all hazards. Thus, PPE should always be used in conjunction with other protective methods. For example, proper decontamination and engineering or administrative controls should always be employed as additional measures for preventing exposure.
The primary purpose of the PPE Course is to provide workers and emergency first responders with information to aid them in the selection of PPE, both respiratory protection and percutaneous (skin) protection. The course is intended to be more practical than technical and provides information on a variety of factors that should be considered when purchasing and using PPE, including duration of protection, dexterity/mobility (how cumbersome is the equipment), launderability, and use/reuse, to name a few.
OSHA requires the use of PPE to reduce employee exposure to hazards when engineering and administrative controls are not feasible or effective in reducing these exposures to acceptable levels. Employers are required to determine if PPE should be used to protect their workers.
If PPE is to be used, a PPE program should be implemented. This program should address the hazards present; the selection, maintenance, and use of PPE; the training of employees; and monitoring of the program to ensure its ongoing effectiveness.
Topics Include:
• The relationship between PPE, administrative controls, and engineering controls
• How to conduct a PPE Hazard Assessment and Certification Statement
• Various types of PPE and how to use them
• OSHA's responses to questions about implementation, including: who is required to pay for PPE, and who is responsible if an employee brings in his own PPE
• Simple, practical methods that ensure compliance with the OSHA standard and protect your employees
Certificates
Upon successful completion of the course, you will receive a total of 3 certificates. An email with an e-certificate will be sent to you or your designee immediately upon completing the course and the original certificates (8×10 and pvc wallet card) will arrive in the mail.
What is The OSHA Requirement for PPE?
To ensure the greatest possible protection for employees in the workplace, the cooperative efforts of both employers and employees will help in establishing and maintaining a safe and healthful work environment.
In general, employers are responsible for:
• Performing a "hazard assessment" of the workplace to identify and control physical and health hazards.
• Identifying and providing appropriate PPE for employees.
• Training employees in the use and care of the PPE.
• Maintaining PPE, including replacing worn or damaged PPE.
• Periodically reviewing, updating and evaluating the effectiveness of the PPE program.
In general, employees should:
• Properly wear PPE,
• Attend training sessions on PPE,
• Care for, clean and maintain PPE, and
• Inform a supervisor of the need to repair or replace PPE.
Support
Includes U.S. Based support. An experienced and highly qualified instructor is available to you throughout the training process. Our toll free hotline or email will allow access to some of the finest instructors in the U.S.
Duration
1 hour
Continuing Education Units (CEU's)
This course is eligible for .08 Continuance of Certification (COC) points from the Board of Certified Safety Professionals (BCSP).
Prerequisites
None
Table of Contents
Module 1 – Hazard Assessment and Equipment Selection
Module 2 – Roles and Responsibilities
Module 3 – Eye and Face Protection
Module 4 – Selection of Eye and Face PPE
Module 5 – Cleaning and Maintenance of Eye and Face PPE
Module 6 – Head Protection
Module 7 – Hearing Conservation
Module 8 – Hand Protection
Module 9 – Foot Protection
Module 10 – Respiratory Protection
Module 11 – Minimal Acceptable Respirator Program
Module 12 – PPE Clothing
Module 13 – Exam