RCRA Hazardous Waste Generator
Cost: $170 per person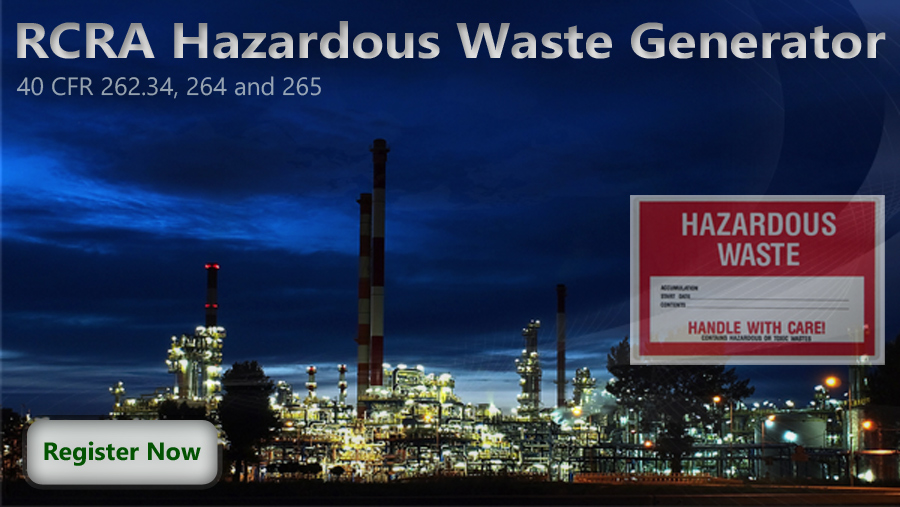 Our RCRA training online provides an in-depth look at hazardous waste generator requirements and EPA regulations. This course was developed by a former U.S. EPA regulator.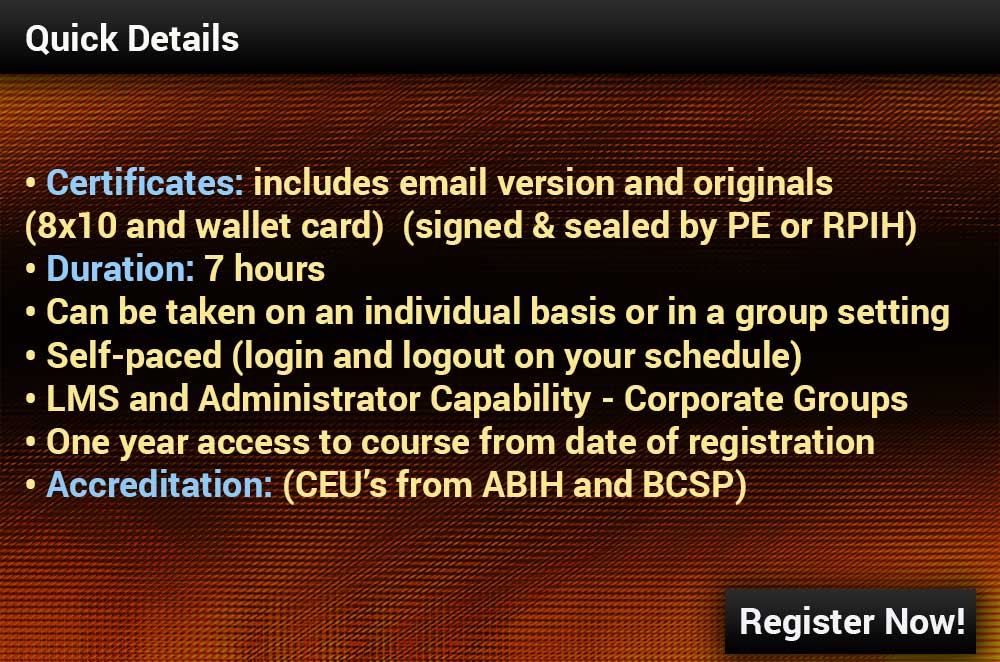 Group discounts available (3 or more people). Please email or call us at 1.888.877.7130 for a quote.

Course Description
In compliance with U.S. EPA regulations, this Resource Conservation and Recovery Act (RCRA) training is for individuals who deal with or manage hazardous waste. This RCRA training must be provided for these employees at the start of their job and on an annual basis. This includes supervisors, hazardous waste generators, environmental compliance professionals, hazardous waste specialists, etc.

The RCRA regulations establish a comprehensive hazardous waste management system under the authority of RCRA Subtitle C. RCRA regulates hazardous waste from its point of generation through its point of final disposal. Hazardous waste generators must undergo RCRA training and are the first link in the cradle-to-grave hazardous waste management system. Pursuant to the authority granted by RCRA §3002(a), EPA has developed generator standards that address on-site accumulation of hazardous waste, cradle-to-grave tracking (manifest system), labeling, and recordkeeping and reporting requirements. These standards are found in 40 CFR Part 262.

Recognizing that generators produce waste in different quantities, Congress established three categories of generators in the statute: large quantity generators (LQGs), small quantity generators (SQGs), and conditionally exempt small quantity generators (CESQGs). The extent of regulation to which hazardous waste generators are subject depends on the volume of hazardous waste each generator produces. The following topics are discussed: the definition of a hazardous waste, labeling requirements, storage areas, disposal facilities, and characterization exercises. Our RCRA training online also provides an in-depth discussion of universal wastes, used oil, RCRA Part B permitting and recycling. This training is presented primarily for generators of hazardous wastes.
Course Details
Course Overview
The RCRA sets forth an approach for handling the volumes of waste generated in the United States each year. Based on the authority granted by RCRA Subtitle C, EPA developed regulations for the cradle-to-grave management of hazardous waste. Persons who produce hazardous waste, called hazardous waste generators, are the first link in this cradle-to-grave system and they must receive RCRA training. The RCRA regulations establish basic hazardous waste management standards for generators.

The generator regulations ensure that hazardous waste is appropriately identified and handled safely to protect human health and the environment, while minimizing interference with daily business operations. RCRA training (initial and refresher) is required for generators of hazardous wastes. A solid foundation in the generator regulations is critical to a thorough understanding of the regulations governing the management of hazardous waste from the moment it is produced, or the point of generation, through final disposition.
Here are the topics covered in our RCRA training.
Why RCRA was passed;
When is a waste considered hazardous;
What are Listed and Characteristic Hazardous Wastes;
What are State Listed Hazardous Wastes;
"Mixture Rule" and "Derived-From Rule";
How to perform a Hazardous Waste Determination;
Wastes exempt from Hazardous Waste Regulations;
Empty Container rule;
Categories of Hazardous Waste Generators;
How to determine your Generator Status (CESQG, SQG or LQG);
What are the rules for Satellite Accumulation Areas;
What are the rules for 90 or 180 day Storage Areas;
List of Incompatible Materials and Potential Consequences;
Procedures for Inspection and frequency thereof;
Hazardous Waste Manifesting and Proposed Rules;
Land Disposal Restrictions paperwork requirements;
Contingency Plan requirements for SQGs and LQGs;
Responsibilities of the Emergency Coordinator;
RCRA Reporting and Record Keeping requirements;
Used Oil requirements for Generators;
Universal Wastes and how must they be managed.
Course Features
• Includes 1 full length video
• Professional voiceovers
• Over 20 interactive flash animations
• Award winning content
• CEU's
• Self grading quizzes and final exam
• OSHA Study Timer (tracks your study time login and logout at your convenience)
• Certificate of Completion (3 certificates)
Support
This RCRA training includes U.S. Based support. An experienced and highly qualified instructor is available to you throughout the training process. Our toll free hotline or email will allow access to some of the finest instructors in the U.S.
Certificates
Upon successful completion of the RCRA training online course, you will receive a total of 3 certificates. An email with an e-certificate will be sent to you or your designee immediately upon completing the course and the original certificates (8×10 and pvc wallet card) will arrive in the mail.
Continuing Education Units (CEU's)
This RCRA training online has been awarded .5 Industrial Hygiene CM Points by the American Board of Industrial Hygiene (ABIH) – approval number 13337. This course is also eligible for .25 Continuance of Certification (COC) points from the Board of Certified Safety Professionals (BCSP).
Who Must Receive RCRA Training?
Under the RCRA regulations small quantity generators (SQG) and large quantity generators (LQG) of hazardous wastes are required to provide personnel with initial RCRA training within 6 months of employment or assignment to a new position with hazardous waste management tasks and annual RCRA training there after.
An SQG generates between 100 kilograms (220 lbs.) and 1,000 kilograms (2,200 lbs.) of non-acute hazardous waste and no more than 1 kilogram (2.2 lbs.) of acute hazardous waste per calendar month. An SQG can store hazardous waste for 180 days or less but the storage amount cannot exceed 6,000 kilograms (13,200 lbs.). RCRA training is required.
An LQG generates 1,000 kilograms (2,200 lbs.) or more of non-acute hazardous waste or more than 1 kilogram (2.2 lbs.) of acute hazardous waste per calendar month. An LQG can store hazardous waste for 90 days or less. For a LQG, all "facility personnel" are required to receive this training. Facility personnel are defined under 40 CFR 260.10 as "all persons who work at, or oversee the operations of, a hazardous waste facility, and whose actions or failure to act may result in noncompliance with the requirements of part 264 or 265". Although this definition is vague, EPA has indicated in various guidance documents and memos, individuals who perform one or more of at least the following hazardous waste functions are required to receive hazardous waste training:
• Label hazardous waste containers;
• Move hazardous waste containers;
• Perform inspections;
• Perform the functions of an emergency coordinator; and
• Prepare, review, or sign hazardous waste manifests.
RCRA & OSHA
RCRA training and OSHA required HAZWOPER training can overlap. The U.S. EPA enforces protection of the environment regulations and OSHA enforces worker protection regulations. There are many times these 2 sets or regulation overlap. Facilities that have the potential for an emergency to occur due to an uncontrolled release of hazardous substances or hazardous raw materials are required to provide training required under HAZWOPER 29 CFR 1910.120 paragraph (q). Employers who have hazardous waste storage areas must provide training required under either 29 CFR 1910.120 (p)(8) or (q) for those areas. However, both paragraphs provide exemptions from the basic requirements if the employer intends to evacuate all employees in the event of and emergency and call in a trained emergency response team. In this case employers must provide an emergency action plan and training in accordance with 29 CFR 1910.38(a). The training requirements of 29 CFR 1910.38 are minimal, requiring the training of a sufficient number of persons to assist in the safe and orderly evacuation of employees in the event of an emergency.
The basic requirements of OSHA HAZWOPER paragraph (q) include the provision that all employees who work in and are where there is a potential for an uncontrolled release must have sufficient awareness training to recognize that the emergency response situation exists an to initiate emergency response procedures. This "Awareness Level" training typically takes 4 hours to complete and includes training in the following areas:
(A) An understanding of hazardous substances and the risks associated with a release.
(B) An understanding of the potential outcomes associated with an emergency created when hazardous substances are present.
(C)The ability to recognize and identify the presence of hazardous substances in an emergency.
Table of Contents
Module 1: Regulatory Overview
EPA
Goals of RCRA
40 CFR Subtitle C
Module 2: Generator Requirements
Generators of Hazardous Waste – LQG, SQG, CESQG
Generator Requirements
Hazardous Waste Manifest
Module 3: Hazardous Waste Storage and Disposal Regulations
Labeling
Proper Containers
Storage of Hazardous Waste
Requirements for Satellite Accumulation Areas (SAAs)
90 Day Storage
Permitted Treatment, Storage and Disposal Facility
Module 4: Chemical Compatibilities
Chemical Compatibilities and Incompatibilities
Segregation and Storage
Module 5: Other Regulated Waste
Biohazardous Waste
Mixed Wastes
Polychlorinated biphenyls (PCBs)
Module 6: Emergencies and Spill Response
Preparing for Emergencies and Preventing Accidents
Emergency Coordinator Responsibilities
Requirements for Emergencies
Emergency Planning Requirements for LQGs
Module 7: Offsite Shipments
Choosing a permitted TSDF
Preparing Your Hazardous Waste for Shipment
Uniform Hazardous Waste Manifest
Land Disposal Restriction (LDR) Notice
Biennial Reports
Module 8: Used Oil
What is Used Oil?
Types of Used Oil
What is a Used Oil Generator?
Burning Used Oil
Module 9: Universal Wastes
What is Universal Waste?
EPA Criteria for Universal Waste
Universal Waste Definitions
Final Exam
"I learned so much from your RCRA training course. Thanks for the great service as well." – Joe Sawyer, Tom Sawyer Painting