Staying Up-to-Date Between HAZWOPER Refreshers
HAZWOPER certification requires annual refresher training in order to remain in good standing. But that doesn't mean you have to go all year without brushing up on your skills. Below are some ways to stay up-to-date on your HAZWOPER knowledge base in between annual HAZWOPER refresher courses.
Take additional training
Just because you're up-to-date on your training doesn't mean you have to pause it altogether. There is always more to learn and you can always take additional HAZWOPER or safety courses to improve your skills.
Check out our course catalog to find additional areas of training or for more specialized courses within your field.
Review your current training
With NET, you have access to your course material for one year from the date of registration. That means you can always go back and review content, re-take quizzes, watch videos and more, right up until it's time to take your next annual refresher.
Practice on the simulator
Your one-year course access gives you the ability to maintain your efficiency on the HAZWOPER Hands-on Simulator®. Our OSHA-accepted simulator mimics real-life PPE scenarios to keep your skills sharp and well-prepared for any situation.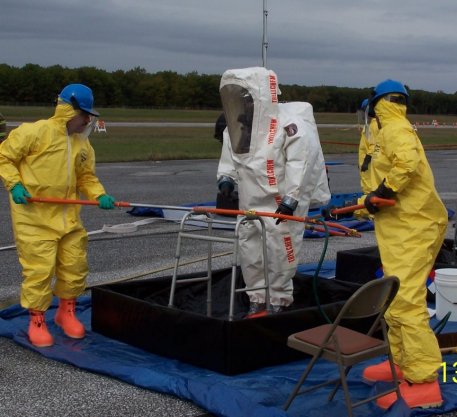 Keep up with OSHA news
It's a good idea for all HAZWOPER workers to stay current on news related to OSHA. OSHA has newsroom and news releases pages on its website and you can even subscribe to the organization's RSS news feed and follow OSHA on Twitter for all the latest news, updates, and changes related to occupational safety and health.
Read OSHA eBooks and other publications
OSHA publishes a number of eBooks and other publications covering a wide range of topics that can be instrumental in staying up to date with industry standards and best practices.
Register for Your HAZWOPER Refresher Today
Staying up to date between HAZWOPER refresher training is a great idea. And when it's time to renew your certification by completing an 8-hour HAZWOPER refresher, National Environmental Trainers is your source.
Our simple, intuitive and self-directed training courses have made us an industry leader and we've been helping professionals just like you earn and renew certifications for nearly 25 years. Contact us today to learn more about our HAZWOPER training.