What Jobs Typically Require 40-Hour OSHA HAZWOPER Training?
Who requires 40-Hour OSHA HAZWOPER training?
The Occupational Safety and Health Administration (OSHA) outlines employer compliance requirements regarding the Hazardous Waste Operations and Emergency Response (HAZWOPER) standard contained within 29 CFR 1910.120.
And just to refresh, the OSHA HAZWOPER standard applies to five (5) distinct groups of workers. This includes any employees who are exposed or potentially exposed to hazardous substances, including hazardous waste, and who are engaged in one of the following operations as specified by OSHA regulation 1910.120(a)(1)(i-v):
Clean-up operations required by a governmental body, whether federal, state, local, or other involving hazardous substances that are conducted at uncontrolled hazardous waste sites;
Corrective actions involving clean-up operations at sites covered by the Resource Conservation and Recovery Act of 1976 (RCRA) as amended (42 U.S.C. 6901 et seq.);
Voluntary clean-up operations at sites recognized by federal, state, local, or other governmental body as uncontrolled hazardous waste sites;
Operations involving hazardous wastes that are conducted at treatment, storage, and disposal facilities (TSD) regulated by Title 40 Code of Federal Regulations Parts 264 and 265 pursuant to RCRA, or by agencies under agreement with U.S. Environmental Protection Agency to implement RCRA regulations; and
Emergency response operations for releases of, or substantial threats of releases of, hazardous substances regardless of the location of the hazard.
Employee training requirements are addressed in 1910.120(e) of the standard, and specifically in 1910.120(e)(3)(i), it addresses 40 hours of off-site instruction required for workers engaged in hazardous substance removal or other activities which expose or potentially expose workers to hazardous substances and health hazards at or above the Permissible Exposure Limit (PEL). This 40-hour training, the most popular of the HAZWOPER training courses, is targeted for general site workers, which typically include roles such as general laborers, equipment operators, and supervisory personnel. Note, general site workers differ from Emergency Response skilled support/specialist roles, which include First Responders, HAZMAT (Hazardous Materials) Technicians/Specialists and Incident Commanders, which require different training curriculums.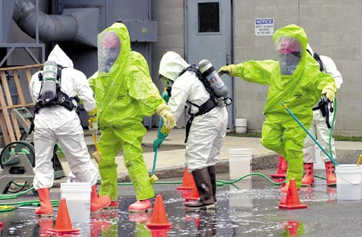 A 40-hour OSHA HAZWOPER course typically includes topics such as:
Safety and health programs
Roles and responsibilities
Site control, characterization, and analysis
Personal protective equipment (PPE)
Medical surveillance
Hazard control
Monitoring and informational programs
Handling drums and containers
Decontamination
Permissible exposure limits (PEL)
Emergency response
Don't forget, to keep the certification current, the student must complete 8-Hours of HAZWOPER refresher training every year.
A wide range of industries are affected by HAZWOPER requirements, including:
Construction
Manufacturing
Treatment/storage/disposal (TSD)
Transportation
Engineering
Environmental Services
Within these industries, numerous occupational roles are directly and indirectly impacted by the HAZWOPER standard and associated training requirements. For example, construction companies, which include construction management firms, general contractors, numerous small, medium, and large subcontractors, and specialized trades, employ thousands of general laborers that make up the vast majority of personnel on a construction site, along with equipment operation, engineering, and supervisory roles. Construction sites include, but are not limited to, residential construction, commercial construction, bridge erection, excavations, demolitions, and large-scale tenant improvement jobs. The potential for direct or indirect contact with hazardous waste and substances, due to known or unknown site conditions, makes HAZWOPER training an important part of the construction trade training requirements.
It is also important to note, many construction companies own and operate their own fleet of trucks, in which the drivers of those trucks, when entering any HAZWOPER required work site, will also require HAZWOPER training.
Industrial companies can include categories of General Industry (GI) companies such as:
Manufacturing
Warehousing and operation logistics
Transportation
Refining services
Factory and facility laborers make up the vast majority of personnel, along with vehicle and equipment operation, engineering, maintenance, service, repair, custodial, and associated supervisory roles. Many industrial operations also require various levels of emergency response to hazardous waste and other substances, making HAZWOPER training an important part of their overall safety and health training curriculum.
These industries also employ and contract with chemists, scientists, engineers, medical professionals, hygienists, and other highly specialized skilled labor. These are just a few examples of industries and associated job roles that are impacted by the OSHA HAZWOPER standard and the associated training requirements. 40-Hour HAZWOPER training is available online from National Environmental Trainers.