Who Needs 8-Hour OSHA HAZWOPER Annual Refresher Training?
8-Hour HAZWOPER Refresher Training - Who Needs It?
The Occupational Safety and Health Administration (OSHA) outlines employer compliance requirements regarding Hazardous Waste Operations and Emergency Response (HAZWOPER), contained within standard 29 CFR 1910.120.
General employee training requirements are addressed in Section 1910.120(e) of the standard. In recent blogs, we addressed both the 40- and 24-hour employee training requirements specifically listed in 1910.120(e)(3)(i), and 1910.120(e)(3)(ii) through (e)(3)(iv), respectively.
However, in order to keep both the 40- and 24-hour training certifications valid, employees must undergo at least eight hours of refresher training each year according to section 1910.120(e)(8) of the standard:
Refresher training. Employees specified in paragraph (e)(1) of this section, and managers and supervisors specified in paragraph (e)(4) of this section, shall receive eight hours of refresher training annually on the items specified in paragraph (e)(2) and/or (e)(4) of this section, any critique of incidents that have occurred in the past year that can serve as training examples of related work, and other relevant topics.
Like the 40- and 24-hour OSHA HAZWOPER course, the eight-hour annual refresher course typically includes topics such as: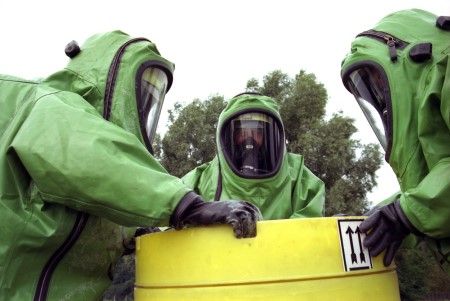 Safety and health programs
Roles and responsibilities
Site control, characterization, and analysis
Personal Protective Equipment (PPE)
Medical surveillance
Hazard Control
Monitoring and Informational Programs
Handling drums and containers
Decontamination
Permissible Exposure Limits (PEL)
Emergency response
Applicable regulatory changes from previous year
The annual refresher training requirement also applies for anyone designated as a manager or supervisor. In addition to the annual refresher training, managers and supervisors have an additional 8-hour training requirement mandated by the HAZWOPER standard. This training often gets confused with the annual refresher training, most likely because they are both eight-hour requirements. The additional eight hours of training is in addition to the 40- or 24-hour initial training, as stated within section 1910.120(e)(4) of the standard:
Management and supervisor training. On-site management and supervisors directly responsible for, or who supervise employees engaged in, hazardous waste operations shall receive 40 hours initial training, and three days of supervised field experience (the training may be reduced to 24 hours and one day if the only area of their responsibility is employees covered by paragraphs (e)(3)(ii) and (e)(3)(iii)) and at least eight additional hours of specialized training at the time of job assignment on such topics as, but not limited to, the employer's safety and health program and the associated employee training program, personal protective equipment program, spill containment program, and health hazard monitoring procedure and techniques.
So, what happens if you miss your annual refresher training date? This is a commonly asked question best answered within OSHA's HAZWOPER Frequently Asked Questions section of their HAZWOPER Safety and Health Topics page.
It has been more than 12 months since I took my initial HAZWOPER (8-, 24-, or 40-hour) training or 8-hour HAZWOPER refresher training? What do I do now?
Employees should stay up-to-date in the refresher training, although OSHA does understand that courses may be missed due to unavoidable circumstances. If you have missed a refresher training course, attend the next available course. If a substantial amount of time has passed since your initial or refresher training, repeating the initial training may be necessary. The period within which it would be necessary to provide extensive retraining is determined on a case-by-case basis. Workers must be trained sufficiently to allow them to perform their expected job duties in a safe and healthful manner.
Just the same, and regardless of how the training is delivered, employers should set an annual reminder with adequate notice to meet the annual refresher training date for applicable employees. If for any reason an employee does not meet that training date, employers should clearly document the reasons and include it in the employee's training file.
Regardless of your role or industry, be certain you are in compliance with the correct type of HAZWOPER training and the correct amount of HAZWOPER training. For more information, please review OSHA's HAZWOPER Safety and Health Topics page. If you are ready to start your 8-Hour HAZWOPER Refresher Training, get started today.