HAZWOPER Certification Requirements
The 4 Requirements for HAZWOPER Certification
HAZWOPER or HAZMAT Offensive Responders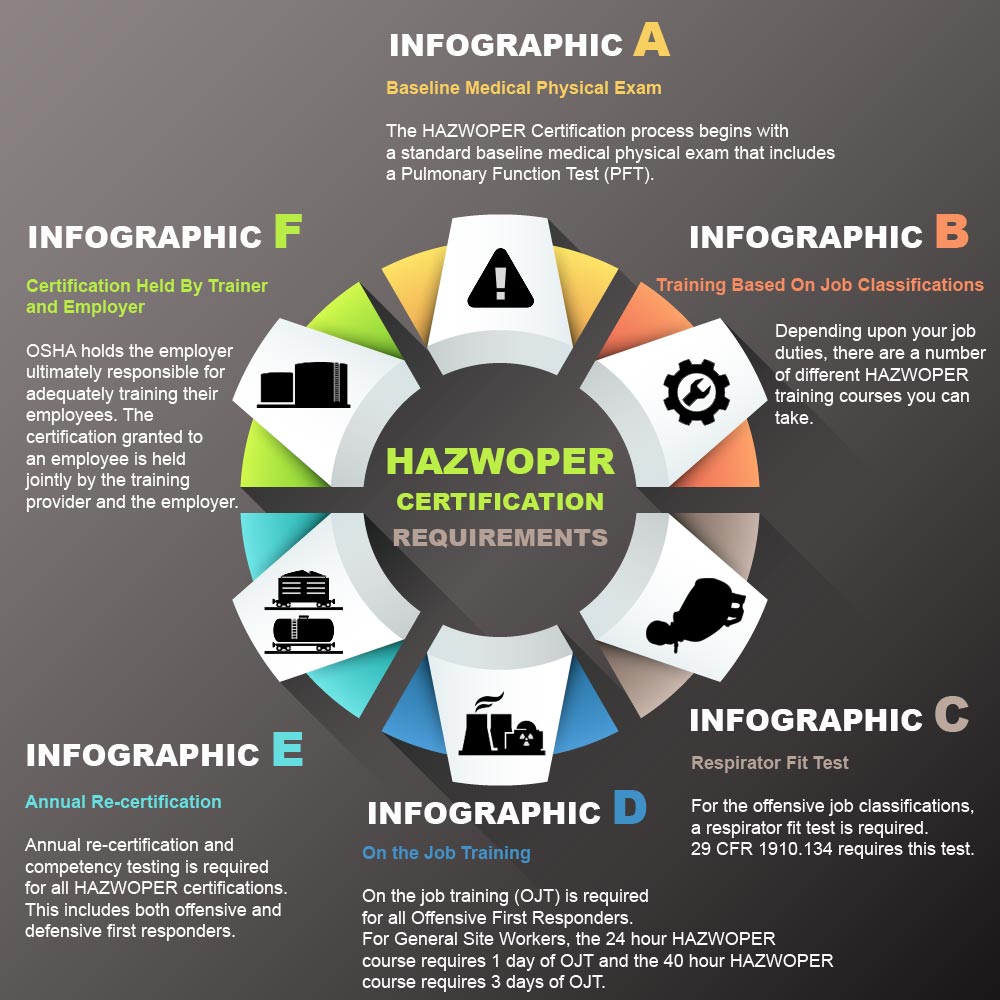 HAZWOPER certification is required for anyone working in one of the three levels of HAZWOPER sites: contaminated sites, emergency response, or Hazardous Waste Treatment Storage and Disposal Facilities (TSDF).
HAZWOPER certification involves the following four requirements:
Baseline physical medical exam
Training based on job classification
Respirator fit test
Site-specific or on-the-job training
HAZWOPER Certification Overview
Baseline Physical Medical Exam
HAZWOPER certification begins with a baseline physical medical exam. The exam includes a Pulmonary Function Test (PFT) to measure lung capacity for respirator use. A PFT is a non-invasive procedure where a person exhales into a tube that discharges into volumetric cylinder and records your lung capacity. How well your lungs function is important as you will be wearing a respirator. Lung capacity is an important part of ensuring you can wear a respirator and perform work in a safe manner.
OSHA has mandatory medical evaluation and questionnaire requirements that can be found in Appendix C of the Respiratory Protection Standard – 29 CFR 1910.134.
Training Based on Job Classification
As part of HAZWOPER certification, employees must take training courses according to their job responsibilities. Courses for Offensive First Responders include:
General Site Workers
Emergency Response Workers
Resource Conservation and Recovery Act
Respirator Fit Test
The next step in a HAZWOPER certification is a respirator fit test. The testing process first involves one of two types of tests:
A qualitative test that relies on a participant's response to a test agent.
A quantitative test that measures the concentration of particles inside versus outside the mask.
Next, a positive and negative pressure fitting is performed before having the participant engage in cleaning up hazardous substances.
A respirator must be worn when there is an Immediately Dangerous to Life and Health (IDLH) environment or whenever the Permissible Exposure Limits (PEL) for hazardous substances are met or exceeded. The PEL's are located in 29 CFR 1910.1000 Subpart Z, known as the "Z Tables".
Site-Specific or On-the-Job Training
All Offensive First Responders must undergo site-specific or on-the-job training as part of their HAZWOPER certification. Training must be conducted by a qualified instructor and any site-specific training must be conducted with the actual equipment the employee will be using during their job.. Generic training on equipment does not fully satisfy the OSHA requirement. The site-specific training requirement must be done prior to working at a HAZWOPER site.
Annual Recertification
Once certified, workers must complete an annual recertification course in order to remain qualified to work on a HAZWOPER site.
OSHA holds the employer responsible for adequately training their employees, and the HAZWOPER certification is held jointly by the training provider and employer.
Earn Your HAZWOPER Certification
Whether you are preparing to earn a HAZWOPER certification for the first time or in need of your annual refresher, National Environmental Trainers has you covered. Browse from our catalog of online HAZWOPER courses to choose the certification that satisfies the requirements of your job. Not sure which course to take? Find out which online training requirements are needed for your job.
Sign up your team at a discounted rate or register for any course individually today to begin your certification.