Certified Meth Decontamination Specialist® - Coming Soon!
Cost: $325 per person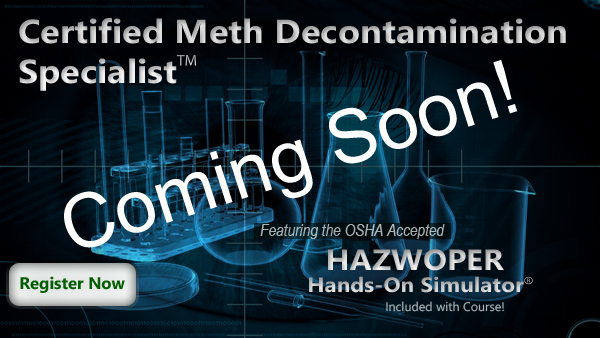 Coming Soon!
The Certified Meth Decontamination Specialist™ course covers every aspect of clandestine methamphetamine (meth) lab decontamination/remediation and clean up. This course does not instruct you on how to produce or manufacture meth. Rather, this course will give you the tools and skills necessary to decontaminate a building or dwelling that was used to produce meth. Meth labs are steadily on the rise in the U.S. and many building owners/property owners find themselves liable for the aftermath of meth production. The consequences can be financially devastating for the building owner/property owner and they bear the burden for the cost of the clean up. Some states have enacted meth laws and promulgated regulations on the inspection/decontamination and clean up of meth labs. A person seeking to become certified to decontaminate meth labs must already have a 24 hour HAZMAT Technician 40 hour HAZWOPER General Site Worker certification to register and complete this course.
Added Assurance of OSHA Compliance
We also offer the added assurance that our course complies with the OSHA regulations. We have an interpretation letter from the U.S. OSHA Directorate of Enforcement Programs in Washington D.C., accepting our HAZWOPER Hands-on Simulator. Please follow this link to download the OSHA interpretation letter. No other online company has such a letter from OSHA. So, for almost the same price as other companies that provide no assurance, you also receive added assurance from us that you are in compliance with OSHA.
Successful companies and employers do not guess at regulatory compliance. They make certain they are in compliance at all times or at least they are making strong efforts to be in compliance. It is no different when it comes to health and safety training. The training received by employees is only as good as the instruction. Unfortunately, some people believe that a certificate is a certificate and they are in compliance. This is not always the case and companies pay huge fines for training deficiencies.
Course Features
– HAZWOPER Hands-on Simulator® (OSHA accepted)
– Audio narration of text
– Over 35 interactive flash animations
– Award winning content
– CEU's
– Self grading quizzes and final exam
– OSHA Study Timer (tracks your study time login and logout at your convenience)
– Certificate of Completion (3 certificates) e-cert, 8×10 and wallet card (instant download of e-certificate upon course completion)
– Course access for 1 year from the time of registration
– Free registration into the National Repository® (download your certificates at anytime in the future)
Course Description
This training is required for individuals having a decontamination or clean up role at a meth lab site. Annual training is required for individuals in order to maintain their certification. This course covers broad issues pertaining to the remediation of clandestine meth labs. Many states have developed Meth Lab Decontamination/Remediation and Clean Up programs to protect workers while deactivating a clandestine meth lab site. However, there are many states without any laws or regulations for decontamination of meth labs. The course consists of modules with the use of multi-media components for an engaging experience.
The objective of this course is to provide certification as a Certified Meth Lab Decontamination Specialist™.
Certificates
Upon successful completion of the course, you will receive a total of 3 certificates. An email with an e-certificate will be sent to you or your designee immediately upon completing the course and the original certificates (8×10 and pvc wallet card) will arrive in the mail.
Support
Includes U.S. Based support. An experienced and highly qualified instructor is available to you throughout the training process. Our toll free hotline or email will allow access to some of the finest instructors in the U.S.
Duration
8 hours
Accreditation – Continuing Education Units (CEU's)
This course has been awarded 1.34 Industrial Hygiene CM Points by the American Board of Industrial Hygiene (ABIH) – approval number 13334. This course is eligible for .66 Continuance of Certification (COC) points from the Board of Certified Safety Professionals (BCSP).
Accreditation from an impartial, qualified association or organization is critical to the acceptance of training, its lasting value in the workplace, preventing liability issues for the employer and reducing employee accidents and injuries. Many health and safety professionals consider ABIH to be the benchmark for training accreditation.
Prerequisites
24 HAZMAT Technician or 40 hour HAZWOPER for General Site Workers