Scaffolding Safety (29 CFR 1910.28 & 1926.454)
Cost: $60 per person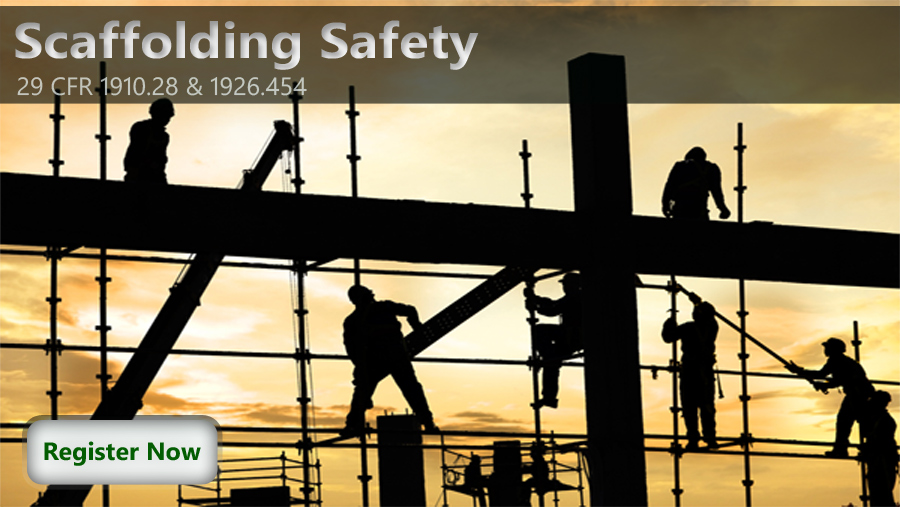 Group discounts available (3 or more people). Please email or call us at 1.888.877.7130 for a quote.
Course Features
– Includes 1 full length video
– Audio narration of text
– Over 25 interactive flash animations
– Award winning content
– CEU's
– Self grading quizzes and final exam
– OSHA Study Timer (tracks your study time login and logout at your convenience)
– Certificate of Completion (3 certificates) e-cert, 8×10 and wallet card
Course Description
In compliance with OSHA 29 CFR 1910.28 and 1926.454 regulations, this scaffolding training is required for individuals having a role with erecting and working with scaffolding.
This course complies with OSHA regulations and can be taken online. The course consists of modules with the use of multi-media components for an engaging experience.
Support
Includes U.S. Based support. An experienced and highly qualified instructor is available to you throughout the training process. Our toll free hotline or email will allow access to some of the finest instructors in the U.S.
Certificates
Upon successful completion of the course, you will receive a total of 3 certificates. An email with an e-certificate will be sent to you or your designee immediately upon completing the course and the original certificates (8×10 and pvc wallet card) will arrive in the mail.
Duration
1 hour
Continuing Education Units (CEU's)
This course is eligible for .08 Continuance of Certification (COC) points from the Board of Certified Safety Professionals (BCSP).
Prerequisites
None
What are the highlights of the scaffolding standard?
OSHA's scaffolding standard has several key provisions:
Fall protection or fall arrest systems — Each employee more than 10 feet above a lower level shall be protected from falls by guardrails or a fall arrest system, except those on single-point and two-point adjustable suspension scaffolds. Each employee on a single-point and two-point adjustable suspended scaffold shall be protected by both a personal fall arrest system and a guardrail. 1926.451(g)(1)
Guardrail height — The height of the toprail for scaffolds manufactured and placed in service after January 1, 2000 must be between 38 inches (0.9 meters) and 45 inches (1.2 meters). The height of the toprail for scaffolds manufactured and placed in service before January 1, 2000 can be between 36 inches (0.9 meters) and 45 inches (1.2 meters). 1926.451(g)(4)(ii)
Crossbracing — When the crosspoint of crossbracing is used as a toprail, it must be between 38 inches (0.97 m) and 48 inches (1.3 meters) above the work platform. 1926.451(g)(4)(xv)
Midrails — Midrails must be installed approximately halfway between the toprail and the platform surface. When a crosspoint of crossbracing is used as a midrail, it must be between 20 inches (0.5 meters) and 30 inches (0.8 m) above the work platform. 1926.451(g)(4)
Footings — Support scaffold footings shall be level and capable of supporting the loaded scaffold. The legs, poles, frames, and uprights shall bear on base plates and mud sills. 1926.451(c)(2)
Platforms — Supported scaffold platforms shall be fully planked or decked. 1926.451(b)
Guying ties, and braces — Supported scaffolds with a height-to-base of more than 4:1 shall be restained from tipping by guying, tying, bracing, or the equivalent. 1926.451(c)(1)
Capacity — Scaffolds and scaffold compponents must support at least 4 times the maximum intended load. Suspension scaffold rigging must at least 6 times the intended load. 1926.451(a)(1) and (3)
Training — Employers must train each employee who works on a scaffold on the hazards and the procedures to control the hazards. 1926.454
Inspections — Before each work shift and after any occurrence that could affect the structural integrity, a competent person must inspect the scaffold and scaffold components for visible defects. 1926.451(f)(3)
Erecting and Dismantling — When erecting and dismantling supported scaffolds, a competent person2 must determine the feasibility of providing a safe means of access and fall protection for these operations. 1926.451(e)(9) & (g)(2)
Table of Contents
Module 1
Scaffolding History
Common Causes of Accidents
Scaffold Platform Construction
Scaffold Required Capacity
Module 2
Competent Person
Scaffold Platform Construction Requirements
Scaffold Platform Construction
Module 3
Scaffold Planking
Supported Scaffold Requirements
Module 4
Suspended Scaffold Requirements
Access
Module 5
Scaffold Access
Use of Scaffolds
Module 6
Use of Scaffolds
Fall Protection
Final Exam
Course Type: Text, Audio, Graphics, and Photographs